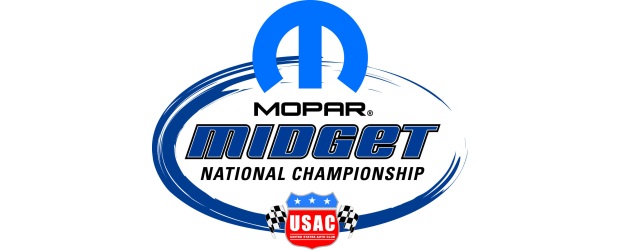 By Dick Jordan
This Friday's Mopar USAC National Midget race at Iowa Speedway in Newton, Iowa offers a somewhat unique format, with a pair of 25-lap segments comprising the 50-lap feature event on the 7/8-mile paved oval. The two segments will "book-end" the 100-mile Traxxas USAC Silver Crown race which is also part of the "Casey's General Stores USAC Triple Crown" presented by Pioneer Hi-Bred First Class credit Union and Boyer Petroleum.
Friday's USAC events are part of Iowa Speedway's weekend of racing which includes the Iowa Corn Indy 250 IZOD Indycar Series race, scheduled to start at 8 pm Saturday night. The Firestone Indy Lights series also competes as well as the Star Mazda series. Friday's USAC feature events, including the 100-lap Traxxas USAC Silver Crown race, get under way at 8:30 pm.
Darren Hagen of Riverside, Calif. claimed another major USAC Mopar National Midget feature victory Saturday at the Milwaukee Mile at the Wisconsin State Fair Park. Hagen trailed Caleb Armstrong for the first 21 laps, then took over and led the final four circuits in his Liberty Village/McGladrey & Pullen Spike/Esslinger Ford. Armstrong finished second ahead of Kyle Hamilton, Bobby Santos III and Adam Kramer. Series point leader Bryan Clauson finished 16th and pole starter Dillon Welch was sixth.
Clauson, who is also scheduled to compete in the Firestone Indy Lights at Iowa, enters the Iowa Midget race with an eight-point lead over Hagen in the new Mopar USAC National Midget series standings.
Clauson is no stranger to victory lanes in Iowa, winning both the 2010 Mopar USAC Midget race at Burlington and the AMSOIL USAC Sprint race at Iowa Speedway last year. He finished sixth in last year's Iowa Speedway Midget race, won by Bobby Santos III.
Santos holds the one-lap USAC Midget track record at Iowa Speedway at 139.553 mph, set in 2006.
MOPAR USAC NATIONAL MIDGET POINT STANDINGS
1-Bryan Clauson-542; 2-Darren Hagen-534; 3-Bobby East-522; 4-Kyle Larson-493; 5-Tracy Hines-477; 6-Brad Kuhn-403: 7-Zach Daum-391; 8-Caleb Armstrong-330; 9-Levi Roberts-318; 10-Jerry Coons Jr.-278.