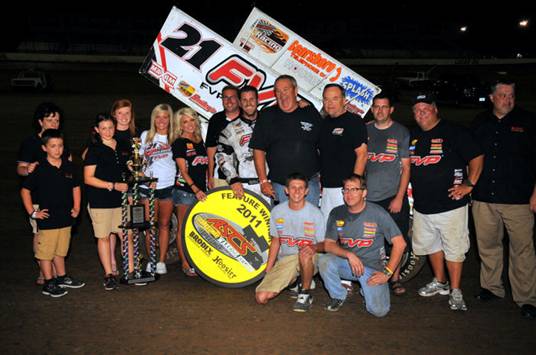 By Bill W
June 21, 2011 – The best stories in racing are those of overcoming adversity, and that was certainly the case for Brian Brown Saturday night at the Lucas Oil Speedway near Wheatland, Missouri. After losing a motor in his heat race, he stormed from the rear of the B, and then the rear of the A to take a late lead and bring the crowd to its feet. It was a fulfilling feeling for the FVP #21 team to say the least. This week, the Grain Valley, Missouri driver will compete in a 410 special at the Jackson Speedway in Minnesota and at the Knoxville Raceway in Iowa.
The original plans of doing some 410 racing last weekend were dashed by rain on Friday, and by a Plan B that found them in Wheatland Saturday racing with the ASCS-Warriors series. "We weren't really sure we were even going to Wheatland, and then Impact Sign, Lighting & Wraps was the presenting sponsor," says Brian. "They do a lot for our racecars with the graphics and the graphics on our trailer. They are not only great partners, but they are a great family and a good friend to us. We also had David from Champion Brands, Ron from Ditzfeld Transfer and Scott from Weld Wheels there."
Things went south in a hurry in the heat race. "We drew a good spot in the heat, but on the first lap, the motor went sour on us," says Brian. "That put us behind the 8-ball the rest of the night. Andy (Anderson), Joey and Austin Martin and Scott Mackie got in there and got the motor changed for the B."
Starting towards the back of the B, Brian was able to charge to second and a transfer to the main event. "Starting 14th in the B can be tough," he says. "But we were able to get up through there and get to second. Going into the A though, you're starting far back and you don't want to get caught in someone else's mess."
Brian would post outside of row nine for the feature. "We were able to get a good start," he says. "With about six or eight laps to go, we were about four-wide for the lead there. We had a couple yellows late that benefited us."
One of those yellows came with three laps to go, and Brian sitting second. "We got behind (leader) Brad Loyet," he says. "We were able to get by him on the restart, but he got back by. We were able to counter his move and take it home for the win. It was a great feeling."
The fans were also on the roller coaster ride that the FVP team was experiencing. "It didn't start like we wanted, but it couldn't have ended any better," says Brian. "They were cheering when we blew and they were cheering when we came from the back to win it! That is all understandable. No driver is going to be the favorite of every fan. At the end of the night, if they didn't enjoy that race…they aren't a sprint car fan! Hopefully, they'll pack that place for the Jesse Hockett/Daniel McMillin Memorial in September!"
A Friday night rainout with the Monster series in Granite City caused a change of plans. The ASCS-Midwest/Warriors event at US36 Raceway near Cameron, Missouri was the best option. "Cameron hasn't been my favorite track over the years, but Mike Franks did a good job with the track on Friday," says Brian. "We started fifth in our heat, but we messed up and had to restart at the tail. We were able to come back to fourth and sneak into the A main."
Starting 13th in the feature, Brian charged into the top ten before pulling off late in the event. "The way the track is, even if it slicks off a bit, it's tough to pass," he says of the high-banked ¼-mile. "When Danny (Lasoski) and I are racing for ninth with (Jonathan) Cornell and Loyet, you know it's a tough night. Some of the guys were acting like they were racing for a million bucks, and I wasn't going to wad it up."
Brian is excited to get back to Jackson Speedway where he has a number of fans in Minnesota that he only gets to race in front of a couple times a year. The feature will pay $12,000 to the winner. "Tod Quiring and Big Game Treestands are giving us a great opportunity at Jackson," says Brian. "We all need to show our appreciation by packing the place Friday night…both drivers and fans."
Follow Brian and FVP Racing on Twitter, Facebook and Youtube!
The FVP marketing team has launched a Twitter page, a Facebook page (including Brian's GoPro In-car camera videos and FVP Racing Report), and a Youtube page (make sure to subscribe to all!) to keep up to date with Brian and FVP racing! You can become a fan and follow along by clicking on the links below:
Twitter: http://www.twitter.com/fvpracing
Facebook: http://bit.ly/2rakgn
YouTube: http://www.youtube.com/profile?user=fvpracing
Web site
For up to date information on Brian Brown, visit www.BrianBrownRacing.com!
T-shirts
To purchase Brian's new t-shirts, visit www.BrianBrownRacing.com!
Brian's Q&A
Jeff Putnam asks: What about Lucas Oil Speedway in Wheatland fits your style?
Brian answers: I don't really know if it fits my style. Dan Robinson and everyone at that track do a great job no matter the weather they've had. There are always two and three lanes to operate with. It's a wide track. A lot of track operators could learn from them. I'm a big fan of tracks that have multiple grooves. It's just a fun place to race at and a fun place to watch a race. It is a beautiful facility, and a pleasure to run there.
Got a question for Brian? Send it to us at sprntcar@iowatelecom.net, and we may answer it in this section! Put "? for Brian" in your subject line.
Brown's Bits
Brian won the 2010 Jackson Nationals by taking the overall point total title. Brooke Tatnell won the preliminary feature at the event last August and Brian drove from 12th to 2nd. In the finale, he drove from row three to a runner-up finish to Lee Grosz. The tie-breaker with Tatnell was broken with a better Saturday finish.
FVP
We offer a full line of high quality oil, air, cabin air and fuel filters, plus a complete line of high quality batteries for multiple applications including cars, trucks, SUV's, commercial and other specialty vehicles. All products are made to OE manufacturer fitment specifications. FVP products are engineered to provide our customers with quality products that are equal or superior in performance to the major national brands at a competitive price. Visit us on the web at www.FVPparts.com!
SPLASH
Whether it's keeping your windshield clean or free of ice, protecting your RV, boat or pool from freezing in the winter, or your sidewalk safe to walk on, SPLASH Products are what you need! Check out our new SPLASH website at www.SPLASHWash.com!
Marketing Partner of the Week – Ditzfeld Transfer
Brian says – "Ditzfeld Transfer is a family deal. Ronnie and his sons were our very first sponsor. They haul our motors, and if I would need anything hauled across the country, I would call them first."
Ditzfeld Transfer has been with Brian since the start of his racing career, and was his first sponsor. The Sedalia based family owned trucking business has been in operation for over 45 years, and has a commitment to maintaining the highest level of service. Currently, Ditzfeld Transfer utilizes more than 50 power units and 160 trailers. To learn more about Ditzfeld Transfer, visit www.DitzfeldTransfer.com!
Associate Marketing Partner of the Week – XYZ Machining
Brian says – "Tim Norman and his wife do a great job there. We use their mounts and posts. They make a great product."
XYZ manufactures aluminum and titanium racing components as well as custom products for other industries. Their company pays close attention to the three things important to customers: on-time delivery, quality work, and excellent customer service. Visit them on the web at www.XYZMachining.com!
Brian would like to thank FVP, Searsboro Telephone Company, Impact Sign and Lighting, Champion Brands, SPLASH, Ditzfeld Transfer, Maxim Racing, Smiley's Racing Products, Weld Wheels, Housby Trucks, My State Insurance Rates, Arctic Cat, K&N Filters, Hostiowa.net, FSR Race Products, TI64, Fuel-Safe Tanks, Awesome Racewear, Wolfe Eye Clinic, Bell Helmets, CP Pistons, Carrillo Rods, A1 Mortgage, Rockwell Security, Paul's Auto Body Supply, Engler Machine, Vortex Wings, Ostrich Racing Engines, Penray, All Pro Cylinder Heads, Butler Built Seats, Rod End Supply, KSE Racing Products, Winters Performance Products, Santomauro Racing Products, Cometic Gaskets, Kaeding Performance, Donovan, Magtech, ISC Racers Tape, Racing Optics, Pro Shocks, Don's Truck Wash, Gardner Farms, Hoosier Tires, GoPro, XYZ Machining, Brown and Miller Racing Solutions, Peterson Fluid System, Red Devil Brakes, Schoenfeld Headers, www.Impact4800.com and WSIB Insurance for all their he