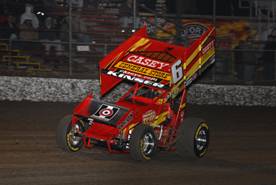 By Parsons Motorsports PR
Granger, IA—June 22, 2011—After finding a pretty good combination last weekend on a high-banked bullring , Kraig Kinser and the Casey's General Store team look to parlay that into a couple of good runs this weekend as the World of Outlaws continue a stretch of nine consecutive events on short tracks, those smaller than a half-mile.
This weekend's pair of events kicks off on Saturday, June 25 at Princeton Speedway in Minnesota and continues on Sunday, June 26 at Huset's Speedway, which will mark the series only visit of the year to the state of South Dakota.
Kinser competed at Princeton Speedway for the first time in 2004, scoring two Top-Five finishes. He finished fourth in the opener of the two-day event at the ¼-mile bullring and bettered that by one spot in the finale coming home on the podium. The third generation driver has made five career starts at the track and has finished among the Top-10 in three of those visits, including a ninth-place effort in the finale in 2005. He finished 15th in his last start at Princeton in 2008.
The native of Bloomington Ind. raced for the first time with the World of Outlaws at Huset's Speedway in 2003. He finished a career-best second at the track in 2005 and was seventh in his most recent start at the track last season. Kinser has made six career starts at the high-banked 3/8-mile.
Kinser is currently tied for 10th in the World of Outlaws championship standings on the strength of nine Top-10 finishes heading into this weekend's events at Princeton Speedway in Princeton, Minn. and Huset's Speedway in Brandon, S.D
Kraig on Princeton Speedway:
"I've always done pretty well at Princeton. The first year I went there in 2004, we were up front and contending for a couple of wins. It's been a couple of years since we've been there and a lot has changed since then, so that should kind of equalize the playing field. Qualifying and making it into the dash will be important as it is at just about every race nowadays. I enjoy racing at Princeton and am ready to climb back into the Casey's General Store car."
Kraig on Huset's Speedway:
"Huset's can be a challenging track. Things happen in a hurry there and you have to stay on top of track conditions as well, as it changes there quite a bit throughout the night. I had a pretty good run there last year and we have been pretty good on the short tracks this year. Huset's is a place where you have to try and keep your nose clean and stay out of trouble to be there at the end."
Kraig Kinser By the Numbers: Huset's Speedway & Princeton Speedway:
0.25- Miles around Princeton Speedway
0.375- Miles around Huset's Speedway
1-Top-Five finish at Huset's
2- Career Top-Five finishes at Princeton; Career Top-10 finishes at Huset's
3- Top-10 finishes in career at Princeton Speedway
5- Career starts at Princeton Speedway with the World of Outlaws
6- Starts in career at Huset's with the series
9.2- Average finish in five career starts at Princeton Speedway
10.138- Track record at Princeton Speedway
10.317- Track record at Huset's Speedway
12.2- Average finish at six career starts at Huset's
239- Miles from Princeton Speedway in Minn. to Huset's Speedway in S.D.
2003- Year of first start at Huset's Speedway
2004- Year of first start at Princeton Speedway
2,819- Points earned through June 18
30,900- Dollars earned through June 18
Keep up with all the action: Follow Kraig Kinser on Twitter at http://twitter.com/kraigkinser6 and receive live updates from the track each and every race night. Also keep up with Kraig online at the recently redesigned www.KraigKinser.com.
Tune in: Listen live to each and every World of Outlaws event on DIRTVision.com with "The Voice of the Outlaws" Johnny Gibson on the call. Visit www.DIRTVision.com for live audio of each and every World of Outlaws Sprint Car Series event.