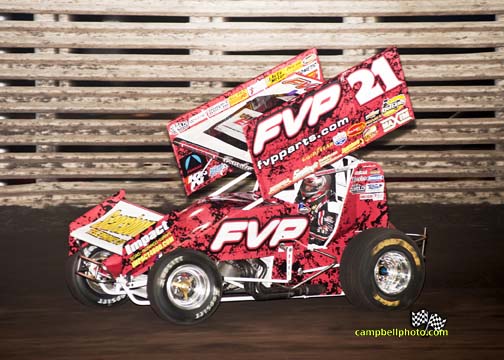 From Bill W
(November 28, 2011) – Brian Brown and the FVP #21 have wrapped up the 2011 season, and look back fondly on seven big wins, and a career-best run in the biggest sprint car race there is. Conversely, there is always a look at what could have been as well and the driver from Grain Valley, Missouri and the rest of his team will be working hard this winter to improve in 2012.
The goals are always high, and at times the team struggled to find speed. "Obviously, it wasn't as great a year as we've had in the past," says Brian. "The competition is always getting tougher, and everyone is working harder to get their stuff good. If you are off a little bit, like we were, it's tough. There's no margin for error."
A number of people worked hard in the trenches to make things click. "Everyone on the FVP #21 team worked hard all year," says Brian. "We've had a number of guys working hard to lead us to the victories we were able to get: Andy Korte, Chaddy Cypert, Bryan Sunby, Andy Anderson and Blake Cook here at the end of the year. There have been others too, like our Knoxville team: Jacob Engel, Glenn Wignall and of course, grandpa George (Lasoski)."
One highlight of the season came at an ASCS-Warrior win in June at the Lucas Oil Speedway. It was one many fans won't soon forget. "The win that stands out the most this year was the win at Wheatland in June," says Brian. "We blew an engine in the heat race, and we got it changed in time. We had to start last in the B main, and we got to a transfer. I think we started 18th or 20th and we were able to come up from the back to win it."
The win energized the team, but the fact that it was close to home and many of the partners on the team made it all the more special. "Impact Awnings, Signs and Wraps were a presenting sponsor for that race, so a lot of their employees and customers were able to be there," says Brian. "Ronnie Ditzfeld with Ditzfeld Transfer was able to be there, as well as David and Matt Lowe from Champion Brands. Anytime you can get the people who back you at the race, you want to do well."
A win in Sedalia in August also stands out. "Obviously, the win at the State Fair was big," says Brian. "Danny (Lasoski) and I were going back and forth. He had gotten the best of me the night before at Grain Valley, and the Sedalia race was one I definitely didn't want to lose. We both were putting it on the line, and fortunately, I made some good decisions in lapped traffic. Anytime you can outrun him, you've done a good job. He's one of the best in the world."
There were also close calls. "The race at Malden, we were leading and the MSD box went bad," says Brian. "We were leading early at Devil's Bowl early in the year, and the yellow came out late and we got passed. As you go on in racing, you remember the ones you didn't win more than the ones you did."
Great anticipation going into Knoxville's 360 Nationals turned into pain when Brian suffered a back injury. Despite being told to rest it for a number of weeks, he returned the following week to run seventh in the 51st Knoxville Nationals. "We had success there at the Nationals with a career-best seventh place finish," he says. "We ran third on the qualifying night. The back was something that the doctors didn't think I should race on. They don't understand how much we look forward to it. We look forward to it all year long. That's the biggest week to make money as an owner/driver. As long as I could put up with the pain, we were going to do it, and we did well."
Brian raced through the pain for another month or so. He looks back on some other highlights. "2011 was successful in a lot of ways," he says. "We got to go to some places with FVP that we haven't been before. We were able to go to ELKO which is close to their headquarters and race well there. The Lakeside (KS) race was a great chance to get with the FVP people too when the Outlaws came. We led the first 22 laps, and I thought we got snookered by Steve Kinser a little bit on the restart. That was a good second place run; we just came up a bit short."
The team is already working hard in preparation for 2012. "We'll probably run about the same amount of dates," says Brian. "A lot of the schedule is to be determined at a later date. I'm excited to work hard this offseason and get going. We have so many great fans out there that support us. No matter how many t-shirts we put out, they are snapping them up and we really appreciate that more than anything. They are there for us after the races, win or lose. On top of that, we have the greatest partners in the world. From FVP and our other major partners, to our associate sponsors to the product sponsors, we appreciate them all and couldn't do it without them."
T-shirts Available!
For FVP #21 T-shirts, catch Brian at the track, or visit www.BrianBrownRacing.com!
Follow Brian and FVP Racing on Twitter, Facebook and Youtube!
The FVP marketing team has launched a Twitter page, a Facebook page (including Brian's GoPro In-car camera videos and FVP Racing Report), and a Youtube page (make sure to subscribe to all!) to keep up to date with Brian and FVP racing! You can become a fan and follow along by clicking on the links below:
Twitter: http://www.twitter.com/fvpracing
Facebook: http://bit.ly/2rakgn
YouTube: http://www.youtube.com/profile?user=fvpracing
Web site
For up to date information on Brian Brown, visit www.BrianBrownRacing.com!
Brian's Q&A
Bill W asks: Any racing plans for the offseason?
Brian answers: I have an opportunity or two to go to Australia in January, but that's going to depend on how much work we get done in the shop between now and then. Not that a seven win season is a failure, but it's not where we need to be. We want to be back in the 15-20 range. We have to keep getting better like everyone else is. We tried some things late in the season that I think are going to work for us. Like my grandpa has always taught me, you win your races in the Winter, not the Summer.
Got a question for Brian? Send it to us at sprntcar@iowatelecom.net, and we may answer it in this section! Put "? for Brian" in your subject line.
Brown's Bits
Brian won seven times in 2011. He picked up three wins at I-80 Speedway near Greenwood, Nebraska (April 9, May 26, July 1), one at Knoxville Raceway (June 3), from the back of the pack at Lucas Oil Speedway near Wheatland Missouri (June 18), at the Spoon River Speedway near Canton, Illinois (July 29) and at the Missouri State Fair Speedway in Sedalia (August 21).
FVP
We are very excited to introduce our new line of automotive chemicals, oils and fluids to our product offering. These new products will be available at many retailers across the country. We continue to offer a full line of high quality oil, air, cabin air and fuel filters, plus a complete line of high quality batteries for multiple applications including cars, trucks, SUV's, commercial and other specialty vehicles. All products are made to OE manufacturer fitment specifications. FVP products are engineered to provide our customers with quality products that are equal or superior in performance to the major national brands at a competitive price. To learn more about our FVP products or to find out where you can have FVP products installed in your vehicle, visit us at www.FVPparts.com! FVP…The Confident Solution
SPLASH
In addition to our line of seasonal safety products, we are very excited to introduce a full line of SPLASH Wiper Blades. Our SafeView Performance Blades fit 95% of the vehicles on the road with quick and easy installation for everyone. The AccuVision Beam Blade offers memory curve steel, which provides uniform pressure for a clear wipe, without the streaks. Look for these great new SPLASH products! Whether it's keeping your windshield clean or free of ice, protecting your RV, boat or pool from freezing in the winter, or your sidewalk safe to walk on, SPLASH Products are what you need! Check out our new SPLASH website at www.SPLASHWash.com! SPLASH…SEE SAFELY!
Marketing Partner of the Week – Impact Signs Awnings Wraps / impact4800.com
Brian says – "David and Julie Goodson have a great family there. They also make sure our FVP #21 and our trailer looks great with the graphics they provide. We're proud to represent them."
The goal at Impact Sign and Lighting is to make selecting the right sign and lighting for your business a simple process for you. Impact can design, create, and install virtually any type of sign on awnings, poles, buildings and much more including racecars, of course! They will work with you from conception to completion and make sure you are completely satisfied. We'll give you personalized service, expert consultation, quick turnarounds, and reasonable pricing. Impact Sign and Lighting are responsible for the graphics on the SuperClean #21. Visit them on the web at www.Impact4800.com!
Associate Marketing Partner of the Week – Penray
Brian says – "We're using all their brake cleaning materials. Mark and all the guys there are great to work with. We're looking for a long relationship between them and Brian Brown Racing."
Incorporated in 1950, The Penray Companies continue to grow strong after 50 years of service in the heavy-duty and automotive chemical industry. There are two main plants for the manufacture of both liquids and aerosol products. They are in Elk Grove Village and Wheeling, Illinois. Penray is comprised of four separate business units: heavy-duty, automotive, export, and custom manufacturing. Visit Penray today at www.Penray.com!
Brian would like to thank FVP, Searsboro Telephone Company, Impact Signs Awnings Wraps / impact4800.com, Champion Brands, SPLASH, Ditzfeld Transfer, Maxim Racing, Smiley's Racing Products, Weld Wheels, Housby Trucks, www.RateWin.com, Arctic Cat, K&N Filters, Hostiowa.net, FSR Race Products, TI64, Fuel-Safe Tanks, Awesome Racewear, Wolfe Eye Clinic, Bell Helmets, CP Pistons, Carrillo Rods, A1 Mortgage, Rockwell Security, Paul's Auto Body Supply, Engler Machine, Vortex Wings, Ostrich Racing Engines, Penray, All Pro Cylinder Heads, Butler Built Seats, Rod End Supply, KSE Racing Products, Winters Performance Products, Santomauro Racing Products, Cometic Gaskets, Kaeding Performance, Donovan, Magtech, ISC Racers Tape, Racing Optics, Pro Shocks, Don's Truck Wash, Gardner Farms, Hoosier Tires, GoPro, XYZ Machining, Brown and Miller Racing Solutions, Peterson Fluid System, Red Devil Brakes, Schoenfeld Headers, and WSIB Insurance for all their help!