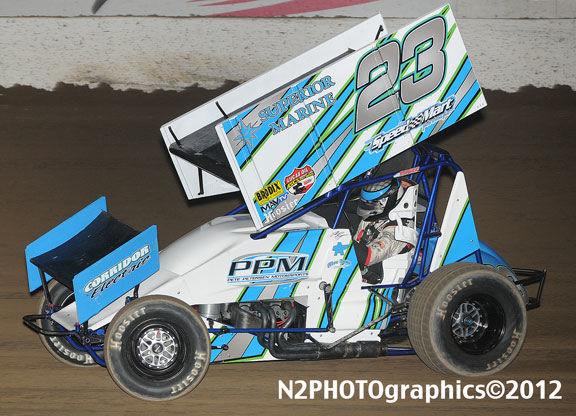 PETERSEN MEDIA
– The kick off to the Lucas Oil ASCS Sizzlin' Summer Speedweek was a rough one for Snohomish, WA driver, Seth Bergman, as he charged from 13th in the B to 11th in the A Friday, before being forced to take a provisional on Saturday night where he tallied an 18th place finish.
"We were okay on Friday, but our heat race really killed us, and Saturday we struggled all night, and didn't get off to the greatest start to speedweek," said Bergman.
Lining up in the last row of his heat on Friday, Bergman scored a seventh place finish and found his PPM/Superior Marine/Corridor Electric machine in the 13th starting spot for the 'B'.
Choosing the high side of the speedway, Bergman charged his way forward to the fifth spot, and transferred his way into the feature event.
In the feature event, Bergman found himself in the last race, and simply put his machine where nobody else was as he carved his way forward.
Bergman was no threat to win the race from the back of the field, but he put on one of the best charges from the back as he worked his way up to the 11th spot as the checkered flag waved.
"We had a pretty good car, but it's a rough field to try and run all the way from the back and get a solid finish," said Bergman. "I'm pleased with the finish, but our heat just killed us."
Saturday night started off nearly identical to the Friday, as Bergman again found himself starting in the last row of his heat.
Another seventh place finish put him in the B, where he would start in the 12th spot, but would not make the transfer.
Choosing to take a provisional, Bergman tagged the rear of the feature, and managed an 18th place finish.
"Hopefully we an draw a little better the rest of the week, and start further forward in the features," Bergman said. "The good thing about speedweek is you don't have to think about the bad night's very long."
Bergman and his Pete Petersen Motorsports team would like to thank Superior Marine, Corridor Electric, Speedmart Inc, Eagle Chassis, ButlerBuilt, and 7 Industries for their support in 2012.
ON TAP: Bergman will now continue on with the grueling speedweek as he will return to action Monday night at the Jones Motorspeedway in Chatham, LA, Tuesday they will head to the Diamond Park Speedway in AR, followed by Lawton Speedway in Lawton, OK on Weds, the Salina Highbanks on Friday and finally finish up at the Lucas Oil Speedway on Saturday.