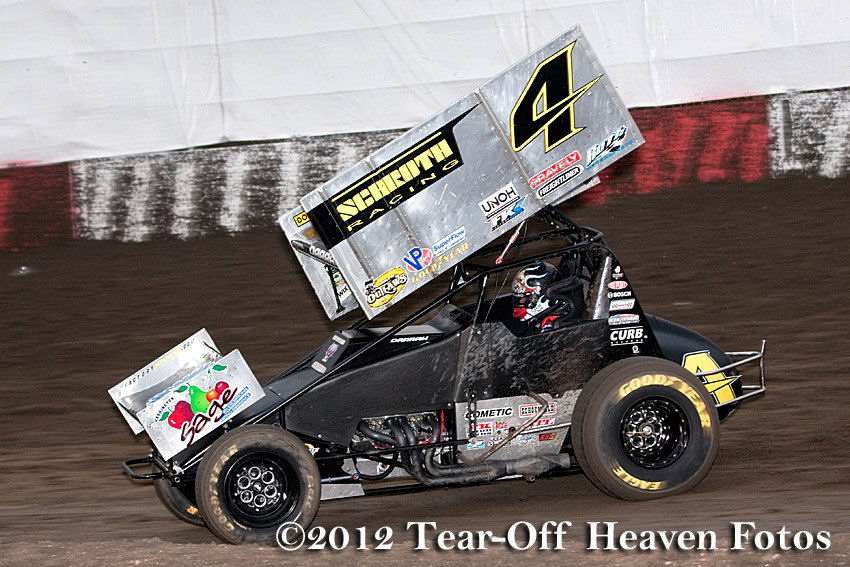 PETERSEN MEDIA
Cody Darrah continues to heat up with the Summer months as the Kasey Kahne Racing driver picked up a 10th place finish at Bellville on Friday before scoring a third place finish at Lakeside Speedway on Saturday night.
"We're close," said Darrah. "We keep knocking on the door, and we are starting to be in the mix on a nightly basis."
Timing in fifth quick at the Bellville Highbanks, Darrah's fourth place finish in his heat put him in the feature and in the dash to determine his 'A' main starting spot.
A 10th place finish in the dash, put the Red Lion, PA driver in the firth row for the feature.
With the track right around the cushion, Darrah was able to gain spots early in the feature as he kept his right rear glued on the cushion, but as laps clicked off the youngster slipped back to the 10th spot.
"We were good at Bellville," Darrah explained. "There was a questionable scoring decision that put us back a few spots, but a 10th place effort is okay, and we will work with it."
Saturday night The World of Outlaws invaded the Lakeside Speedway, and Darrah's night started off very strong as he timed in sixth fastest of the 21 cars entered in the event.
Getting through his heat, Darrah scored a third place finish in the Dash which lined him up in the second row for the feature.
Fading back to sixth on the initial start, Darrah worked hard to get back in the top five, and got help from a lap 12 caution.
On the restart, Cody was able to get his lost spots back, as he surged all the way up to third spot.
As the leaders got into traffic Darrah struggled to get through lapped cars, but held on to a very strong third place finish.
"Luckily we had a great restart and got back all those spots we lost early," Darrah explained. "Unfortunately, we struggled in lapped traffic, but held on to a nice third place finish."
ON TAP- Cody and his KKR team will be in action on Tuesday night at the Husets Speedway in Brandon, SD before double dipping in the state on Wisconsin as they take over Cedar Lake on Friday and Beaver Dam on Saturday.
STAY CONNECTED- Check in to www.codydarrah.com or visit his facebook page, http://www.facebook.com/pages/Cody-Darrah/164513250262145?ref=ts for the latest news on Cody.