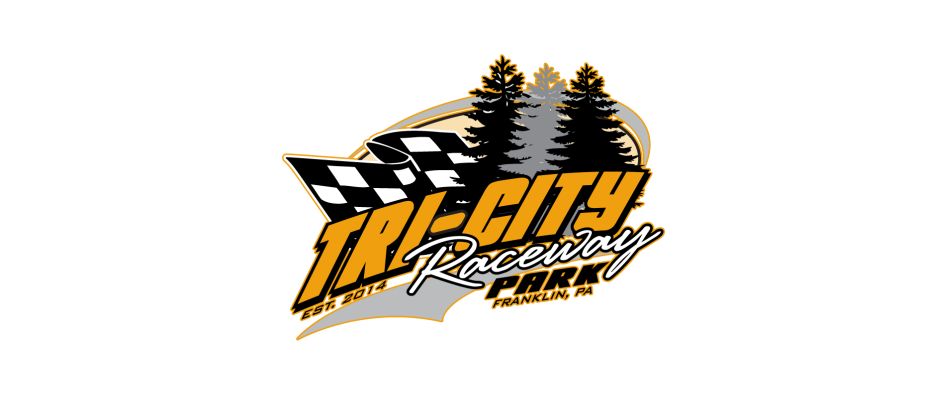 Franklin, PA — (July 26, 2015) — The highly anticipated Grand Reopening of Tri-City Raceway Park saw three new faces visit Victory Lane before the near capacity crowd on Sunday, July 26th. Eric Williams (410 Sprints) and Darin Gallagher (Outlaw Sprint Warriors) captured their career first victories at the Venango County oval.
Eric Williams and Bob Howard led the 19 car Sprint car field to the green. Brad Howard flipped violently just past the flagstand and Daryl Stimeling was also collected in the incident. Howard was finished for the evening and Stimeling tagged the field on the restart. The event would go caution free as Williams was never seriously challenged for the lead and went on to score his first ever Tri-City Raceway Park victory in the McClung Auto Body sponsored HRE powered J&J Chassis. Brent Matus, Adam Kekich, Dan Kuriger and Bob Howard completed the top five. Carl Bowser, Brandon Matus, Stimeling, Scott Priester and A.J. Flick rounded out the top ten.
The evening's finale, the Outlaw Sprint Warrior main event, found another new winner in Victory Lane as Darin Gallagher capped off his weekend with his second win in two days. Gallagher led the 20 lap event wire-to-wire and defeated Jake Gomola, George Hobaugh, Rob Felix and Alex Paden.
Sprint Feature Finish: Eric Williams, Brent Matus, Adam Kekich, Dan Kuriger, Bob Howard, Carl Bowser, Brandon Matus, Daryl Stimeling, Scott Priester, A.J. Flick, Zach Morrow, Mike Bauer, Dennis Wagner, Karl Baker, Paul Kish, Mike Flynn, Jim Morris, Brad Howard, Gale Ruth, Jr.
Outlaw Sprint Warrior Feature Finish: Darin Gallagher, Jake Gomola, George Hobaugh, Rob Felix, Alex Paden, Rod Jones, Joe McEwen, Greg Dobrosky, Devin Litwiler, Cody Bova, Ken Rossey, Andy Feil, Brent Covell, Kyle Colwell, Mark Rossey, Evan Kornbau, Mike Maraon II, Andrew Fescemyer (DNS)