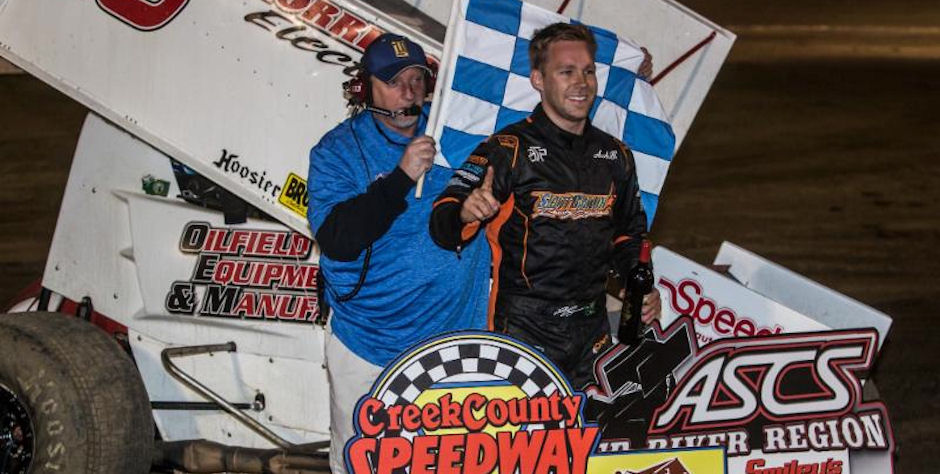 Inside Line Promotions
SAPULPA, Okla. (April 11, 2016) – Seth Bergman put together a strong performance last Friday at Creek County Speedway, where he captured his third victory of the season.
Bergman led all 25 laps of the ASCS Red River Region event at the quarter-mile oval, where he last won in 2013 and has recorded a triumph during four of the last six years.
"It's been a little frustrating lately because every night this year I've felt we had a shot to win, but the last month I have no results to show," he said. "Last weekend we were finally able to win. When you set goals like I do these are stepping stones on the way to that. I'm not in this for the little things. I'm in sprint car racing for the big accomplishments."
Bergman kicked off the night by winning his heat race after starting on the outside of the front row.
"I knew that I needed to win to get in the redraw to give myself a good shot at winning the feature," he said. "It's important to capitalize on good draws. At Creek County the further forward you can start the better."
Bergman then pulled the No. 2 in the random redraw, which lined him up on the outside of the front row for the feature.
"The main event played out how I pictured it in my mind," he said. "I knew it'd be tough with Bryan Clauson (on the pole). With the way the track was shaping up and how short 25 laps goes by there it was important to get the start and lead off the bat.
"We had three or four starts because people kept crashing. When we finally got one in we were side by side all around the race track before I passed him on the high side coming out of turn four. We got to traffic and he was closing in, but I didn't ever see his nose wing. For the lapped traffic I did deal with I was able to make quick work of them so it worked out well."
Bergman's win propels him into races this weekend on Saturday at Knoxville Raceway in Knoxville, Iowa, and Sunday at Missouri State Fair Speedway in Sedalia, Mo., with the ASCS Warrior Region.
QUICK RESULTS –
April 8 – Creek County Speedway in Sapulpa, Okla. – Heat race: 1 (2); Feature: 1 (2).
SEASON STATS –
17 races, 3 wins, 6 top fives, 7 top 10s, 8 top 15s, 13 top 20s
UP NEXT –
Saturday at Knoxville Raceway in Knoxville, Iowa, and Sunday at Missouri State Fair Speedway in Sedalia, Mo., with the ASCS Warrior Region
MEDIA LINKS –
Website: http://www.SethBergmanRacing.com
Twitter: https://twitter.com/BergmanRacing
Facebook: https://www.facebook.com/SethBergmanRacing
APPAREL –
Bergman has men's and women's t-shirts available for sale at his race trailer during events he competes in this season.
SPONSOR SPOTLIGHT – Oilfield Equipment & Manufacturing
Based in Shawnee, Okla., Oilfield Equipment & Manufacturing is a business within the oil industry.
"Oilfield Equipment & Manufacturing builds anchors for oil wells and they are pretty much at the top of the industry quality-wise," Bergman said. "They take pride in being made in America and in building quality parts."
Bergman would also like to thank Corridor Electric, Young Tools, Eagle Motorsports, Speedy Auto Service, SpeedMart, Scott Baylor Racing Engines and CSI Shocks for their continued support.
INSIDE LINE PROMOTIONS –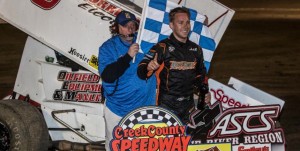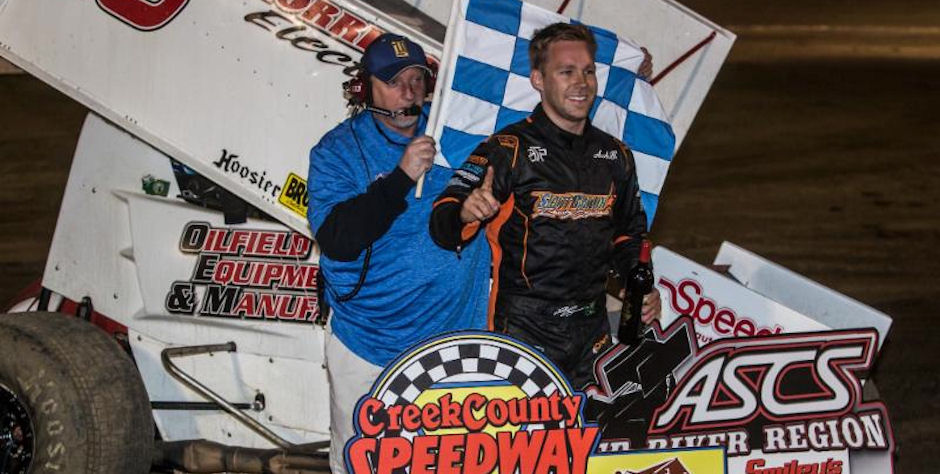 Inside Line Promotions specializes in affordable public relations and media management for motor sports drivers, teams, sponsors, tracks, series, events, organizations and manufacturers. ILP Founder Shawn Miller leverages professional journalism with new media technologies and social networking to improve your exposure and the return on investment for your sponsors.
To meet the media relations needs of your program by joining Team ILP, contact Shawn at 541-510-3663 or Shawn@InsideLinePromotions.com. For more information on Inside Line Promotions, visit http://www.InsideLinePromotions.com.