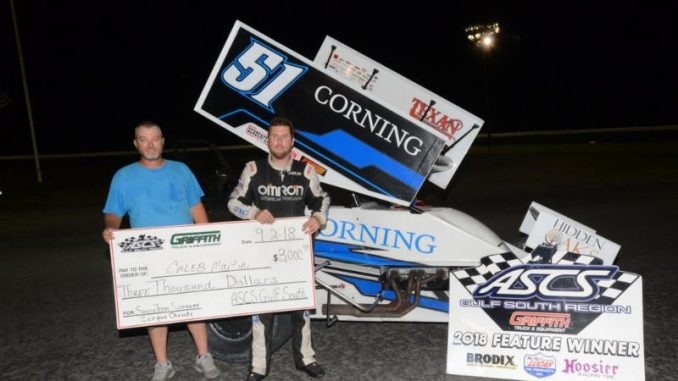 From Bryan Hulbert
CORPUS CHRISTI, Texas (September 2, 2018) One win deserves another as Caleb Martin, fresh off his first career win with the Griffith Truck and Equipment ASCS Gulf South Region on Saturday night, backed it up by sweeping the weekend at South Texas Speedway.
Pocketing $3,000 for the Sunday triumph, the win was made sweeter with an additional $1,000 for the sweep courtesy of Rose Truck Sales in Corpus Christi for a weekend total of $6,000.
Slated to start sixth, Martin got a break as two false starts advanced the No. 51 to the front of the field. Taking full advantage, Caleb led flag-to-flag despite a caution on the white flag lap for Cody Stacy that planted the No. 2x of Tucker Doughty on his back bumper.
Having to settle for second, Doughty was able to hold off Channin Tankersley on the final restart. Koty Adams crossed fourth with Chris Sweeny moving up four spots to fifth. Michael McNeil, Dustin Gates, Cody Tankersley, Bruce Crockett, and Mike Vaculik made up the top-ten.
The Griffith Truck and Equipment ASCS Gulf South Region resumes action on Saturday, September 15 at Golden Triangle Raceway Park in Beaumont, Texas.
For other news, notes, and information on the American Sprint Car Series, from the National Tour to any of the Regional Tours that make up the nearly 150 races across the ASCS Nation in 2018, log onto http://www.ascsracing.com, follow on Facebook, on Instagram, and on Twitter (@LucasOilASCS).
Race Results:
ASCS Gulf South
South Texas Speedway – Corpus Christi, Texas
Sunday, September 2, 2018
Heat Race #1 (8 Laps): 1. 68-Dustin Gates, [2]; 2. 28-Michael McNeil, [1]; 3. 2X-Tucker Doughty, [6]; 4. 12W-Dale Wester, [3]; 5. 93-Chris Sweeney, [5]; 6. 0-Mike Vaculik, [4]; 7. 02-Harry Yerrington, [7]
Heat Race #2 (8 Laps): 1. 17-Channin Tankersley, [5]; 2. 51-Caleb Martin, [3]; 3. 17G-Cody Tankersley, [2]; 4. 21-Koty Adams, [1]; 5. 8-Bruce Crockett, [6]; 6. 48-Cody Stacy, [4]
A Feature (25 Laps): 1. 51-Caleb Martin, [6]; 2. 2X-Tucker Doughty, [3]; 3. 17-Channin Tankersley, [1]; 4. 21-Koty Adams, [5]; 5. 93-Chris Sweeney, [9]; 6. 28-Michael McNeil, [8]; 7. 68-Dustin Gates, [2]; 8. 17G-Cody Tankersley, [7]; 9. 8-Bruce Crockett, [4]; 10. 0-Mike Vaculik, [11]; 11. 02-Harry Yerrington, [13]; 12. 12W-Dale Wester, [10]; 13. 48-Cody Stacy, [12]