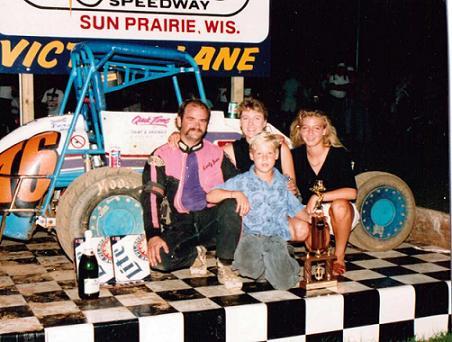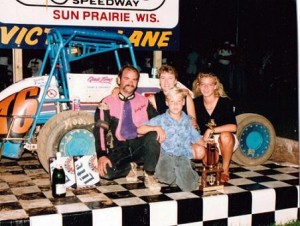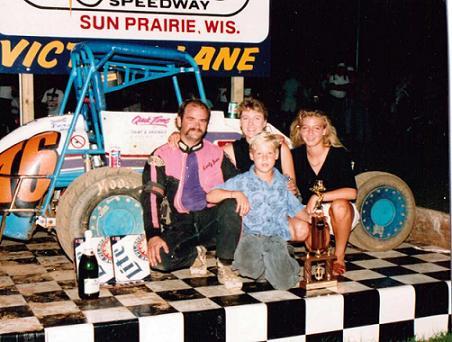 From Bryan Gapinski
Racine, WI — (October 20, 2012) — Martin "Marty" Davis, a long-timer competitor with the Badger Midget Series and winner of the 1992 Pepsi Midget Nationals died Saturday afternoon of a heart attack at the age of 54 years old. Davis was also the 1997 UMARA Midget Series Champion.
        Marty made his debut with the Badger Midgets in the 1976 season, following his brother John, who was a competitor with the series for several seasons. Marty finished eighth in Badger points in 1980, marking the first of eight top ten Badger point finishes. Marty scored his first career feature victory at Angell Park Speedway (Sun Prairie, Wis.) on July 26, 1981. The following season Marty scored two Angell Park victories including the Al Fredenberg Memorial Race.
        Marty captured the Angell Park opener on May 19, 1985, and six days later won the first-ever Dairyland Midget Series sanctioned feature at the Yellow River Speedway (Marshfield, Wis.). Marty, driving for Harry Turner, finished second in the 1986 Dairyland Midget Series Points.
       Four years later Marty won the rain shortened Corn Fest Midget Classic at Angell Park driving for Mike McNulty. Switching to a Challenger-Sesco combination for 1992, Marty captured four Badger features at Angell Park, including the season ending Pepsi Midget Nationals, to finish runner-up in driver points. Marty's wife Tina Davis captured the Badger Car Owners Championship, becoming the first female champion in the organization's history.
      Marty finished fourth in 1993 Badger points with two wins at Beaver Dam (Wis.) Raceway including the first-ever event at the newly configured track. Marty captured the 1997 UMARA Midget Series Championship, highlighted by a victory in the 50-lap season finale at Rockford (Ill.) Speedway.
        The following season Marty won the 50-lap event at Angell Park on May 17 setting a then track record for the distance, leading the entire race. Twelve days later he won the First Annual Milwaukee Cup Midget Classic at Hales Corners Speedway (Franklin, Wis.). Marty retired at the conclusion of the 2000 season.
        An experienced fabricator and welder Marty stayed active in racing, involved in countless restoration projects for customers involving many types of open wheel race cars.  At the time of his death Marty was President of Davis Equipment Services in Racine. He is survived by his wife Tina, daughter Jessica, son Marty Jr. (Kristen), Mother, three Sisters, brother John, and grandson Parker.