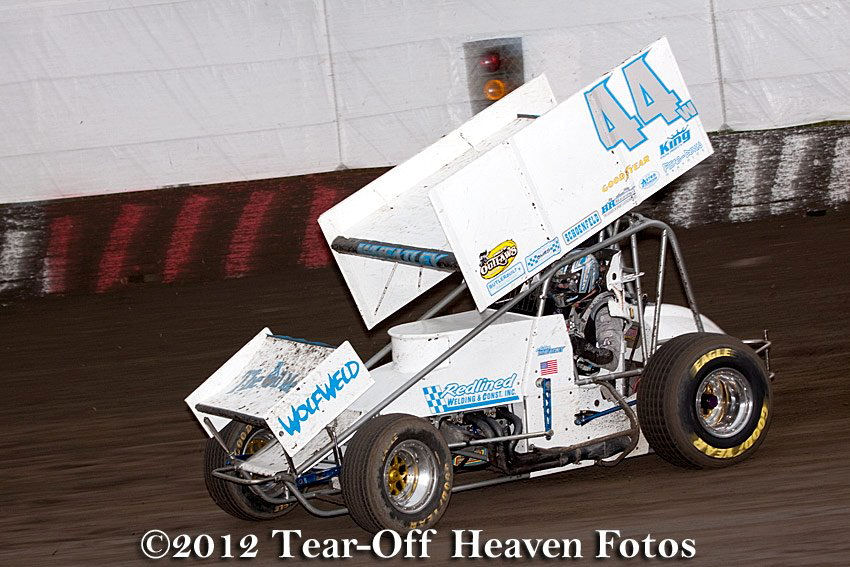 By PETERSEN MEDIA
Lake Stevens, WA driver, Austen Wheatley is not a fan of the Tulare Thunderbowl, but Friday night, the youngster scored an eighth place finish with the "Greatest Show on Dirt".
"That place is like a war-zone," Wheatley joked, "It's a tough place, but we ended up with a pretty good night."
Wheatley's night got started off well as he timed his Oil Medics/Wolf Weld/Redlined Welding and Construction mount in with a qualifying lap of 14.146 seconds putting him 12th on the speed chart.
A second place finish the dash put him in the dash in the 10th spot, and a 10th place finish saw him line up in the 10th spot for the 35-lap feature.
The Thunderbowl raceway remained fast, and hooked up all night, and Wheateley hung around the top-ten all night.
Overcoming a series of yellow and red flags, including a 15-minute rain delay, Wheatley was able to grab his top finish of the young 2012 season, of eighth, as he chased Steve Kinser to the checkered flag.
"It ended up being a much better weekend then Vegas and Perris, but I know we can be better and improve our finishes," said Wheatley. "My guys are working hard, and I'm looking forward to Chico, CA next weekend for the Mini Gold Cup."
Austen and his team would like to thank King Race Products, BR Motorsports, The Oil Medics, Wolfweld, Redlined Welding & Construction, Schoenfeld Headers, Astro Titanium, BMRS, Fire-Down Graphics and ButlerBuilt for their support in 2012.
ON TAP: Wheatley will now head to Chico, CA for the Mini Gold Cup on Friday and Saturday night.
PETERSEN MEDIA: Petersen Media specializes in motorsports media constructing news releases, both pre and post race, as well as constructing email lists to keep sponsors, and fans up to date. Petersen Media also utilizes today's Social Media networks to provide trackside updates to fans and sponsors, and can customize packages to fit your teams needs.