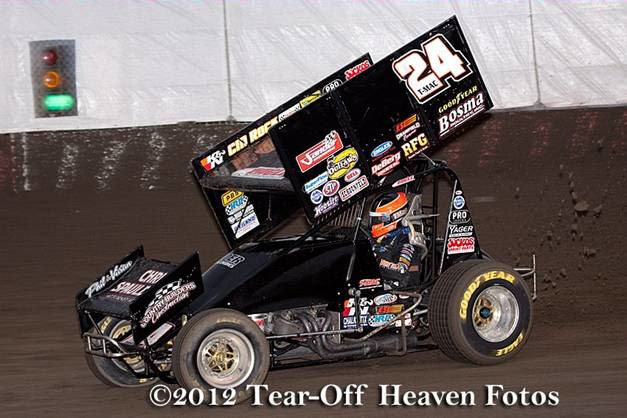 By Bill W
April 16, 2012 – Sprint car driver and 6-time Knoxville Raceway track champion Terry McCarl has agreed to a three-year sponsorship with Larry the Cable Guy's "Lord I Apologize Barbeque Sauces" starting this Friday night at State Fair Speedway in Sedalia, Missouri. The logo will ride a top Terry's top wing for the next three years.
"I am excited about this opportunity," says McCarl. "We have been working on this sponsorship for the last eight months. It has finally come together and we are ready to go racing!
Terry continues, "Teaming up with a celebrity like Larry should keep us full of sauce and very entertained this year (pun intended)! I am also honored to be contributing my time and car to raise money for the "Git R Done" foundation. This foundation benefits Children and Veterans. Each sale of a bottle of barbecue sauce contributes a portion of sales to the foundation. What better way to help this cause?"
The sauces will be available at the TMAC Motorsports souvenir rig. New racing merchandise will be coming soon. Visit www.TerryMcCarl.com for more information on the race team, and visit www.CableGuyStuff.com for more information on "Lord I Apologize Barbeque Sauces"!
Larry the Cable Guy "Lord I Apologize" was launched April 1 with two types of sauce: "Hotter than Hell" with ghost chili peppers and the "Heartland Gizzard Tickler Kansas City Style".
A portion of proceeds from each bottle will go to the Git R Done Foundation. This foundation has been set up through Larry the Cable Guy to benefit children and veterans.
"We are really excited in working with Terry and his race team," says Mark Tobin, Founder of AMGT, Inc. "Terry is very personable and is quite the comedian himself. Terry has approached us with a very entertaining marketing plan. We think race fans will be in for some cool interactions with Terry. We are happy to have him locked up for the next three years! So come on out and check out or website www.CableGuyStuff.com and stop by and get sauced up at Terry's trailer after the races! Remember part of the proceeds goes to the Git R Done foundation to benefit our veterans and kids that need our help!"
Websites for the McCarl Gang Plus Twitter!
Driverwebsites.com develops the websites for the McCarl boys. Check out www.TerryMcCarl.com, as well as www.AustinMcCarl.com and www.CarsonMcCarl.com!