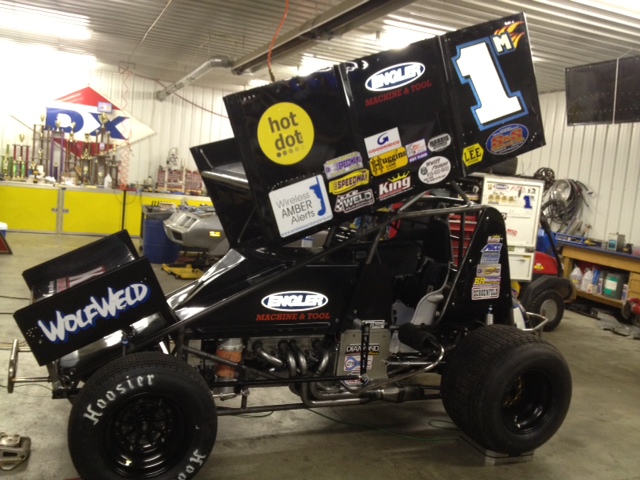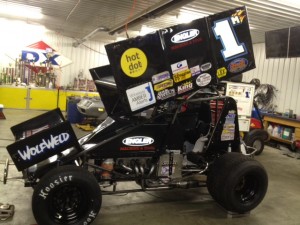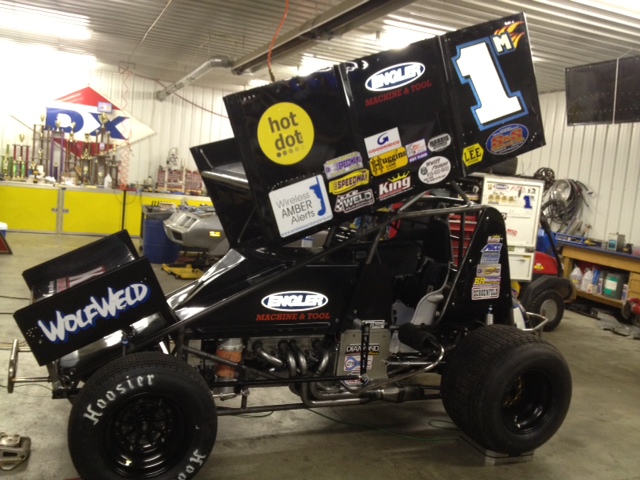 From Bill W
August 1, 2012 – The Mark Burch Motorsports #1m team is ready to roll tomorrow night as they embark on the 22nd Annual Arnold Motor Supply 360 Nationals at the Knoxville Raceway.  The event is contested over three days, from Thursday through Saturday.  The team will qualify with driver, Danny Lasoski, tomorrow night.
Lasoski won the 360 Nationals back in 1995 for a Nebraska car owner, though it was not Burch.  It was Ray Lipsey.  Burch has had success with a number of drivers at the 360 Nationals, including sitting on the pole with Chad Humston two years ago, only to have something break resulting in a crash.
The pair has raced a handful of times in 2012, and had some solid finishes, including a win at the I-80 Speedway near Greenwood, Nebraska with the Lucas Oil ASCS National Series.  "We are happy to race again," says Mark.  "We're always excited about going back to Knoxville.  The people there are the greatest.  Hands down, it's the greatest place to race.  We are always excited to race there."
Mark is especially thankful for the partners that make it possible for the #1m to hit the track.  New on board is Hot Dot Alert, a unique new product that can save your life!  "We are hoping to have samples at some point," he says.  "It is a neat deal.  It's a patch that detects if you are suffering from heat stroke.  They are using them in school sports like football.  It is really neat for kids and the elderly.  Even construction friends that I know had to deal with a loss of work there.  Their website is at www.HotDotAlert.com."
New Marketing Partners Needed and Welcomed
The Mark Burch Motorsports team is always looking to work with new partners to help them achieve their advertising goals. For more information please contact Mark at mark@markburchmotorsports.com!
Online
To keep up with Mark Burch Motorsports, check them out online at http://www.markburchmotorsports.com/!
Mark Burch Motorsports
The mission of Mark Burch Motorsports is to be an innovator in the unrefined business of Sprint Car racing on dirt, while representing our sponsors and manufacturers in a professional and positive manner both on and off the track. It is our goal to develop and improve our winning spirit and carry on our winning tradition by utilizing the growth of close personal relationships throughout our organization. This pursuit of excellence is the fuel that feeds the fire of our souls.
Mark Burch Motorsports would like to thank the following Primary sponsors: Afco Shocks, Engler Machine and Tool, Inc., Hot Dot Inc., King Racing Products, Speedway Motors, and Wolfweld Chassis
Mark Burch Motorsports would like to thank the following Associate and Product sponsors: Arrow Truck Sales – Kansas City, Donovan Blocks, Diamond Pistons, Rod End Supply, MSD Ignition, Vortex Racing Products, S&S Welding, Inc., Lee Power Steering, Gessford Machine, Diversified Machine, Inc., CV Products, Wulff Pumps, Schoenfeld Headers, Red Devil Brakes, Total Seal, Dyers Top Rods, Huggins Cams,  Weld Racing, Harris Decals, Eckley Racing Engines, Goodridge and Shaver Wesmar Gear Drives.