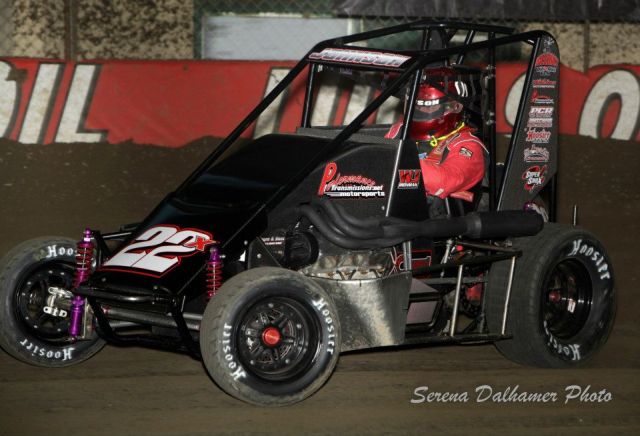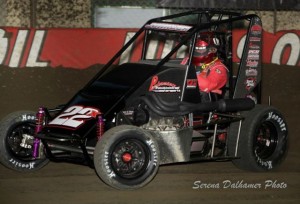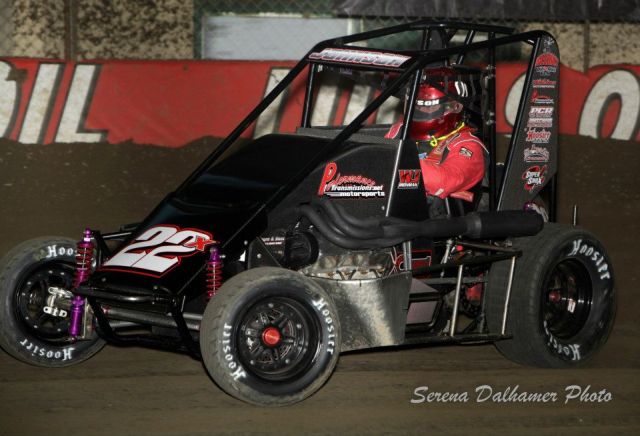 From Bill W
January 9, 2012 – Wayne Johnson will take to the track in the City Vending #22x in tonight's qualifier for the Chili Bowl in the Tulsa Expo Center.  The Knoxville, Iowa driver will start his quest for the "Golden Driller" trophy handed out in Saturday's finale.
Wayne has partnered with one of his Texas-based sprint car partners.  "We're driving for Ray Williams of City Vending," he says.  "He's had this midget a couple of years.  He wanted me to do it last year and I couldn't.  He asked me again this year, and I think it's going to be a good deal.  He helps us a lot with the sprint car during the year."
There has been some seat time this week in preparation.  "We were able to practice in Clermont (Oklahoma) last weekend and the car felt as good as I've ever felt in a midget," says Wayne.  "We did have some motor issues, but we had those solved by Monday's practice."
Things felt good on Monday as well.  "The car felt better than ever for me, and we're excited to get rolling tonight," says Wayne.  "I've run midgets a few times, so you know what to expect.  It felt really good."
Wayne is thankful for those making it possible.  "Of course, Ray and City Vending are the main partners," he says.  "We also have Performance Transmission, Mel-Ray Oil & Gas, The Oil Medics, Hoosier Tire, Super Shox, Payne & Sons Body Shop, 517 Design and Parker Anodizing & Coatings."
After the Chili Bowl, Wayne is headed "Down Under" to run six sprint car events.  "We're leaving for Australia Monday and we'll be driving for Brett (Smith)," he says.  "We're going to run two nights in Sydney, and then run Avalon, Mount Gambier and then we'll head to the Classic (Warrnambool, Victoria).  It will be my first time driving in Sydney.  I've been about everywhere down there except Sydney."
Grab Wayne's T-shirt at the Chili Bowl!
Buy Wayne's midget t-shirt at the Chili Bowl and get a sprint car t-shirt at half price!
Follow Updates on Facebook!
Wayne will update as his race night goes on at his Facebook page.  Find it by searching for Wayne Johnson Racing or clicking the following link…
http://www.facebook.com/#!/WayneJohnsonRacing
Outlaw Wings – "The Wing with an Attitude"!
Check out the new "recessed rivet" design put out by Outlaw Wings.  Talk to Wayne about purchasing Outlaw Wings for your car! Outlaw Wings – "The Wing with an Attitude"!
Wayne's World
Got a question for Wayne? Each week, Wayne will answer your questions about "Tech Tips", or anything that's on your mind. If you ever wondered what a part on a sprint car is all about, send an e-mail to us at sprntcar@iowatelecom.net, and we may answer it in this section! Put "? for Wayne" in your subject line. He'll try to keep it clean if you do!
Wayne's Fast Facts
Wayne arrived at his first Chili Bowl back in 2006 with style.  After struggling from C to B in his preliminary, he would start Wayne Simmons #F5 in Saturday's F Feature where he finished third.  He proceeded to run the alphabet from the E (4th), D (3rd), C (5th) and B (5th).  Finally his luck ran out as he dropped out with a 23rd place finish in the championship race, and a good night's sleep followed.
Partner of the Week – City Vending
Rely on City Vending in Fort Worth, Texas, for vending services, including snack machines, beverage machines, food machines, and office coffee service.  They provide a valuable service for your employees at no cost to your company. They use only name brand products with pricing that is very competitive.  At City Vending Co. Inc., courteous staff specializes in providing a professional hassle free vending service for your company. them today for your free on-site analysis to determine what products and equipment best suit your needs.  Visit them online at www.CityVending.net!
"Wednesday's with Wayne"
"Wednesday's With Wayne" is an up close look at the past, present and future of colorful andtalented sprint car driver Wayne Johnson. You'll never know what to expect next with Wayne, so don't miss us on Wednesdays!
To receive "Wednesday's with Wayne", send an e-mail to sprntcar@iowatelecom.net with"Wayne" in the subject line.
Wayne Johnson Racing would like to thank Vern Rengen and Missile Motorsports, Sebastian Sandblasting & Powdercoating, City Vending, Outlaw Wings, Team Achieve, The Oil Medics, Century Signs, Smiley's Racing Products, Hoosier Tire Southwest, Simpson, Butlerbuilt, Super Shox, Maxim, Speedway Motors, Rod End Supply, Schoenfeld Headers and RCM Design.