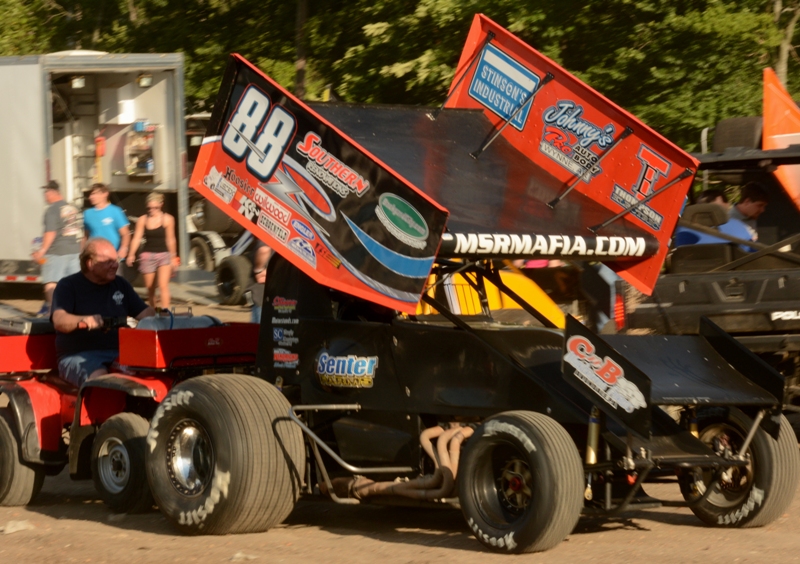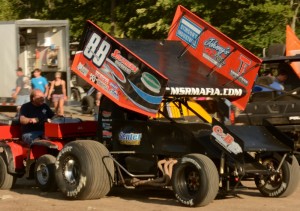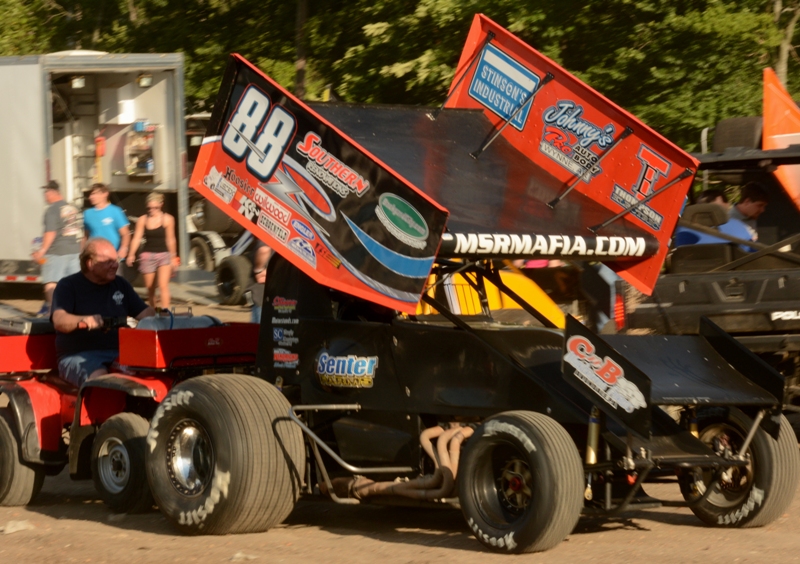 From Pete Walton
West Memphis, AR – (June 29, 2013) – The 2012 United Sprint Car Series National Champion, Tim Crawley from Benton, Arkansas rallied from behind on the final night of the United Sprint Car Series Sprint Speedweek 2013 at Riverside International Speedway to capture the title of USCS Speedweek Champion for the second year in a row. Crawley driving Mike Ward's #88 sprint car used a win at Jackson Motor Speedway on May 25th, a second place at Greenville Speedway on May 26th and a third place finish at Clayhill Motorsports on May 27th plus a third place finish on the final night to best Derek Hagar from Marion, Arkansas for this year's crown by four point's.
Hagar led the standings after finished in third place at Jackson Motor Speedway in Round #1 then won twice at Greenville Speedway on May 26th and at Clayhill Motorsports on May 27th prior to the finale to lead the standings by two points coming into the fourth race at Riverside. In the final, he flipped in his qualifying heat race and used a provisional to start dead last (23rd) in the main event. He charged his way back to a sixth place finish, but fell short of Crawley's total of 590 points with 586 Speedweek points.
Zack Pringle, also from Benton, Arkansas finished in third place with a total of 576 points. Ten-time USCS National Champion, Terry Gray from Bartlett, Tennessee collected 554 points to finish in fourth place in the standings and Marshall Skinner also from Marion, Arkansas rounded out the top five drivers with 546 points.
Casey Rowland from Nesbit, Mississippi finished in sixth place in the standings with 530 points. He was followed by Anthony Nicholson in seventh position with 522 points. Rookie, Brandon Hanks from Burleson, Tennessee was eighth with 508 points. May 3rd, 411 Motor Speedway USCS feature winner, Dalton Davis from Millington, Tennessee was ninth in the standings with 498 points. 2010 USCS Mid South Thunder regional series Rookie of the Year, Jerod Roller from Olive Branch, Mississippi rounded out the Top Ten USCS Sprint Speedweek 2013 participants in the final standings.
The USCS Outlaw Thunder Tour continues its regular season racing schedules at Crowley's Ridge Raceway in Paragould, Arkansas on Wednesday, July 3rd with the 2nd annual "Rumble on the Ridge" USCS triple header that also includes the K&N Filters USCS Outlaw Modifieds and www.rockauto.com USCS 600 Sprint Car Series winged mini sprints on the racing card. Also in action will be the track's Limited Late Model division. For more info on the USCS and its racing divisions please visit www.uscsracing.com or call the series office at 770-865-6097.