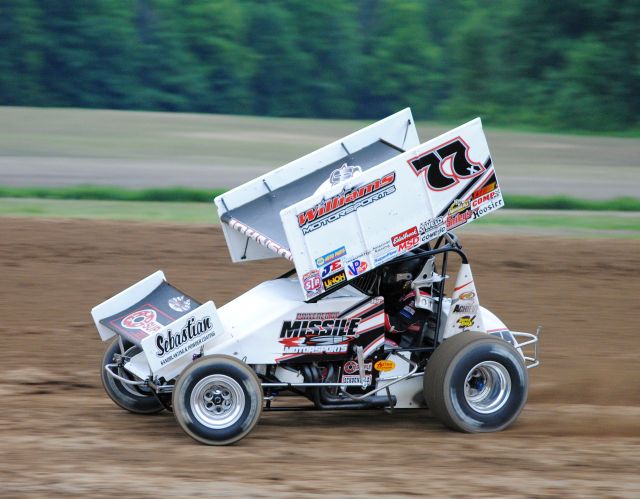 By Bill W
September 18, 2013 –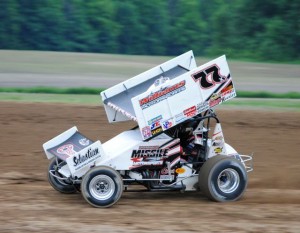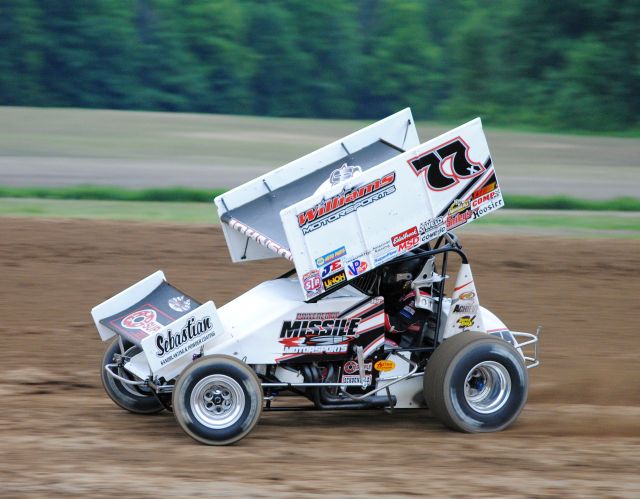 The Knoxville, Iowa driver was on the move in last weekend's Canadian Sprint Car Nationals at the Ohsweken Speedway in Ontario before getting caught up in an accident.
The night before the Canadian Nationals was looking good before mechanical gremlins hit.  "We were really fast on Friday night," says Wayne.  "We started in the back of the heat, and we got to the transfer spot (fourth) on the first lap.  At that point, the rear-end blew up."
Wayne looked good in the test and tune held later in the evening.  "We fixed it and they had a hot lap session for us after the features were over," he says.  "We ended up being quicker at that point, than either driver who won the features."
Saturday's Canadian Nationals saw competitors qualifying by their heat race.  "We were third quick in our group, and twelfth overall," says Wayne.  "We weren't very far off of the quick times at all."
Starting fourth, Wayne finished second behind Shane Stewart in his heat race.  "I think I was a little better than he was, but there was really no place to pass him," he says.  "They reworked the track and it was kind of heavy around the bottom.  I couldn't do anything with him."
Entering the main event, the team chose to set up the car to run where most others weren't.  "We were set up to run the top," says Wayne.  "The bottom was good, but it can be a freight train down there and hard to pass.  We were ripping it pretty good up there."
The charge to the front was on, but it was derailed when a pair of competitors got together in front of Wayne.  "We were pulling up to pass second and third," he says.  "They touched wheels, and one of them bounced in front of me.  I almost had it cleared but his left rear and my right front got together.  That knocked the front axle down and turned me into the infield.  I had no brakes or steering.  I thought I would coast into the infield, but the fifth, sixth or seventh place car never even lifted and drilled me.  That turned me over."
With that disappointment behind him, Wayne has his eye on some big money in Nebraska this weekend.  "We're planning on I-80 Speedway this weekend," he says.  "The week after that we'll be at the Jesse Hockett/Daniel McMillin Memorial."
Follow Updates on Facebook!
Wayne will update as his race night goes on at his Facebook page.  Find it by searching for Wayne Johnson Racing or clicking the following link…
http://www.facebook.com/#!/WayneJohnsonRacing
Outlaw Wings – "The Wing with an Attitude"
Check out the new "recessed rivet" design put out by Outlaw Wings.  Talk to Wayne about purchasing Outlaw Wings for your car! Outlaw Wings – "The Wing with an Attitude"!
Wayne's World                                                       
Got a question for Wayne? Each week, Wayne will answer your questions about "Tech Tips", or anything that's on your mind. If you ever wondered what a part on a sprint car is all about, send an e-mail to us at sprntcar@iowatelecom.net, and we may answer it in this section! Put "? for Wayne" in your subject line. He'll try to keep it clean if you do!
Wayne's Fast Facts
Wayne topped 52 competitors at the DIRTcar Nationals on February 6, 2008 at Volusia Speedway Park in Florida.  On lap 20 of 25, he used a slingshot move to pass Danny Lasoski and Sam Hafertepe Jr. to take the win.  Hafertepe was second, ahead of Lasoski, Craig Dollansky and Donny Schatz.
Partner of the Week – Simpson Performance Products
Simpson Performance Products is headquartered in New Braunfels, TX with more than 80,000 sq. feet of manufacturing and warehouse space.  Many of our restraints, helmets and flagship parachutes are manufactured and tested right here. Simpson fire suits and crew uniforms are manufactured outside of Los Angeles, CA in our 52,000 sq. foot facility. Simpson also employs the largest customer service and sales team devoted solely to servicing NASCAR customers of any racing safety supplier, based in the heart of NASCAR country, Mooresville, NC.  Visit us online at www.TeamSimpson.com!
"Wednesday's with Wayne"
"Wednesday's With Wayne" is an up close look at the past, present and future of colorful and talented sprint car driver Wayne Johnson. You'll never know what to expect next with Wayne, so don't miss us on Wednesdays!
To receive "Wednesday's with Wayne", send an e-mail to sprntcar@hotmail.com with"Wayne" in the subject line.
Wayne Johnson Racing would like to thank Vern Rengen and Missile Motorsports, Sebastian Sandblasting & Powdercoating, Williams Motorsports, Outlaw Wings, Team Achieve, The Oil Medics, Smiley's Racing Products, Hoosier Tire Southwest, Xtreme Accu-Tach, Simpson, Butlerbuilt, Maxim, Speedway Motors, Rod End Supply, Schoenfeld Headers, 517 Design and Canyon Apparel.