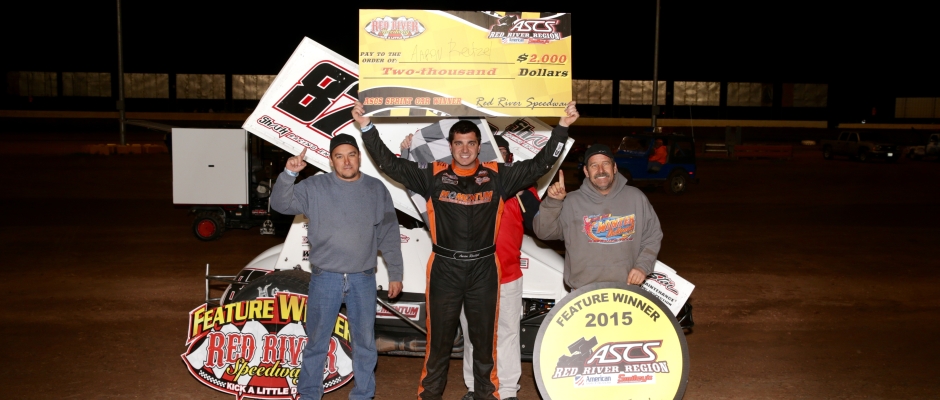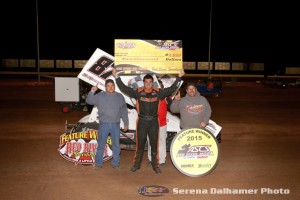 From Bryan Hulbert
Wichita Falls, TX — (April 3, 2015) — Who ever said "you can't win a race on the first lap" has never met Aaron Reutzel.
Taking the green from third, the BC Funds No. 87 pulled a slide-for-life into the first two turns on Kevin Ramey and Jake Martens, clearing the pair and leading non-stop with the American Bank of Oklahoma ASCS Red River Region presented by Smiley's Racing Products at the Red River Speedway.
Challenged for a moment by Jake Matens in the early laps, cautions and red flags fell Reutzel's way to keep the No. 87 clear from traffic. Despite rubber on the track, Johnny Herrera utilized restarts to climb from sixth to third with Tim Crawley doing the same to grab fourth from 12th. John Carney II completed the top-five after starting 10th.
Kevin Ramey crossed sixth with Wayne Johnson seventh. Sam Hafertepe, Jr. eighth was chased by Andy Shouse to the line. After flipping in Hot Laps, Kade Morton captured the final transfer into the night's A-Feature, and proceeded to climb from 20th to round out the top-ten.
The ASCS Red River Region competes next at the Creek County Speedway in Sapulpa, Okla. on Friday, April 10 and Super Bowl Speedway in Greenville, Texas on Saturday, April 11. For continued updates on the American Sprint Car Series, log onto http://www.ascsracing.com.
Results:
ASCS Red River Region
Red River Speedway – Wichita Falls, Texas
Friday, April 3, 2015
Car Count: 36
Heat 1 (8 Laps): 1. 7S-Robert Sellers; 2. 45X-Johnny Herrera; 3. 77X-Wayne Johnson; 4. 74B-John Carney II; 5. 2K-John Kelly; 6. 26M-Fred Mattox; 7. 33-Kris Miller; 8. 4X-Shawn Petersen
Heat 2 (8 Laps): 1. 1A-Kevin Ramey; 2. 45-Martin Edwards; 3. 14-Michael Lang; 4. 17W-Harli White; 5. 3H-Brandon Hanks; 6. 5-Ty Williams; 7. 2-Mickey Walker
Heat 3 (8 Laps): 1. 48-Jake Martens; 2. 52-Blake Hahn; 3. 15H-Sam Hafertepe Jr; 4. (DNF) 76H-T.J. Honkomp; 5. (DNF) 8M-Kade Morton; 6. (DNF) 02-Brandon Long; 7. (DNF) 25-Sterling Hoff
Heat 4 (8 Laps): 1. 18-Tony Bruce Jr; 2. 40-Howard Moore; 3. 4J-Tim Crawley; 4. 27-Andy Shouse; 5. 29-Matt Ward; 6. 76-Zane Lawrence; 7. 7M-Chance Morton
Heat 5 (8 Laps): 1. 87-Aaron Reutzel; 2. 95-Matt Covington; 3. 92-Jordan Weaver; 4. 50-Brandon James; 5. 11-Joe Wood Jr; 6. 23-Seth Bergman; DNS 5X-Tyson Hall
B Feature 1 (12 Laps): 1. 92-Jordan Weaver[2]; 2. 3H-Brandon Hanks[4]; 3. 4X-Shawn Petersen[11]; 4. 29-Matt Ward[5]; 5. 2K-John Kelly[6]; 7. 76H-T.J. Honkomp[3]; 9. 7M-Chance Morton[10]; 6. (DNF) 40-Howard Moore[1]; 8. (DNF) 76-Zane Lawrence[8]; DNS 23-Seth Bergman; DNS 02-Brandon Long
B Feature 2 (12 Laps): 1. 11-Joe Wood Jr[6]; 2. 26M-Fred Mattox[5]; 3. 8M-Kade Morton[4]; 4. 33-Kris Miller[9]; 5. 5-Ty Williams[7]; 6. 2-Mickey Walker[8]; 7. 50-Brandon James[3]; 8. (DNF) 17W-Harli White[2]; 9. (DNF) 14-Michael Lang[1]; DNS 25-Sterling Hoff
A Feature (25 Laps): 1. 87-Aaron Reutzel[3]; 2. 48-Jake Martens[2]; 3. 45X-Johnny Herrera[6]; 4. 4J-Tim Crawley[12]; 5. 74B-John Carney II[10]; 6. 1A-Kevin Ramey[1]; 7. 77X-Wayne Johnson[11]; 8. 15H-Sam Hafertepe Jr[8]; 9. 27-Andy Shouse[13]; 10. 8M-Kade Morton[20]; 11. 52-Blake Hahn[4]; 12. (DNF) 3H-Brandon Hanks[17]; 13. (DNF) 92-Jordan Weaver[15]; 14. (DNF) 4X-Shawn Petersen[19]; 15. (DNF) 7S-Robert Sellers[5]; 16. (DNF) 95-Matt Covington[7]; 17. (DNF) 18-Tony Bruce Jr[9]; 18. (DNF) 26M-Fred Mattox[18]; 19. (DNF) 11-Joe Wood Jr[16]; 20. (DNF) 45-Martin Edwards[14]
Lap Leader(s): Aaron Reutzel 1-25;