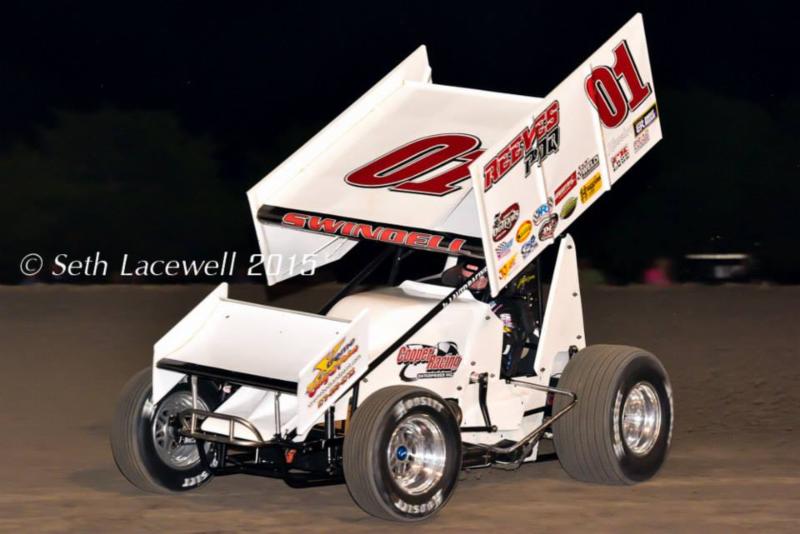 Inside Line Promotions – MOBERLY, Mo. (Aug. 2, 2015) – Sammy Swindell captured his first winged sprint car feature victory in exactly one year on Saturday at Randolph County Raceway, where he made a return for the first time in approximately 25 years.
"It's still the same mindset for me wanting to win every night," he said. "You've gotta have that to give yourself a chance to begin with. I'm at the end of my career so every one of them counts. It may be a little added pressure to concentrate on making those happen."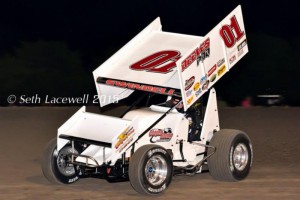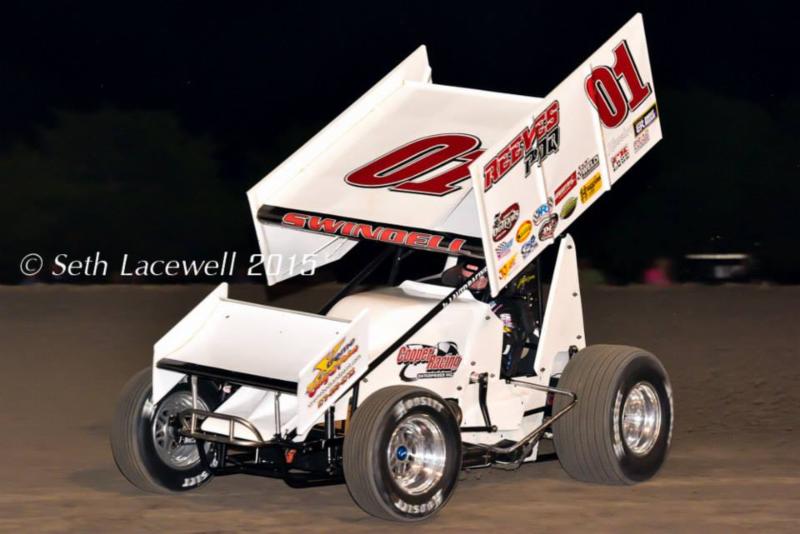 Swindell, who hadn't won a winged sprint car event since Aug. 1, 2014, at Knoxville Raceway in Knoxville, Iowa, kicked off the night driving for Donnie Cooper by advancing from fourth to third place in a heat race. That lined him up on the outside of the third row for the main event.
"We had about three starts before they got going," he said. "They had some problems with people stopping or spinning. The first one I got right up to third down the backstretch. On the second one the guys in front of me blocked where I had gone the previous time. The third one the two guys on the second row were racing with each other pretty hard. I just waited for about a lap and then I think I got by both of them at one time. Then I went up there and ran down the guys running first and second."
Swindell took the lead only a handful of laps into the main event and he cruised from there.
"It took me about five or six laps until I was in the lead," he said. "At that point I was the only one running at the top of the track. I was just better up there. Even the traffic was running the middle to the bottom. I had an express lane to myself. We just kind of ran away with it from there. We had a yellow with a couple of laps to go and pulled away again."
Swindell will return to competition this Friday and Saturday at Knoxville Raceway for the 25th annual Arnold Motor Supply 360 Knoxville Nationals when he will drive for Cooper. Swindell will also compete at the half-mile oval on Sunday during the 4th annual Capitani Classic for CJB Motorsports.
QUICK RESULTS –
Aug. 1 – Randolph County Raceway in Moberly, Mo. – Heat race: 3 (4); Feature: 1 (6).
SEASON STATS –
26 races, 2 wins, 10 top fives, 16 top 10s, 23 top 15s, 24 top 20s
UP NEXT –
Friday and Saturday at Knoxville Raceway in Knoxville, Iowa, for the 25th annual Arnold Motor Supply 360 Knoxville Nationals and Sunday at Knoxville Raceway for the 4th annual Capitani Classic
MEDIA LINKS –
Website: http://www.SammySwindell1.com
Twitter: https://twitter.com/1sam91
SPONSOR SPOTLIGHT – Sweet Manufacturing
Sweet Manufacturing was incorporated in 1978 with the basic concept of providing racers with steering products that would offer a competitive advantage. All of its products have been designed and built using the experience and knowledge gained from Randy Sweet's 50-plus years of racing competition, plus continuous input from the nation's top drivers, engineers and chassis builders. For more information, visit http://www.SweetMFG.biz.
"Sweet Manufacturing has developed one of the best steering gears out there and they are dedicated to continue improving all the time," Swindell said.
Swindell would also like to thank John Christner Trucking, J. Davidson Scrap Metal Processors, Energy Release, Sweet Manufacturing, FK Rod Ends, High Performance Lubricants, Simpson Race Products, Brown and Miller Racing Solutions, HRP Wings, Schoenfeld Headers, Kistler Racing Engines and Driver Websites for their continued support.
INSIDE LINE PROMOTIONS –
Inside Line Promotions specializes in affordable public relations and media management for motor sports drivers, teams, sponsors, tracks, series, events, organizations and manufacturers. ILP Founder Shawn Miller leverages professional journalism with new media technologies and social networking to improve your exposure and the return on investment for your sponsors.
To meet the media relations needs of your program by joining Team ILP, contact Shawn at 541-510-3663 or Shawn@InsideLinePromotions.com. For more information on Inside Line Promotions, visit http://www.InsideLinePromotions.com.