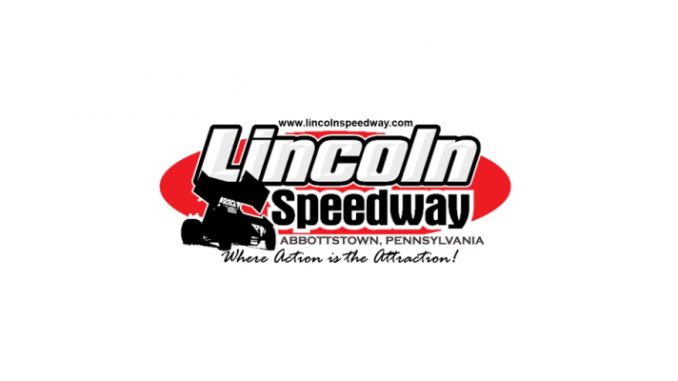 From Bill Meyer
Abbottstown, PA — (May 14, 2016) — Central Pennsylvania "410" sprint car points leader Greg Hodnett took advantage of a unique qualifying format to advance nine spots before the race event started and score the win in the 25-lap BAPS Night feature at Lincoln Speedway Saturday night.
Hodnett advanced from a handicapped 11th starting spot to second after winning a series of match races for the top 12 qualifiers. His only loss was to polesitter Stevie Smith when he ran out of fuel in the final match race.
"Yes, we did run out of fuel on the last match race," confirmed Hodnett upon exiting the Mike Heffner Lelands.com/Trone Outdoor Adverting #27 in victory lane, "We just didn't think we'd make it that far (through the challenge races), and we had 20 gallons in it. We ran 20 or 25 laps and it just wasn't enough.
Despite losing to Smith in the final match race, Hodnett still started beside him for the start of the feature.
Smith grabbed the lead at the outset and had a 1.72-second lead when he and Hodnett entered lapped traffic at the mid-point of the race. Hodnett made the race-winning pass on lap 16, crossing .72 seconds ahead of Smith at the finish.
"We were a little tight in the beginning with a full load of fuel, and I figured I'd just hang out and work it out to where I could run my race and let things happen. We got back into traffic and my car was pretty maneuverable, and we were able to do what we needed to do."
Hodnett's $5,000 payday (including $1,800 from BAPS) was the 31st of his Lincoln career, moving him into sole possession of 10th on the all-time Lincoln win list.
Third through fifth were Chase Dietz, seventh-starting Billy Dietrich, and eighth-starting Alan Krimes. Completing the top ten were Gerard McIntyre, Jr., Brent Marks, Freddie Rahmer, Steve Owings, and Robbie Kendall.
"Thanks to everybody for being here tonight. I know it was very questionable weather, but we really appreciate everyone coming out. Thankfully, we got the race in. We were debating on whether or not to come up…if they'd even be able to try. But Fred Putney always does a great job with the track under any circumstances, and he came through for us tonight and made it happen.
Heats for the 33 410 sprinters on hand were won by Brian Montieth, Freddie Rahmer, Marks, and Owings, with Lucas Wolfe winning the consolation.
Tim Glatfelter was transported to the hospital for a check-up after flipping hard on the front stretch during his heat. Car owner John Trone said that Glatfelter sustained a possible concussion and arm injury in the crash.
York's Dalton Dietrich scored his first career win in the 20-lap "358" sprint car feature.
Dietrich started outside polesitter Chris Frank, grabbed the lead entering the first turn, and led every lap. Frank scored his best-ever Lincoln finish in second, with seventh-starting Jeff Halligan crossing third. Rounding out the top five were Brent Shearer and Ryan Higgins.
Heats for the 28 358 sprinters on hand were won by Jeff Rohrbaugh, Kevin Nouse, and Higgins, with Cody Fletcher winning the consolation.
Former Lincoln thundercar driver Fred Cullum outdueled Bryan Green in a race-long battle to claim the win in the 20-lap All-American Outlaw feature. Green actually sneaked in front Cullum as the two raced through lapped traffic in turns one and two at the mid-way point, but Cullum reclaimed the lead before the lap was in the books.
Third behind Cullum and Green at the finish was Fred's son Justin Cullum.
Heats for the 13 All American Outlaws on hand were won by Brad Alexander and Fred Cullum.
This coming Wednesday night, May 18th, the World of Outlaws come to Lincoln Speedway to take on the Pennsylvania Posse in the "Gettysburg Clash". Time trials get underway at 7:30 PM, with pit gates opening at 3:30 PM, advance ticket holders 3:45 PM, and general admission at 4 PM.
Lincoln Speedway will then be dark next Saturday night, May 21st.
RACE RESULTS
Saturday, May 14, 2016
LINCOLN SPEEDWAY
Abbottstown, PA
BAPS NIGHT
Lawrence Chevrolet 410 Sprints:
410 Sprint Feature (25 Laps) – 1. 27-Greg Hodnett ($5,000); 2. 51S-Stevie Smith; 3. 2D-Chase Dietz; 4. 8-Billy Dietrich; 5. 87-Alan Krimes; 6. 16-Gerard McIntyre, Jr.; 7. 19M-Brent Marks; 8. 51-Freddie Rahmer; 9. 35-Steve Owings; 10. 55K-Robbie Kendall; 11. 2W-Glenndon Forsythe; 12. 11C-Cory Haas; 13. 25-Aaron Ott; 14. 52-Austin Hogue; 15. 59-Jim Siegel; 16. 15-Adam Wilt; 17. 5W-Lucas Wolfe; 18. 5-Tyler Ross; 19. 21-Brian Montieth; 20. 99M-Kyle Moody; 21. 1X-Chad Trout; 22. 69-Shane Hoff; 23. 21T-Scott Fisher; 24. 48-Danny Dietrich (DNF). No Time
Lap Leaders – Stevie Smith (1-15), Greg Hodnett (16-25)
410 Sprint Heat One Finish (10 laps/5 to qualify) – 1. 21-Brian Montieth; 2. 51S-Stevie Smith; 3. 87-Alan Krimes; 4. 52-Austin Hogue; 5. 11C-Cory Haas; 6. 5W-Lucas Wolfe; 7. 25-Aaron Ott; 8. 49-Bradley Howard; 9. 51K-Karl Baker (DNF). Time – 2:22.517
410 Sprint Heat Two Finish (10 laps/5 to qualify) – 1. 51-Freddie Rahmer; 2. 99M-Kyle Moody; 3. 27-Greg Hodnett; 4. 16-Gerard McIntyre, Jr.; 5. 48-Danny Dietrich; 6. 59-Jim Siegel; 7. 12-Mike Bittinger; 8. 39-Tim Glatfelter (DNF). No Time
410 Sprint Heat Three Finish (10 laps/5 to qualify) – 1. 19M-Brent Marks; 2. 69-Shane Hoff; 3. 8-Billy Dietrich; 4. 2W-Glenndon Forsythe; 5. 21T-Scott Fisher; 6. 1X-Chad Trout; 7. 88-Brandon Rahmer; 8. 75-Nicole Bower. No Time
410 Sprint Heat Four Finish (10 laps/5 to qualify) – 1. 35-Steve Owings; 2. 55K-Robbie Kendall; 3. 2D-Chase Dietz; 4. 15-Adam Wilt; 5. 5-Tyler Ross; 6. 74-Dwayne Gutshall; 7. 91-David Quackenbush; DNS – 21K-Kyle Pruitt. Time – 2:28.833
410 Sprint Consolation Finish (10 laps/4 to qualify) – 1. 5W-Lucas Wolfe; 2. 25-Aaron Ott; 3. 59-Jim Siegel; 4. 1X-Chad Trout; 5. 88-Brandon Rahmer; 6. 12-Mike Bittinger; 7. 74-Dwayne Gutshall; 8. 49-Bradley Howard; 9. 91-David Quackenbush; 10. 21K-Kyle Pruitt; 11. 51B-Karl Baker; 12. 75-Nicole Bower (DNF). No Time
Keizer Aluminum Wheels 358 Sprints:
358 Sprint Feature (20 Laps) – 1. 9-Dalton Dietrich ($1,500); 2. 00-Chris Frank; 3. 41-Jeff Halligan; 4. 12-Brent Shearer; 5. 13-Ryan Higgins; 6. 23-Chris Arnold; 7. 1J-Kevin Nouse; 8. 89-Ashley Dietrich; 9. 21-CJ Tracy; 10. 45-Jeff Rohrbaugh; 11. 119-Chandler Leiby; 12. 16-Matt Campbell; 13. 01-Steve Storrie; 14. 66A-Cody Fletcher; 15. 28-Matt Findley; 16. 4-Dwight Leppo; 17. 35-Tyler Esh; 18. 64-Randy Whisler; 19. 66-Doug Hammaker (DNF); 20. 11D-Kody Hartlaub (DNF); 21. 27S-Adrian Shaffer (DNF); 22. 7-Trey Hivner (DNF); 23. 97-Brie Hershey (DNF); 24. 17-George Streaker, Jr. (DNF). No Time
Lap Leaders – Dalton Dietrich (1-20)
358 Sprint Heat One Finish (10 laps/6 to qualify) – 1. 45-Jeff Rohrbaugh; 2. 4-Dwight Leppo; 3. 27S-Adrian Shaffer; 4. 89-Ashley Cappetta; 5. 7-Trey Hivner; 6. 11D-Kody Hartlaub; 7. 64-Randy Whisler; 8. 13S-Jon Stewart (DNF); DNS – 35-Tyler Esh, 19S-Steve Drevicki. Time – 2:28.37
358 Sprint Heat Two Finish (10 laps/6 to qualify) – 1. 1J-Kevin Nouse; 2. 16-Matt Campbell; 3. 9-Dalton Dietrich; 4. 41-Jeff Halligan; 5. 66-Doug Hammaker; 6. 21-CJ Tracy; 7. 28-Matt Findley; 8. 01-Steve Storrie (DNF); 9. 14C-Dave Carlberg (DNF). Time – 2:26.09
358 Sprint Heat Three Finish (10 laps/6 to qualify) – 1. 13-Ryan Higgins; 2. 12-Brent Shearer; 3. 23-Chris Arnold; 4. 00-Chris Frank; 5. 97-Brie Hershey; 6. 119-Chandler Leiby; 7. 66A-Cody Fletcher; 8. 17-George Streaker; 9. 15S-Shai Morris (DNF). No Time
358 Sprint Consolation Finish (10 laps/6 to qualify) – 1. 66A-Cody Fletcher; 2. 64-Randy Whisler; 3. 01-Steve Storrie; 4. 28-Matt Findley; 5. 35-Tyler Esh; 6. 17-George Streaker; 7. 14C-David Carlberg; 8. 13S-Jon Stewart; 9. 19S-Steve Drevicki; DNS – 15S-Shai Morris. Time – 2:44.78
All American Outlaws:
All American Outlaw Feature (20 Laps) – 1. 59-Fred Cullum; 2. 99G-Bryan Green; 3. 95-Justin Cullum; 4. 6-Randy Doty; 5. 01-Brad Alexander; 6. 13M-Gary Moreland, Sr.; 7. 66-David Egge; 8. 100-Tim Fake; 9. B28-Jim Minter; 10. 23-Danny Holmes; 11. 8-Jeff McCauley; 12. 55-Denny Gross; 13. 55-Tony Jorda. No Time
Lap Leaders – Fred Cullum (1-20)
All American Outlaw Heat One Finish (6 laps) – 1. 01-Brad Alexander; 2. 99G-Bryan Green; 3. 95-Justin Cullum; 4. 100-Tim Fake; 5. 28-Jim Minter; 6. 8-Jeff McCauley; 7. 55-Denny Gross. Time – 2:02.90
All American Outlaw Heat Two Finish (6 laps) – 1. 59-Fred Cullum; 2. 66-David Egge; 3. 13M-Gary Moreland, Sr.; 4. 23-Danny Holmes; 5. 53-Tony Jorda; 6. 6-Randy Doty. Time – 1:59.15