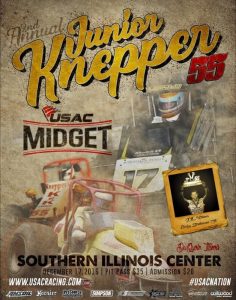 From Richie Murray
INDIANAPOLIS (October 25, 2016) — USAC Midget racing returns indoors to the Southern Illinois Center in Du Quoin, Illinois for the second annual "Junior Knepper 55" on Saturday, December 17, 2016.
The non-points-paying special event will feature a star-studded field of midget racers from coast-to-coast as well as stars from across the racing landscape taking part in the race that will take place on the 1/6-mile dirt track located inside the building located adjacent to the famed Du Quoin State Fairgrounds one-mile dirt oval.
One year ago, in the "Knepper 55," 60 midgets were on hand and NASCAR regular/2007 USAC National Midget "Rookie of the Year" Ricky Stenhouse, Jr. scored the victory in a thrilling, classic late-race duel with Bryan Clauson after making the winning pass with just four laps remaining.
The 55-lap event honors the memory of one of USAC's most accomplished car owners – Walter "Junior" Knepper of Belleville, Illinois – whose famed yellow number 55 midgets and sprint cars raced to 58 career USAC feature victories, including 34 in Sprints and 24 in Midgets, with drivers Bob Wente, Tom Bigelow, Mel Kenyon, George Snider, Dana Carter, Rich Vogler and his son Steve Knepper.
For the second consecutive year, Nick Knepper, grandson of Junior and son of Steve, will promote the event along with Derek LeMaster.
"Derek and I are thrilled to announce the second running of the 'Junior Knepper 55,' which celebrates my Grandpa's racing career," Knepper said. "The 2015 event proved to be a tremendous success. Hopefully this year's edition will be even better than the last. I'd like to thank my family, friends, and USAC for their continued support. I look forward to seeing everyone at the Southern Illinois Center on December 17th."
"We are eager to bring back the second Knepper race this year," USAC Racing Director Levi Jones exclaimed. "With the large field of cars expected and the exciting action on the track, it is a can't miss event that will have drivers you don't see regularly competing in USAC National Midgets."
The event will offer a format awarding position advancement through the prelims. Passing points from the heats and qualifiers will seed the lineups for the feature events.
The format utilized will be similar to the Chili Bowl Nationals in Tulsa, Okla. as well USAC National Midget races this season at the "Gold Crown Midget Nationals" in Granite City, Ill., the "Jason Leffler Memorial" in Wayne City, Ill. and this year's series season-opening "Shamrock Classic" at the Southern Illinois Center.
An open Hoosier Tire rule will be in effect with no weight or rev limits imposed. No entry fee will be assessed to participants wishing to compete. Also, as is the case for all USAC Midget events, drivers are not required to be USAC-licensed and no additional fees are assessed for temporary permits.
Hot laps for the "Junior Knepper 55" are set for 4pm with the evening's events getting underway at an earlier start time in order to get race fans back on the road after the conclusion of the racing events at a sufficient time.
Additionally, a USAC National Midget points-paying event has been announced for Saturday, March 18, 2017 at the Southern Illinois Center.
Stay tuned for further announcements of additional USAC races inside the Southern Illinois Center with competing classes to be announced later.