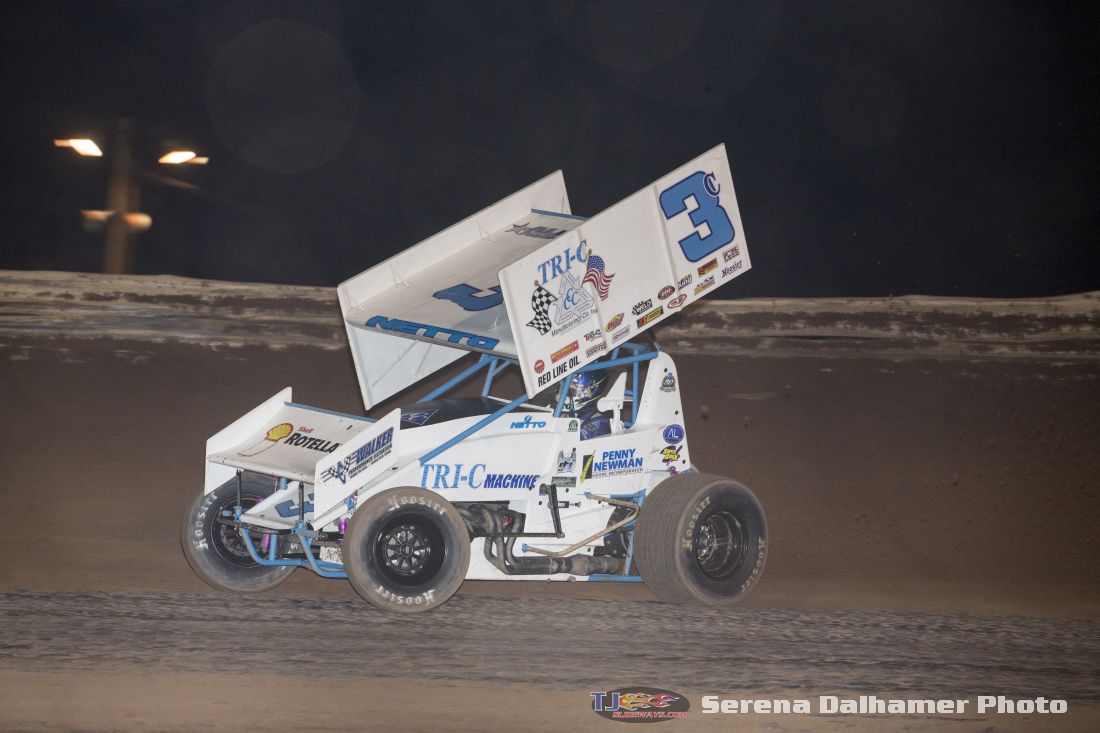 From Bryan Hulbert
QUEEN CREEK, Ariz. (November 26, 2016) — There is Gold in California, but it just picked up a little bit of Copper with Saturday's $5,000 winner's share of the Carlyle Tools ASCS Southwest Region Copper Classic at Arizona Speedway going to Hanford, California's D.J. Netto.
Netto's first ASCS sanctioned triumph, the win makes the pilot of the No. 3c the 44th different winner in ASCS Southwest competition since 2008.
Coming from the fifth starting spot, Netto continually moved forward during Saturday's 25 lap championship event. Taking second on Lap 16, the chase was on to catch race long leader, Christopher Bell, in the Buffalo Wild Wings No. 82.
Hoping to dig up a win, slower traffic had other plans for Bell who fell out of the race on Lap 19 after contact with a slower machine. Handing the top spot to Netto, the restart would find El Paso's John Carney II on the back bumper of the No. 3c, but would not be challenged as D.J. opened up his advantage to 1.637 seconds at the drop of the checkered flag.
Carney would cross second with Washington's Reece Goetz finding his way to the final podium step. Aaron Reutzel was fourth with Chase Goetz making up the top-five. Having to come from the B-Main, Arizona's Bob Ream, Jr. clawed his way from 18th to sixth with Lance Norick seventh. Michael Kofoid from 15th was eighth, followed by Garen Linder and Rick Ziehl to complete the top-ten.
The final night of the 2016 season for the Carlyle Tools ASCS Southwest Region, New Mexico's Rick Ziehl yet again managed to hold off all challengers to bring his record of championships to a perfect nine in a row with the ASCS Southwest Region.
In the final standings, Ziehl beat out 2016 Rookie of the Year, Colton Hardy, by 65 markers with Bob Ream, Jr. ending his season third. Lance Norick and Jesse Baker made up the top-five in series standings.
The Carlyle Tools ASCS Southwest Region would like to thank the teams, tracks, and above all the fans for their continued support and look forward to bringing you another exciting season of racing in 2017.
For continued updates, log onto http://www.ascsracing.com.
Race Results:
ASCS Southwest Region
Arizona Speedway – Queen Creek, Ariz.
Copper Classic – Finale
Saturday, November 26, 2016
Car Count: 25
Event Count: 31
Heat 1 (8 Laps): 1. 3C-D.J. Netto; 2. 91-Casey Buckman; 3. 22L-Garen Linder; 4. 22-Mike Rux Jr; 5. 0J-Jeremy McCune; 6. 5-Brian Boswell
Heat 2 (8 Laps): 1. 12-John Carney II; 2. 22X-Jesse Baker; 3. 4S-Michael Kofoid; 4. 131-Royal Jones; 5. 14-Cody Sickles; 6. 29-Darrell Sickles
Heat 3 (8 Laps): 1. 90-Lance Norick; 2. 74-Colton Hardy; 3. 87-Aaron Reutzel; 4. 8-Bob Ream Jr; 5. 14H-Ben Holmberg
Heat 4 (8 Laps): 1. 91-Casey Buckman; 2. 2-Alex Pettas; 3. 01JR-Josh Shipley; 4. 4U-James Aragon
B Feature (12 Laps): 1. 4U-James Aragon; 2. 8-Bob Ream Jr; 3. 131-Royal Jones; 4. 22-Mike Rux Jr; 5. 5-Brian Boswell; 6. 0J-Jeremy McCune; 7. 14-Cody Sickles; 8. 14H-Ben Holmberg
A Feature (25 Laps): 1. 3C-D.J. Netto[5]; 2. 12-John Carney II[2]; 3. 9R-Reece Goetz[4]; 4. 87-Aaron Reutzel[12]; 5. 91C-Chase Goetz[7]; 6. 8-Bob Ream Jr[18]; 7. 90-Lance Norick[8]; 8. 4S-Michael Kofoid[15]; 9. 22L-Garen Linder[11]; 10. 20Z-Rick Ziehl[3]; 11. 91-Casey Buckman[9]; 12. 4U-James Aragon[17]; 13. 0J-Jeremy McCune[22]; 14. 22-Mike Rux Jr[20]; 15. 5-Brian Boswell[21]; 16. 131-Royal Jones[19]; 17. 82-Christopher Bell[1]; 18. 2-Alex Pettas[14]; 19. 5C-Billy Chester III[6]; 20. 74-Colton Hardy[10]; 21. 01JR-Josh Shipley[16]; 22. 22X-Jesse Baker[13]