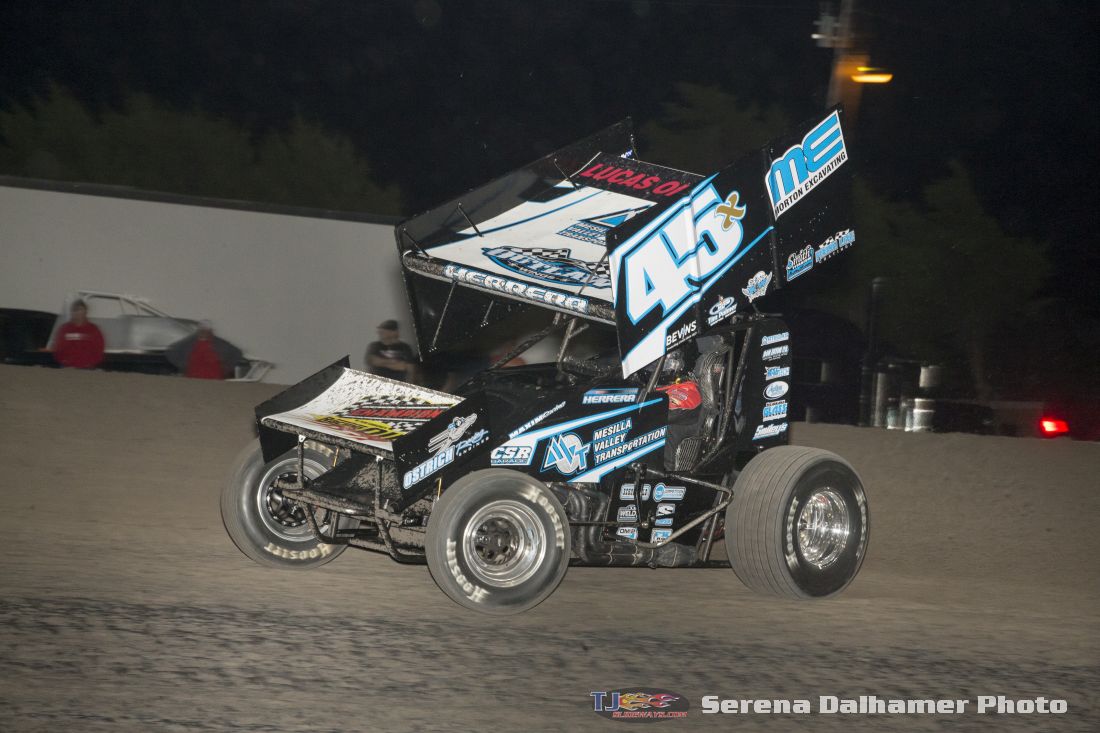 From Bryan Hulbert
LAS CRUCES, N.M. (April 1, 2017) – Making it a perfect weekend at the Southern New Mexico Speedway, Albuquerque's Johnny Herrera lined his pockets with $5,000 in a sweep of the Consolidated Solar Technologies ASCS Southwest Sprint Car Shootout with the Carlyle Tools ASCS Southwest Region.
Career win No. 19 for Herrera, the MVT No. 45x trailed the opening rounds as Rick Ziehl took off with the race lead on the opening lap. Relinquishing the position to Skylar Gee on the second lap, Skylar was not without company as Herrera followed him around the No. 20z to take second.
Distancing themselves from the field, the pair began searching around the New Mexico oval as the track went black. Edging his line down bit by bit, Herrera found the rubber just as the pair ran down the tail of the field. Pulling past Skylar on Lap 12, Herrera kept pace through several restarts with more than enough tread to burn on his Hoosier Tires.
Improving his position by one over Friday night, Skylar Gee crossed second with El Paso's John Carney II taking third. Battling fiercely with Colton Hardy on the race's final restart with three to go, Rick Ziehl held on to finish fourth as Hardy retired with a broken front end on the final lap, moving Lance Norick into the fifth position. Norick also picked up a Hoosier Right Rear Tire.
Royal Jones brought his No. 131 home sixth with Jake Bubak coming from 11th to seventh. Wes Wofford followed from 12th with Jeremy McCune ninth. Giving a provisional by the Southern New Mexico Speedway, James Mosher made the best of it with a run from 21st to round out the top-ten.
The Carlyle Tools ASCS Southwest Region is back in action on April 22 at the Arizona Speedway in Queen Creek, Ariz. The next event at the Southern New Mexico Speedway in July 28 and 29.
For continued updates on the American Sprint Car Series and the over 150 events across the ASCS Nation in 2017, log onto http://www.ascsracing.com.
ASCS Southwest Region
Southern New Mexico Speedway – Las Cruces, N.M.
Saturday, April 1, 2017
Car Count: 30
Heat 1 (8 Laps): 1. 11X-John Carney II[2]; 2. 75X-J.T. Imperial[1]; 3. 9X-Jake Bubak[4]; 4. 23-Seth Bergman[6]; 5. 77T-Colt Treharn[3]; 6. 01-Josh Shipley[7]; 7. 17-Jon McDaniel[8]; 8. 2-Shad Petersen[5]
Heat 2 (8 Laps): 1. 45X-Johnny Herrera[3]; 2. 74-Colton Hardy[2]; 3. 19-Wes Wofford[4]; 4. 21TX-Brandon Schure[6]; 5. 33-Steve Cushman[5]; 6. (DNF) 1A-Robert Herrera[8]; 7. (DNF) 18-Lorne Wofford[1]; 8. (DNF) 12-James Mosher[7]
Heat 3 (8 Laps): 1. 99-Skylar Gee[3]; 2. 77-Damon McCune[2]; 3. 17W-Harli White[4]; 4. 20Z-Rick Ziehl[7]; 5. 6-Kaden Taylor[1]; 6. 88-Mike Ziehl[6]; 7. 49-Chuck Jackson[5]
Heat 4 (8 Laps): 1. 131-Royal Jones[3]; 2. 90-Lance Norick[4]; 3. 0J-Jeremy McCune[5]; 4. 22-Jesse Baker[2]; 5. 77C-C.J. Hulsey[1]; 6. 29-Darrell Sickles[6]; 7. 5X-Jett Carney[7]
B Feature (12 Laps): 1. 22-Jesse Baker[2]; 2. 1A-Robert Herrera[3]; 3. 77C-C.J. Hulsey[8]; 4. 77T-Colt Treharn[6]; 5. 21TX-Brandon Schure[1]; 6. 01-Josh Shipley[5]; 7. 12-James Mosher[14]; 8. 17-Jon McDaniel[11]; 9. 6-Kaden Taylor[7]; 10. 2-Shad Petersen[16]; 11. 88-Mike Ziehl[9]; 12. 33-Steve Cushman[4]; 13. 29-Darrell Sickles[10]; 14. 49-Chuck Jackson[13]; 15. 5X-Jett Carney[12]; (DNS) 18-Lorne Wofford
A Feature (25 Laps): 1. 45X-Johnny Herrera[3]; 2. 99-Skylar Gee[4]; 3. 11X-John Carney II[6]; 4. 20Z-Rick Ziehl[1]; 5. 90-Lance Norick[7]; 6. 131-Royal Jones[2]; 7. 9X-Jake Bubak[11]; 8. 19-Wes Wofford[12]; 9. 0J-Jeremy McCune[8]; 10. 12-James Mosher[21]; 11. 1A-Robert Herrera[16]; 12. 22-Jesse Baker[15]; 13. 77C-C.J. Hulsey[17]; 14. 01-Josh Shipley[20]; 15. 21TX-Brandon Schure[19]; 16. 17-Jon McDaniel[22]; 17. (DNF) 74-Colton Hardy[5]; 18. (DNF) 77T-Colt Treharn[18]; 19. (DNF) 75X-J.T. Imperial[10]; 20. (DNF) 17W-Harli White[13]; 21. (DNF) 77-Damon McCune[9]; 22. (DNF) 23-Seth Bergman[14]