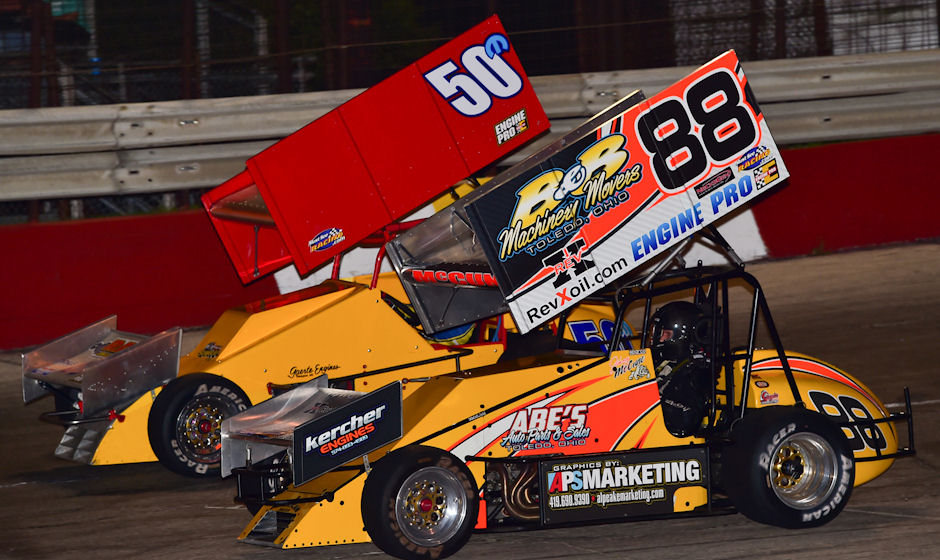 By Jacob Seelman
HOLLY, Mich. –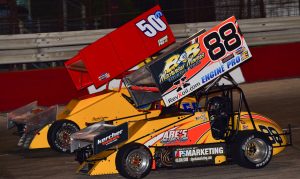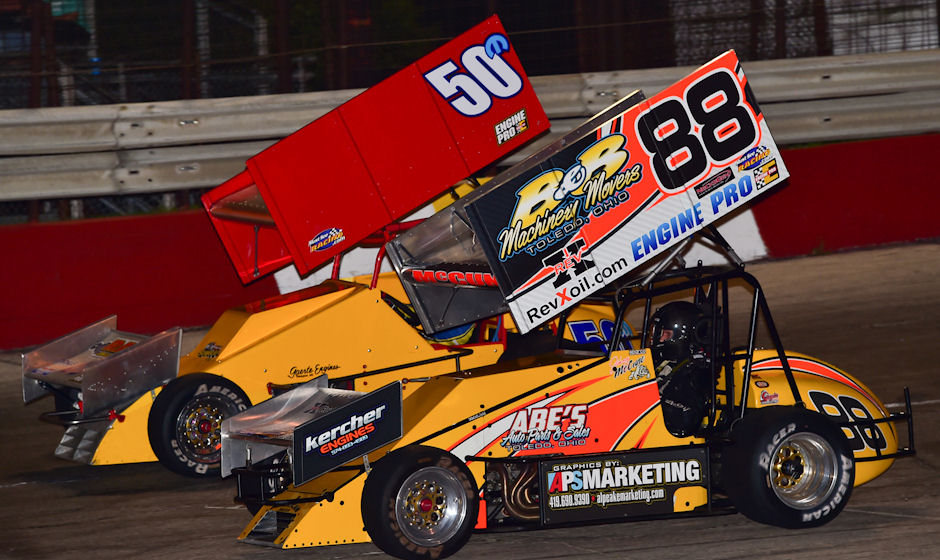 The three-eighths-mile oval has been the site of some of the series' most thrilling back-and-forth battles over the past two years, seeing stars like Jimmy McCune and Jason Blonde drive on the edge of control en route to victory at the 'Big O'.
McCune and Blonde battled head-to-head in both series races at Owosso last year, with each picking up a victory along the way: McCune on July 4th weekend and Blonde on the opening weekend of August.
This go-round though, McCune will have a new rival to joust with in the form of fellow two-time series champion Brian Gerster, who is coming off a sweep of MSR's Western Swing doubleheader at Madison Int'l Speedway and Rockford Speedway and hopes to put a vicious Owosso crash last year behind him.
"That crash last year was a tough blow for us; we spent a lot of time rebuilding the car and it's taken us a while to find what it likes, because it drives a little differently now than how it did before the crash," Gerster explained. "I think what you saw last weekend was credit to (owner) Dick Myers and Rick Ferguson and all the time they put into making this team and this car perform each and every time out."
With all that in mind, Gerster – who won the very first MSR-sanctioned event at Owosso in 2014 – would like nothing more than a repeat performance of that day three years ago, and would savor taking down the McCune team again after watching them win four of the season's first five events.
"We've always battled hard with Jimmy, but I'd gotten tired of that Toledo mafia kicking us up one end of the track and down the other," Gerster laughed. "We want to win and we want to beat our competition, including Jimmy McCune."
"He had some good races (at Owosso) last year … and we're hoping to be the ones involved in giving him all he can handle this time."
McCune enters the David D. Mateer Memorial/Must See Fast 40 as the championship leader, seeking both his fifth win of the season and his record third-consecutive points title.
He currently carries a 66 point lead over 19-year-old nephew Anthony in the championship race, but McCune said that he can't overlook his recently-renewed on-track rivalry with Gerster entering Owosso.
"Man, the battles we had at Owosso last year were a lot of fun," McCune said. "We were fortunate to come out on top of one of them and just missed sweeping the season in the second race. It's a great place to race and we're looking forward to putting on another great show for the fans."
"Brian's always been a really tough competitor. When you beat that (No.) 50 car, you know you've beaten one of the best in pavement sprint car racing … and they are, every time they hit the track. He's going to be a threat; they always are. We're just hopeful that we can go out and beat them on race day."
Of note, the field will also be racing for additional money at the Owosso event, as a $500 bonus will be presented to the fast qualifier in addition to the $2,500 winner's share of the feature purse.
Both top prizes will be presented as part of the David D. Mateer Memorial initiative on race weekend, honoring former American Racer Tires president, the late David D. Mateer.
American Racer is the official tire of Must See Racing, and their tires are part of a tradition of craftsmanship and innovation that dates back to 1915.
Pit gates at Owosso open on race day at 12 noon, with hot laps kicking off at 2 p.m., qualifying following at 5 p.m. and racing getting underway at 7 p.m.
For more information on the Must See Racing Sprint Car Series, visit the series on the web at www.mustseeracing.com.