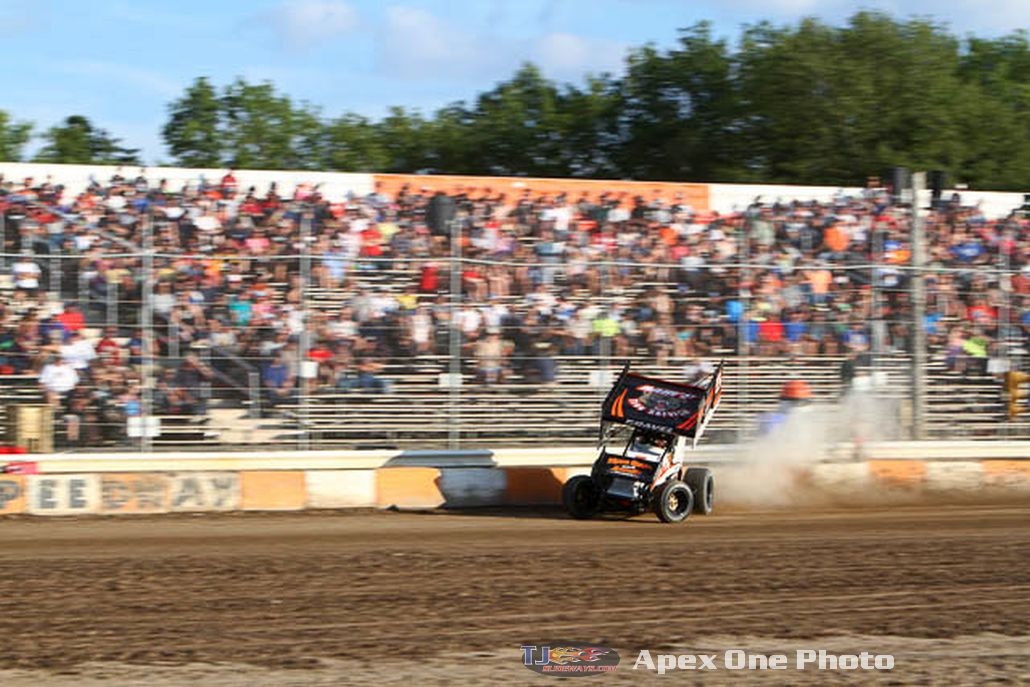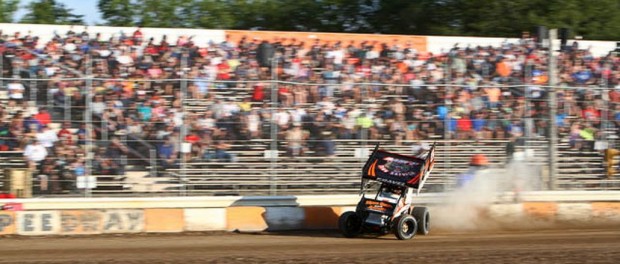 From Tommy Goudge
OHSWEKEN, Ont. (November 30, 2017) – The World of Outlaws Craftsman Sprint Car Series will return to Ohsweken Speedway for a 12th consecutive season in 2018…and they will race on back-to-back nights at Ohsweken for the first time since 2010! Meanwhile, dates are finalized for the 14th edition of the Canadian Sprint Car Nationals, and ticket renewals for both WoO and CSCN will end on Friday, December 8.
Known as The Greatest Show on Dirt, the World of Outlaws Craftsman Sprint Car Series will compete in the Burger Barn Northern Summer Nationals on Monday, July 23, and return on Tuesday, July 24 for the Arrow Express Six Nations Showdown. Officials are expecting increased competition – including several stars from the Pennsylvania Posse – for the expanded event, with each night paying $10,000 USD to the feature winner.
The 2017 editions of the Northern Summer Nationals and Six Nations Showdown combined for the biggest events in Ohsweken Speedway history, and brought NASCAR star Kyle Larson to the track for the first time. Larson claimed the Kool Kidz/Corr-Pak 360 Sprint Car feature win in the Northern Summer Nationals, and finished fourth against the World of Outlaws in the Six Nations Showdown. Larson, Tony Stewart, and Kasey Kahne have all claimed Northern Summer Nationals feature wins; All three brought international attention to Ohsweken Speedway, and were big hits with the huge crowds on hand.
The Canadian Sprint Car Nationals have become known for some of the best, most intense Sprint Car racing action found anywhere in North America. The 2017 edition of CSCN produced another instant classic, as young California star Carson Macedo bested Texas standout Sam Hafertepe Jr. and talented Pennsylvania teenager Jordan Thomas for the $12,000 USD victory. The 14th annual Canadian Sprint Car Nationals weekend will kick off with a Test & Tune session on Thursday, September 13, followed by the Burger Barn Night Before the Nationals on Friday, September 14, and the Arrow Express Canadian Sprint Car Nationals on Saturday, September 15.
TICKET INFORMATION
Renewals are now open for ticket holders from the 2017 Six Nations Showdown, Night Before the Nationals, and Canadian Sprint Car Nationals until December 8, 2017. Six Nations Showdown seats can be renewed for one or both nights in 2018! All remaining seats will be available for sale to the general public beginning on December 9, 2017. Visit www.OhswekenSpeedway.com or call 519-717-0023 for more information.
WORLD OF OUTLAWS HISTORY @ OHSWEKEN
The World of Outlaws Craftsman Sprint Car Series debuted at Ohsweken in 2007, and has been a staple on the track's schedule ever since. Ohsweken has been the site of several memorable moments in World of Outlaws history over the years; Tony Stewart's first WoO feature win came at Ohsweken in 2011, while Stewart Friesen became just the second Canadian driver ever to win a WoO feature in 2015. Eight-time World of Outlaws champion Donny Schatz leads the all-time WoO feature win list at Ohsweken with four victories, while Jason Sides has three, Tony Stewart has two, and Stewart Friesen, Jason Meyers, and Logan Schuchart have one each.
CANADIAN SPRINT CAR NATIONALS HISTORY
The Canadian Sprint Car Nationals has been the annual season-closing event at Ohsweken Speedway since 2005, and brings together drivers and teams from several affiliated sanctioning organizations in the area, plus teams and drivers from all over North America and beyond. The event has drawn an average of 70 entries for the 13 previous editions, with a total of 258 different drivers from 17 American states, five Canadian provinces, Australia, and New Zealand taking part.