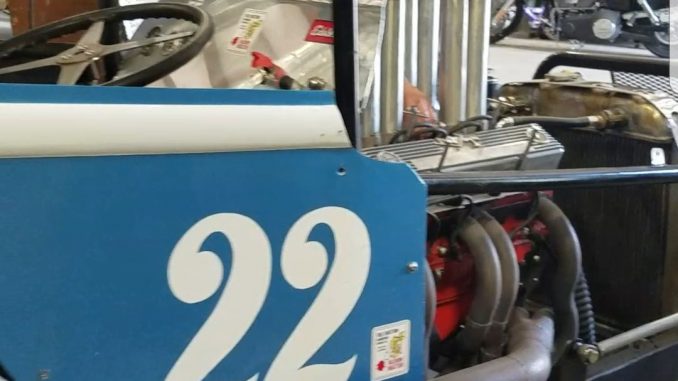 From Troy Hennig
CHICO, Ca. (April 30, 2018) – One of the most beloved sprint car drivers in the history of Silver Dollar Speedway will roll out onto the race track one last time this Friday night May 4. Chico's Shane Scott, the seven-time track champion, will hot lap a restored 1965 Super Modified. In fact, the last time this Super Modified raced at Silver Dollar Speedway was the late 60's. It has been nearly 10 years since Scott has driven around the Speedway inside a race car. It will produce a can't miss moment this Friday night.
"I remember seeing this car on the track as a 10-year-old fan," said Scott. The car itself, had been sitting in a nearby field rusting away in the rain and mud for over 30 years. Doug Daughterman of Chico helped rescue the car and began the restoration process. The last few years Scott and his friends completed the job. Scott is excited to drive this Super Modified in front of his home town fans. "This track has been special to me and provided lots of great memories," said Scott. "I can't wait to get the adrenaline pumping again and hit the race track."
This weekend is a big one for the Silver Dollar Speedway. Friday night is the 11th annual Bill Brownell Memorial. The long-standing Friday night race will pay a staggering $3,000 to win. The race is presented by Shane Scott and Fry's Metals. It will also serve as a welcome back to the 410-winged sprint cars. The 410-winged sprint cars will race for money only and not any points. However, the wingless sprints, street stocks and IMCA Sport Mods are also on the Friday night schedule and all are racing for championship points.
Motorcycle pioneer and auto racing enthusiast Bill Brownell was a fixture at Silver Dollar Speedway. Brownell was one of the founding fathers of Cycleland Speedway and spent his entire life involved in either racing on two wheels or supporting drivers on four wheels. His love for motorcycles, outlaw karts and sprint cars were infectious. Even though he is no longer with us, this Friday night, along with Shane Scott, the Silver Dollar Speedway is proud to host the 11th Annual Bill Brownell Memorial.
Former Winners of the Bill Brownell Memorial; 2008 – Mason Moore, 2009 – Kyle Hirst, 2010 – Sean Becker, 2011 – Dan Menne, 2012 – Tyler Wolf, 2013 – Willie Croft, 2014 – Keith Bloom Jr., 2015 – Rico Abreu, 2016 – Jonathan Allard, 2017 – Kyle Hirst.
Pit gate will open at 4 PM for the competitors. Grandstand gate opens at 6 PM tonight. Racing is scheduled to start at 6:30 PM. Adult admission on Friday night is $14.00, juniors and seniors $12.00, children $6.00 (ages 6-11) and kids 5 and under are free.
College students with proper identification can get in for $6.00 during all weekly point races.
Saturday night is one of the premiere sprint car races in California. The 28th Dave Bradway Jr. Memorial will take place Saturday night May 5th. This is the only appearance of the year by the King of the West- NARC sprint cars at Chico this season. Numerous special awards, lap money, the Mike Avilla Fast Time Award winner bonus money and heat race winner prizes will be up for grabs when the 410-winged traveling series hits the track. The IMCA Sport Mods are slated with the King of the West – NARC sprint cars tonight and will be earning championship points.
Grandstand gate opens at 5 PM tonight. Racing is scheduled to start at 6:30 PM. Adult admission on Friday night is $22.00, juniors and seniors $18.00, children $6.00 (ages 6-11) and kids 5 and under are free.