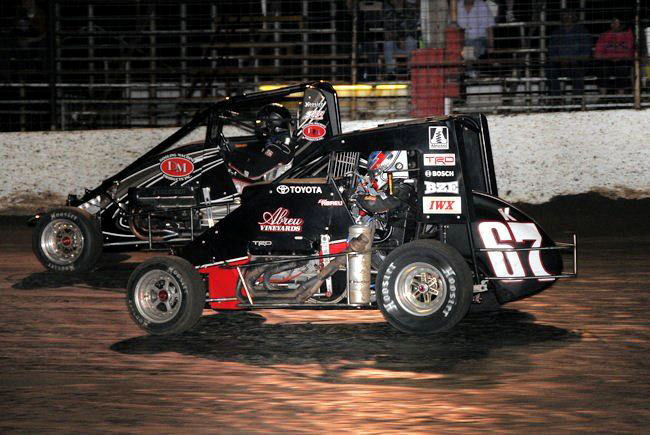 By PETERSEN MEDIA
Making his first start in a midget outside of the Chili Bowl, St. Helena, CA driver, Rico Abreu, turned heads in Texas as he charged to a third place finish on Friday night, and battled Dave Darland toe to toe on Saturday as he challenged for the win.
With 66 midgets, on hand, Abreu's weekend got off to a strong start, he wheeled his Keith Kunz Racing/Toyota powered entry to a last lap pass for the win in his heat race, that sent him directly into the A-main, where he would start in the 12th spot.
As the bullring track had slicked off for the feature, Abreu simply went wherever they weren't as he wasted no time working his way to the front of the field.
Late in the race, Abreu was visually one of the fastest cars on the track as he chased down Casey Shuman and Brady Bacon.
With the checkered in the air, Abreu tried making a last corner slidejob on Shuman for second, but ended up in the third spot.
Saturday night, Abreu and his Keith Kunz team continued to show impressive speed, as the 20-year-old driver impressed again in his heat as he charged from his eight starting spot, to grab the win, putting him in the feature, and in the re-draw.
Drawing the one pill, Abreu lined up next to veteran driver Dave Darland, and the duo went toe to toe during the duration on the show.
With Darland grabbing the lead on the start, Abreu stalked the veteran all race long.
As the white flag waved on the race, Abrue was able to slide up in front of Darland in the middle of the first and second turns, only to have Darland drive back by him exiting the corner.
On the final pair of turns, Abreu went for a bonsai, last ditch effort for the win, but got over the curb, and spun out, ending up being scored in the 14th spot.
"It was a really good weekend for this team, and I simply messed up on Saturday night," said Abreu. "Keith's midget was fast all weekend, and I'm excited to get the USAC season kicked off, because I think we're going to be a pretty strong team."
ON TAP: Abreu will now head home to California, and take on the World of Outlaws at the Silver Dollar Speedway in Chico on March 23rd and 24th.
STAY CONNECTED: Stay updated with Rico by visiting his website at www.ricoabreuracing.com, 'liking' him on facebook at www.facebook.com/ricoabreuracing or following him on twitter @RicoAbreu24.
VIDEO: Be sure to check out http://www.youtube.com/ricoabreuracing for video of Rico, as content is constantly being uploaded!
PETERSEN MEDIA: Petersen Media specializes in motorsports media constructing news releases, both pre and post race, as well as constructing email lists to keep sponsors, and fans up to date. Petersen Media also utilizes today's Social Media networks to provide trackside updates to fans and sponsors, and can customize packages to fit your teams needs.