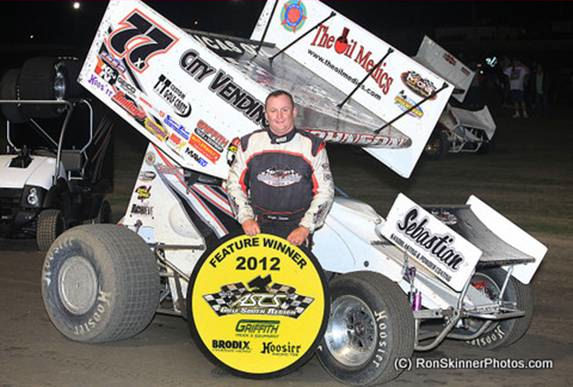 By Bill W
April 11, 2012 – Wayne Johnson picked up his third win of the season, and his third career win at the Lonestar Speedway near Kilgore, Texas last Saturday night. The ASCS-Lone Star regional victor came aboard the Wayne Johnson Racing #77x. The team will hit South Texas with a pair of Lucas Oil ASCS National Series shows this weekend, before returning to their home base in Knoxville, Iowa.
Wayne started seventh in his heat and came home third. "We were coming on strong in the heat race," he says. "The car was really good. We struggled to get by a few of those guys out there, but we did well enough to get ourselves in the redraw."
The redraw saw the 2000 ASCS National champion start outside row two of the main event. "We struggled at first," says Wayne. "I think we backed up to sixth right off the bat. The car just wasn't driving very well."
The track groove surprised the veteran. "The racetrack was kind of sandy, and it got black through the middle," he says. "Once it got black, it was good through there. There was a big curb, but you couldn't even run it, because it was better through the middle."
A competitor showed Wayne that line, and he rode it to victory, after leader Matt Covington had spun, handing Wayne the lead on lap 15. "Martin Edwards passed me in the black," he says. "The caution came out, and I saw where it was. I had been running the curb. When I started running through the black, I started pulling away. It wasn't rubber down; the black just had more grip than anywhere else. It's a track that is hard on tires."
The win came in part due to some bad luck suffered by a pair of competitors. "We won the race, but we really weren't very good," says Wayne. "I missed the setup pretty bad. I really did. I really don't think that we had the best car. I really think Sam (Hafertepe Jr.) had the best car. He got taken out up front. Then Covington had the lead and spun out. We had run him down, but we were really just in the right place at the right time."
Back in 1993, Wayne scored at Lonestar Speedway with ASCS when it was a half-mile. "My very first ASCS win was at Kilgore," he shares. "I don't remember who was leading, but they came off of turn two and blew a tire. Going into three, Danny Wood blew a tire and I ended up winning it. When we took the white flag, I was third. So that worked out pretty good!"
This weekend, the Lucas Oil ASCS National Series heads to Golden Triangle Raceway Park near Beaumont, Texas on Friday, and to the Battlegrounds Speedway near Highlands on Saturday. Wayne picked up a win in Beaumont a few weeks back with the ASCS-Gulf South region. "I ran at Battleground a couple of years back," he says. "I ran there in Joe Zierolf's car and was running up front when we blew a power steering line. It was the first time I'd been there since they reconfigured the place. I'm just looking forward to keeping racing!"
Follow Updates on Facebook!
Wayne will update as his race night goes on at his Facebook page. Find it by searching for Wayne Johnson Racing or clicking the following link…
http://www.facebook.com/#!/WayneJohnsonRacing
Outlaw Wings – "The Wing with an Attitude"!
Check out the new "recessed rivet" design put out by Outlaw Wings. Talk to Wayne about purchasing Outlaw Wings for your car! Outlaw Wings – "The Wing with an Attitude"!
Wayne's Website
To learn more about Wayne and the team, log on to www.WayneJohnsonRacing.com!
Wayne's World
Got a question for Wayne? Each week, Wayne will answer your questions about "Tech Tips", or anything that's on your mind. If you ever wondered what a part on a sprint car is all about, send an e-mail to us at sprntcar@iowatelecom.net, and we may answer it in this section! Put "? for Wayne" in your subject line. He'll try to keep it clean if you do!
Wayne's Fast Facts
Wayne won on two occasions prior to Saturday at Lonestar Speedway. He won ASCS National shows there back on June 5, 1993 and on May 26, 2001.
Partner of the Week – Super Shox
Since 1997, Super Shox has been dedicated to building high performance shock absorbers with extreme durability at a reasonable price. Each year more racers make the switch to Super Shox and it shows with wins and championships. There have been 43 track and series champions along with numerous prestigious wins by racers using Super Shox. Super Shox has covered it all with winners from Micro Sprints to Mini Sprints, Dirt and Pavement Midgets, Dirt Wing and Non-Wing Sprint Cars, Wing and Non-Wing Pavement Sprint Cars, Silver Crown Cars, Dirt and Pavement Late Models. Visit them online at www.SuperShox.com!
"Wednesday's with Wayne"
"Wednesday's With Wayne" is an up close look at the past, present and future of colorful and talented sprint car driver Wayne Johnson. You'll never know what to expect next with Wayne, so don't miss us on Wednesdays!
To receive "Wednesday's with Wayne", send an e-mail to sprntcar@iowatelecom.net with "Wayne" in the subject line.
Wayne Johnson Racing would like to thank Vern Rengen and Missile Motorsports, Sebastian Sandblasting & Powdercoating, City Vending, Outlaw Wings, Team Achieve, The Oil Medics, Century Signs, Smiley's Racing Products, Hoosier Tire Southwest, Simpson, Butlerbuilt, Super Shox, Maxim, Speedway Motors, Rod End Supply, Schoenfeld Headers and RCM Design.