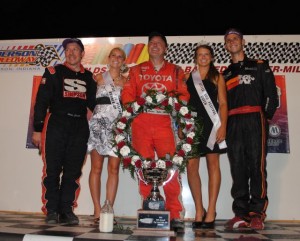 From T.J. Buffenbarger
Anderson, IN – (May 27, 2012) — Brian Tyler used experience and a solid strategy to win Saturday's Pay Less Little 500 at Anderson Speedway. Tyler took the lead on lap 342 and never relinquished it to win by a full lap over Billy Wease and Brian Gerster. The victory was the second Little 500 triumph of Tyler's career.
"This feels great! The last three years we had a dominate care and had motor problems," said Tyler. "This year I had a horse stay under me. The car was on a rail all night long, and it made my job easy. I have to thank Larry Contos, Trey House, and all of the guys. They have put a lot of effort into this the past few years and it finally paid off."
JoJo Helberg jumped into the lead at the start and led the first 121 laps until several cars checked up and Helberg ran out of room, hitting the wall on the back stretch with the front end of his car and ending his night.
After a lightning fast first pit stop Chet Fillip took the lead and appeared to be on the verge of putting his home made car in victory lane. Then after his second pit stop Fillip's car developed a left rear suspension problem. Fillip nursed the car to the next caution flag, but lost time having to make an extra pit stop and was unable to recover to catch up with the leaders.
Othe top contenders that fell to mechanical problems included pole sitter Tony Hunt, who dropped out with an engine issue while running in the top three, and Eric Gordon after a right rear wheel nut froze during a pit stop. The lengthy stop cost Gordon five laps sitting in the pit area.
Wease, making his first start in the Little 500, was impressive all night finishing in the second spot. Wease indicated he had a lot of fun and wants to come back and run the Little 500 next season.
Hard charger of the night went to Brian Gerster, who drove the Winchester Furniture special from 29th to third over the 500 lap distance and was one of the fastest cars late in the event.
Little 500 Finish: 1. Brian Tyler, 2. Billy Wease, 3. Brian Gerster, 4. Chet Fillip, 5. Aaron Pierce, 6. Eric Gordon, 7. Russ Gamster, 8. Tim Barber, 9. Kyle Feeney, 10. Denny England, 11. Mickey Kempgens, 12. Shauna Hogg, 13. Dave Baumgartner, 14. Brandon Whited, 15. Tony Elliott, 16. Jason Cox, 17. Travis Welpott, 18. Rex Norris, III, 19. Jacob Wilson, 20. Jimmy McCune, 21. Brian Gingras, 22. Keith Butler, 23. Troy DeCaire, 24. Jim Sheets, 25. Shane Hollingsworth, 26. Shane Cottle, 27. Chris Neuenschwander, 28. Ryan Litt, 29. JoJo Helberg, 30. Tony Hunt, 31. Donnie Adams, Jr., 32. Scott Pierovish, 33. Jeff Bloom.