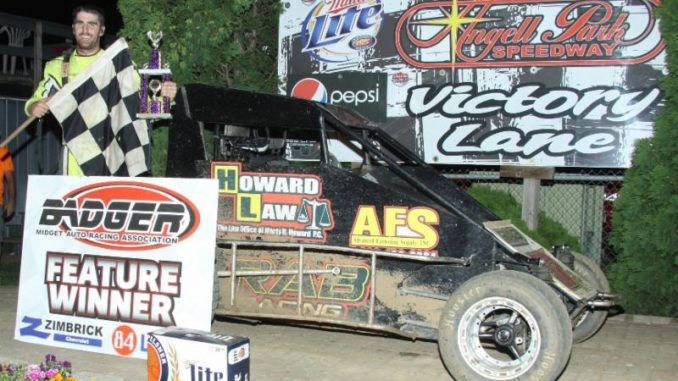 By Bryan Gapinski
Sun Prairie, Wis., July 28-Jordan Mattson won Sunday Night's 6th annual "Norm Nelson Classic" 25-lap Zimbrick Chevrolet of Sun Prairie Badger Midget Racing Series feature at Angell Park Speedway. The win was his first career midget feature victory. Mattson also becomes the 164th different midget feature winner in the tracks 73-year history.
Rookie Matt Recheck jumped into the lead at the start of the event, pacing the first three laps, before the caution appeared for a spun car. Mattson went to the "cushion" on the restart, and was in third place on the fourth lap, and quickly closed on Recheck. Mattson passed Recheck for the lead entering Turn 3 one lap later.
Mattson ran perfect laps using the high groove and held a 3.3 second event at the events midway point over series points leader Jack Routson. One lap later Mattson began lapping slower cars.
Mattson's lead over Routson was "cut" in half due to heavy lapped traffic, when the caution appeared for a stalled car, with six laps remaining. On the restart Mattson quickly pulled away from the field. An intense five-car battle for second place occurred behind Mattson, over the remainder of the event.
Mattson driving the RAB Racing owned Spike/Ford Ford Esslinger No. 57 finished 1.28 seconds ahead of Chase McDermand. Scott Hatton, last week's winner Kevin Olson, and Zach Boden completed the top five.
"I knew my best chance was to go to the cushion, the lapped cars at the end were hard to pass, the caution took me out of traffic, this is such a great track to win a feature at, I cant thank this team enough for the last minute chance to drive the car this weekend" commented Mattson..
Routson leads McDermand by thirty-five points entering the Saturday August 3 event at Sycamore (Ill.) Speedway.
SUMMARY
25-lap Feature: 1. Jordan Mattson; 2. Chase McDermand; 3. Scott Hatton; 4. Kevin Olson; 5. Zach Boden; 6. Jack Routson; 7. Matt Rechek; 8. Kevin Douglas; 9. Mike Stroik; 10. Brian Peterson; 11. Tristan Koenings; 12. Jeff Zelinski; 13. Ken Hansen; 14. Jim Fuerst; 15. Kyle Koch; 16. Denny Smith; 17. Harrison Kleven; 18. Pat Henson; 19. Mitchell Davis; 20. Shay Sassano; 21. Ryan Probst; 22. Mike Unger.
8-lap AutoMeter Heat Race Winner: Kleven.
8-lap Engler Machine Heat Race Winner: K. Douglas.
8-lap Madison Extinguisher Heat Race Winner: Peterson.
Schoenfeld Headers Fast Time: Probst, 14.885 seconds.
Cars Present: 25 Feature Lap Leaders: Rechek 1-6, Mattson 7-25.
Badger Midget Series Points: 1. Jack Routson 955; 2. Chase McDermand 920; 3. Zach Boden 831; 4. Ryan Probst 784; 5. Kevin Olson 721; 6. Scott Hatton 693; 7. Brian Peterson 585; 8. Mike Stroik 579; 9. Jeff Zelinski 524; 10. Matt Rechek 514.
RACE NOTES
—Jordan Mattson becomes the ninth different driverfeature winner in Badger competition for car owner RAB Racing.
—Heat Race Winners Harrsion Kleven, Kevin Douglas, and Brian Peterson all scored their first career midget preliminary race victory.
—With twelve races completed Badger is averaging 25.3 cars per event.
—Jim Fuerst won the Howard Law Cash Draw, a bonus for a randomly selected feature finishing position.
—Scott Hatton claimed the Advance Race Suspensions Hard Charger Award improving eight starting positions.
—Remaining Angell Park events in 2019 are: Aug. 11, Aug. 18, and Sept. 1.