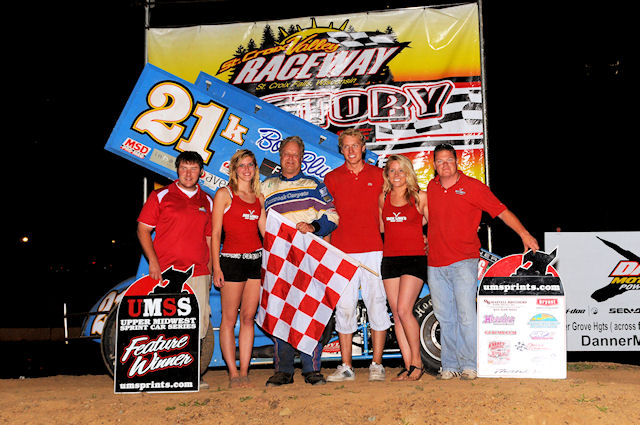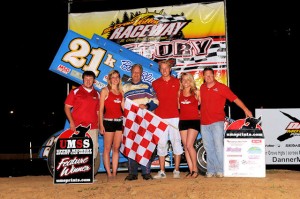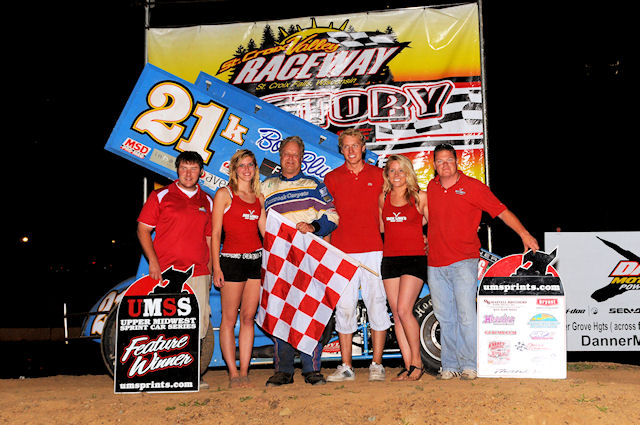 From Greg Parent
St. Croix Falls, WI — (June 29, 2012) — Lou Kennedy, Jr. made the long trek south from Winnipeg in search of the $2,000 top prize in the 20th Annual Earl Kouba Memorial on Friday June 29 at the St. Croix Valley Raceway. Mission accomplished, as Kennedy drove to his second career Upper Midwest Sprintcar Series (UMSS) feature win. Racing before the largest crowd in track history, the veteran Canadian driver took the lead from Cody Hahn on lap two of the twenty lap main event and kept Aussie racer Brooke Tatnell at bay enroute to the victory. Kennedy became the 19th different winner of this prestigious event, as Jimmy Kouba remains the only two-time champion in its 20 year history.
Pole sitter Cody Hahn led the opening lap before fellow front row starter Kennedy powered by on the high side exiting turn four to grab the lead on lap two. The race was under caution for a spin on the next lap. Tatnell, who started third in the 20 car grid, was up to second by lap six and was right behind Kennedy for what ended up being the final restart with seven laps scored when Jared Goerges and Tom Nicholl got together. With the track curfew approaching, the race was reduced to 20 laps from the scheduled 25 at this time.
As Kennedy hammered a heavy cushion up top, Tatnell stayed closed for several laps but was not able to get overtake him. With the leaders working lapped traffic on the 1/4 mile bullring during the last several laps, Kennedy masterfully maneuvered through the lapped cars and went on to record the win. Commenting after the race, Kennedy jokingly told Tatell that, "I beat you with an Aussie motor and car. How ironic is that?" Indeed, Kennedy had Moyle power under the hood of his Eagle Chassis. Kennedy continued, "The fast way around for me was up top, but the cushion in turns 3 & 4 was tall and you had to be careful not to get over it. Thanks to everyone involved and the Kouba family for putting on this event. It's an honor to become the 19th different winner. That's pretty amazing."
Finishing behind Kennedy and Tatnell in the top five was Scott Winters in the Valentine sprinter, Lou's son Thomas Kennedy, and 2010 UMSS Champion Cody Hahn now from Grand Forks, ND. Rounding out the top ten finishers were Scotty Thiel making the long haul over from Sheboygan, Mark Toews from Iowa, Andy Jones, UMSS point leader Scott Broty, and Jason Tostenson. All 20 starters finished the feature. Two cars, Tony Norem and Tori Knutson, were unable to start the main event from the 22 cars on hand. Chris Graf earned the Raleigh Sandberg Memorial Hard Charger and Hard Luck Awards, as Graf was busy making repairs following a Challenge race crash and advanced seven positions in the feature from his back row starting spot.
Following the usual double round of qualifying races utilized by the UMSS, Cody Hahn found himself atop the standings. Hahn drew the zero pill, so the feature race would see a straight-up start based on the points earned during the heats and challenge races. Tony Norem, Scott Broty, and Tatnell won the Ultimate Sprint Heats. The two Ethel Kouba Memorial Challenge races sponsored by Gillund Enterprises and JB Distributing saw Mark Toews and Scotty Thiel take home $100 for their wins. Each Challenge race paid the top four finishers some bonus money.
On behalf of the Kouba family, Joe Kouba thanked St. Croix Valley Raceway for hosting the event for the first time. In addition to St. Croix Valley Raceway and the Kouba family, GRP Motorsports, D&D Motorsports, Proto-Fab Engineering, Bev-Lor Utilities, Precision Tool Technologies, Gillund Enterprises/JB Distributing, Mastell Brothers Trailer Service, and Rik & Sandy Sandberg all added money to the purse to make a great payout for the 20th running of this annual event. In all, the total purse exceeded $11,000.
The UMSS sprints will make a trip north on July 7-8 for the 2nd Annual Rumble on The Range at Hibbing Raceway on Saturday and the first UMSS appearance ever at the Proctor Speedway on Sunday. Fans can keep tabs on the 2012 season by visiting the UMSS website at www.umsprints.com or by liking the UMSS on their Facebook page. Following the double-header weekend in early July, the UMSS takes a couple of weekends off before returning to action at the Cedar Lake Speedway on July 28.
UMSS Race Results – St. Croix Valley Raceway June 29, 2012 (Race #7)
20th Annual Earl Kouba Memorial:
Alpha Apparel & Promotions Ultimate Sprint Heat #1 (8 laps): Tony Norem 45, Cody Hahn 23, Scott Winters 32, Jerry Richert Jr 63, Chris Graf 20G, Jared Goerges 9, Sye Anderson 37, Tom Nicholl 5c.
Meeks Video Ultimate Sprint Heat #2 (7 laps): Scott Broty 34, Andy Jones 73, Thomas Kennedy 20k, Tori Knutson 14k, Troy Manteufel 5M, Chad Patterson 15, Anna Kouba 5.
Mastell Brothers Trailer Service Ultimate Sprint Heat #3 (7 laps): Brooke Tatnell 86AU, Lou Kennedy Jr 21k, Jason Tostenson 36, Scotty Thiel 64, Mark Toews 5T, Tony Kaus 3TK, Jennifer Eriksen 10x.
Gillund Enterprises/JB Distributing Ethel Kouba Challenge Race #1 (11 laps): Toews, Winters, Tatnell, Anderson, Tostenson, Eriksen, Patterson DNF, Norem DNF, Jones DNF, Knutson DNF, Graf DNF.
Gillund Enterprises/JB Distributing Ethel Kouba Challenge Race #2 (11 laps): Thiell, L Kennedy, Hahn, T Kennedy, Richert, Broty, Kaus, Nicholl, Goerges, Manteufel, Kouba DNF.
20th Annual Kouba Memorial A Main (20 laps): L Kennedy, Tatnell, Winters, T Kennedy, Hahn, Thiel, Toews, Jones, Broty, Tostenson, Richert, Graf, Anderson, Kaus, Kouba, Manteufel, Patterson, Eriksen, Goerges, Nicholl, Norem DNS, Knutson DNS.
Lap Leaders: Hahn 1, L Kennedy 2-20