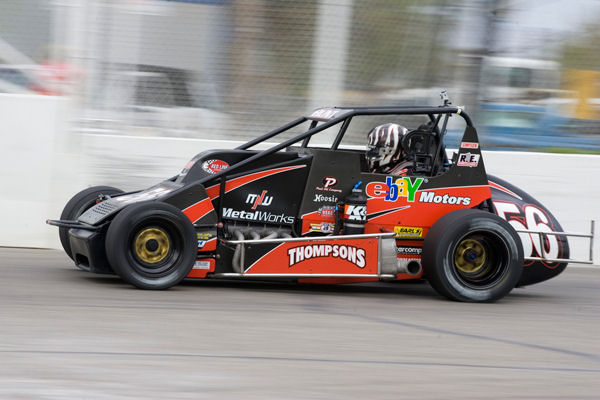 Steven Blakesley
LINCOLN, CALIFORNIA (July 2, 2012) – Eight-time United States Auto Club champion Tony Hunt along with his Ebay Motors crew Kerry Fasig and Scott Naninni will lend their expertise to the Ron Sutton's Winner's Circle USAC Ignite Midget drivers this weekend at Stockton 99 Speedway.
Hunt will be on hand to driver coach for members of the RSWC driver development team including a focus on New Jersey native Collin Milroy who will be making just his second career start in the series after a successful dirt micro sprint career.
Tony Hunt is an accredited driving instructor who has coached drivers from road courses to short tracks to super speedways. As one of the most successful drivers on pavement in USAC history, Hunt's coaching resume began at the Jim Russell Driving School where he developed his teaching fundamentals at the challenging Laguna Seca Raceway road course. After moving East he worked with both the Richard Petty Driving Experience and Andy Hillenburg's Fast Track Driving School as a valuable member of their driver coaching team. From A List celebrities to NASCAR Cup Drivers, Tony has been involved in coaching drivers from multiple disciplines and continues to work as professional driver in the film business.
Hunt's presence at this weekend's USAC Ignite Midget races at Stockton 99 Speedway will provide additional value for the RSWC driver development team members. RSWC selects from hundreds of resumes to narrow down an international driver pool for a shootout held each fall. A select number of drivers from the shootout are then selected to drive for the team in either USAC Ignite Midgets or NASCAR Modifieds to develop them for potential NASCAR careers.
"It is a great opportunity for me to work with these talented young drivers this weekend at Stockton 99 Speedway," Hunt said. "Hopefully some of these drivers will be racing alongside us at USAC Western Sprint Car weekends in the future as they continue their development!"
Hunt's busy weekend will kick off on Friday night when he returns to action for the USAC Western Classic Racing Series at Ocean Speedway Watsonville on the quarter-mile dirt track. Despite Hunt's immense driving experience he is still a self-admitted "rookie" on dirt tracks making less than 12 career starts total on the surface.
Hunt drives a #56 Metal Works / eBay Motors-sponsored entry for car owner Mike Phulps and is currently second in the points standings. The USAC Western Classic Series is one of the only remaining Sprint Car series in the nation that combines both asphalt and dirt events on its schedule to crown an overall series champion.
Race fans can learn more about Tony Hunt Motorsports at www.tonyhunt.com and find Ron Sutton's Winner's Circle online at www.winners-circle-racing.com