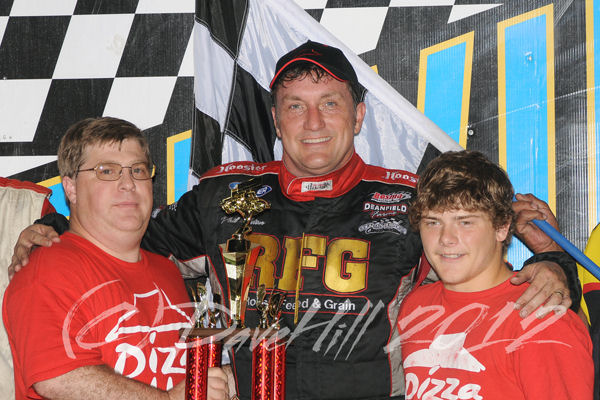 By Bill W, Dave Hill photo
July 10, 2012 – Terry McCarl and the TMAC Motorsports #24 team were able to pick up a pair of wins in the span of eight days at Knoxville and Huset's. The team was busy, and got a little needed help from friend, Lynton Jeffrey to make it all possible. TMAC is looking for a ride for the MOWA show in Donnellson, Iowa tomorrow night, but will definitely be in the house at Knoxville and Huset's again this weekend.
TMAC's win at Knoxville came on June 30. He was able to start up front and lead the distance. "The car was really good," he says. "We're really starting to get our setup figured out at Knoxville with the Goodyears. We felt as good as we have all year in that feature. The car felt really good."
He had qualified tenth and won his heat before wiring the field for win #52 at Knoxville. "The track was really nice, and we were able to run both the top and the bottom, "says TMAC. "We got a good handle on the car, and then we destroyed it at the WoO show in Huset's Tuesday."
TMAC had high hopes going into last Tuesday's WoO show at Huset's. "We didn't qualify too well (16th)," he says. "We started towards the back of the feature, but I think we could have had a top ten, no problem. We had a double-file restart with 25 laps to go, and that was the second car I've had destroyed in one of those. I'm not a big fan of them. There was a tangle in front of us and everyone got caught up in it. I was hoping that it wasn't Austin that ran into me, and it wasn't."
With the car destroyed, TMAC turned to a good friend for last weekend's racing. "That was unfortunate," he says. "We don't have a spare car. Luckily, my good friend, Lynton Jeffrey, loaned me a car to run Twin Features night at Knoxville and at Huset's."
It was Twin Features night at Knoxville and TMAC timed in second quick in his new ride. "It definitely ran really well," he says. "It handles differently than my car. We qualified well at Knoxville. I wasn't sure what to do with the setup. The car really rolled around the corners well. We were a bit loose."
Two solid finishes kept him on pace with Davey Heskin for the lead in Knoxville points. "We were able to run second in the first one," says TMAC. "We learned quite a bit about the car and came from the back to run eighth in the second one. That helped us going into Huset's."
Sunday night, things went well for TMAC at Huset's. He qualified seventh, but swept the rest of the night for some extra cash for win #91, an all-time best at the Brandon, South Dakota oval. "I was fortunate to win the heat race and start on the pole of a $5,000 to win show," he says. "I'd like to thank Bolte's Roll-Off Service for putting the extra money up. I really appreciate them doing that."
Last weekend kept TMAC on pace for his seventh title at both Knoxville and Huset's. "We had a great racecar and it was rolling nice," he says. "It was good to get a feature win at both places. We were able to increase our lead a bit at Huset's and keep pace with Davey at Knoxville. We're getting better and better every week."
If TMAC had his way, he would hit the Lee County Speedway Wednesday night with MOWA, but without a car to take, it will be tough. "I really want to support it," he says. "It is a great series. I just don't have a car right now, so I'm searching."
To check out opportunities to partner with TMAC Motorsports on a nightly basis, visit www.TerryMcCarl.com or call 515 957-0020!
Websites for the McCarl Gang!
Driverwebsites.com develops the websites for the McCarl boys. Check out www.TerryMcCarl.com, as well as www.AustinMcCarl.com and www.CarsonMcCarl.com!
In"Terry"gation
Andrew Bowers asks: How does Huset's make one a better driver?
TMAC says: It is just a demanding racetrack. Early on, it is "Cowboy-up" and short-track heavy. You have to be aggressive. In the feature, it can be a foot off the fence, or you need to run the bottom like Bobby Allen, with a lot of finesse and patience. It may throw all of that to you in one night, plus lay rubber. It is the best high-speed chess game you can get, and I love it because of that. It is a great place to learn and become better.
Got a question for TMAC? Send it to us at sprntcar@iowatelecom.net , and we may answer it in this section! Put "? for TMAC" in your subject line.
This Month in TMAC History!
TMAC has three wins on July 8 in history, two at Knoxville Raceway and one at the Huset's Speedway! The Knoxville wins were both on the front end of Twin Features night. In 1995, he beat Craig Dollansky, Johnny Herrera, Danny Young and Leonard Lee to the line. In 2000, he drove the Serace #55 to a win ahead of Jeff Mitrisin, Chris Walraven, Matt Moro and Randy Anderson. In 2001, at Huset's, he bested Gregg Bakker, Gary DeWall, Chad Radel and Justin Henderson.
"Tuesdays with TMAC"!
"Tuesdays with TMAC" is an up close and personal look at colorful sprint car veteran Terry McCarl. To receive "Tuesdays with TMAC", send an e-mail to sprntcar@iowatelecom.net with "TMAC" in the subject line.
TMAC Motorsports would like to thank sponsors "Lord I Apologize BBQ Sauce", Deanfield Farms, Bosma Poultry, Eagle Chassis, DeBerg Concrete, AmeriCashAdvance.com, RFG, Phil and Vivian, Ryan Yager Trucking, 212 The Boiling Point Bar & Grill, Vortex Racing, Hoosier Tire, Chris Spaulding – Attorney at Law, Schoenfeld Headers, K&N Filters, Don Ott Engines, HRP, All Pro Cylinder Heads, Bob and Beulah Elder, Country Builders Construction, Engler Injection, Superflow Technologies, T&P Brothers, Larry Fleck Trucking, Winters, DriverWebsites.com, CM Rock, Jocko's Sprint Parts, Sander, Brown and Miller, Chase Graphics, Pro Shocks, Ben Cook, Bell Helmets, Burnett's Rock and Landscaping, Fatheadz Eyewear, Van Der Brink Designs, Morgan Strawberry Farms, Bulldog Pest Control, Aurora Rod Ends, Crow Safety, Justice Brothers, KSE Steering, Strange Performance, Saldana Racing Products, Scribner Plastics, Waterman Fuel Pumps, Weiland Racing, Butlerbuilt, PBS Bushings.
6 30 12 Knox 204