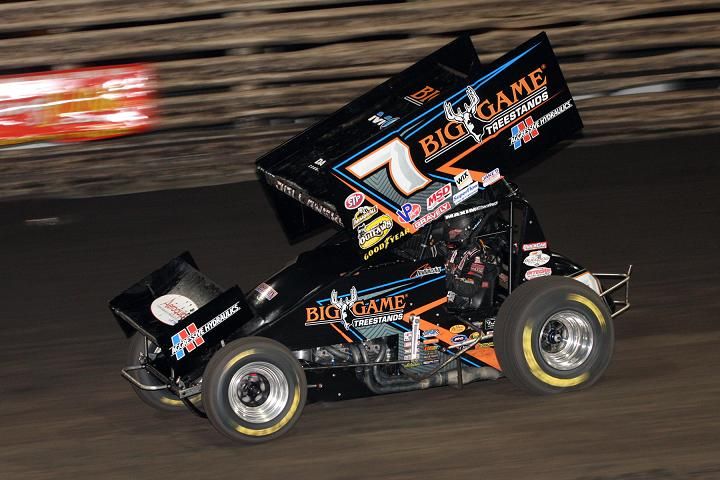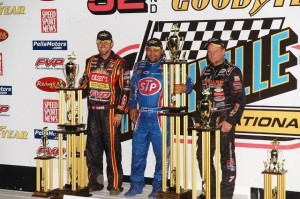 From CDR
The conclusion of the 'Month of Money' culminated Saturday in 'The Hawkeye State' as the greatest sprint car drivers in the world zoned in on the 52nd Annual Goodyear Knoxville Nationals. After muscling from 22nd to 4th in their prelim to be high points, the Big Game Treestands #7 team was ready for the fourth and final night of the prestigious event at Knoxville Raceway.
With only features on the docket lined up according to points from the previous nights, 'The Crowd Pleaser' kept an eye on the racing and changing track conditions beginning with the E-Main all the way until strapping into the Aggressive Hydraulics Maxim for the $150,000-to-win A-Main.
Starting outside pole alongside Stevie Smith for the 50-lap main event, Dollansky slipped a couple of spots on the opening lap until lap 7 when the MobileStar #7 raced into third low in turns 3 & 4. As the feature continued, the Elk River, Minnesota native began to reel in Donny Schatz seven circuits later racing nose to tail with Schatz and Smith before taking the runner-up spot from Smith low in 3 & 4 on lap 19. Dollansky continued to work the bottom in 3 & 4 closing in right behind the leader until the scheduled caution on lap 27.
After the #7 crew of DJ Lindsey, Luke Dollansky, Pete Stephens, Nathan Brady, and Sean Michael changed tires and fueled up the Big Game Treestands sprinter, a single-file restart brought the field up to speed once more with 'The Crowd Pleaser' rim-riding the highside along with much of the 24-car field until 16 to go when a car spun and brought out the final yellow. As Brian Brown raced by the Eaton's Aeroquip Performance Products backed sprinter in turn four on the restart, Dollansky maintained position in the final laps to record a strong podium finish in 3rd.
Check out the CDR website HERE for numerous other photos of the team and happenings from all four days of this year's Knoxville Nationals.
World of Outlaws action resumes tonight, August 14th, at Junction Motor Speedway in McCool Junction, Nebraska