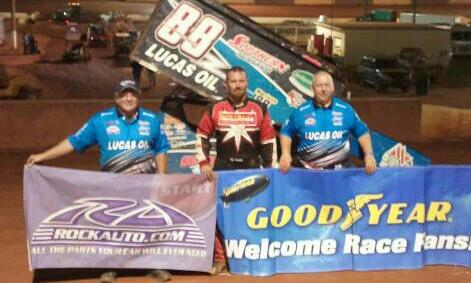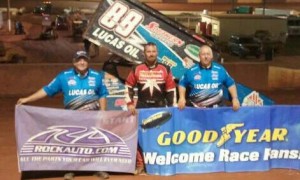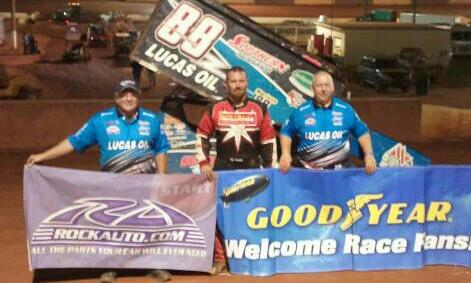 From Pete Walton
Albany, GA — (September 14, 2012) — Tim Crawley from Benton, Arkansas battled wheel-towheel with early race leaders Jerod Roller from Olive Branch, Mississippi and ten-time series Champion, Terry Gray from Bartlett, Tennessee before assuming the lead on lap twenty of the twenty-five lap United Sprint Car Series presented by Goodyear main event at Albany Motor Speedway on Friday night. Crawley then had to hold off hard charging 2010 United Sprint Car Series National Rookie of the Year and the only female racer in the field, 19 year-old Morgan Turpen from Oakland, Tennessee for the win. It could have been a different finish if Turpen, who charged her way from an eleventh place starting position into the lead past Gray and Crawley on lap twenty-two had not had a caution flag send her back to second position for the ensuing re-start. Crawley held off Turpen and Terry Gray during the final three lap dash to the checkers for his thirteenth 2012 visit to the www.RockAuto.com USCS victory lane.
Turpen had to settle for the runner-up spot with her team-mate Terry Gray in the K&N Filters Podium third place. Jerod Roller who has two 2012 USCS wins followed in fourth place and Anthony Nicholson from Bartlett, Tennessee who is in third place in the USCS presented by Goodyear National point standings rounded out the top five drivers.
Hard charging 2010 USCS Southern Thunder regional series Rookie of the Eric Riggins, Jr. from Charlotte, North Carolina, who has two career 2012 USCS feature wins, chased the top five across the finish line. Clint Weiss from Seale, Alabama followed in seventh place. Terry Witherspoon from Jacksonville, Florida finished eighth. Nick DeFeo from Marietta, Georgia followed him in ninth place and veteran sprint car driver Bob Auld from Largo, Florida completed the top ten drivers.
Crawley kicked off the evening's USCS action with a win in the 6-lap Goodyear Speed Dash. Terry Gray then charged to a win in the Engler Machine and Tool First Heat Race. Crawley also got the victory in the Butlerbuilt Second Heat Race. Morgan Turpen passed the most cars (10) in the main event to earn the Wilwood Engineering Hard Charger Award. Jeff Willingham from Ripley, Mississippi garnered the Goodyear Rookie of Race honors. Morgan Turpen claimed the JE Pistons Top guns Award for her second place finish in the main event.
For rules and 2012 schedule info on the USCS please visit www.uscsracing.com or call 770-460-7223.
United Sprint Car Series presented by Goodyear results:
Albany Motor Speedway on Friday, September 14, 2012:
Goodyear Speed Dash: Tim Crawley, Morgan Turpen, Anthony Nicholson, Jerod Roller, Terry Gray and Clint Weiss.
Engler Machine and Tool First Heat: Terry Gray, Anthony Nicholson, Eric Riggins Jr., Jerod Roller, Bob Auld, Ryan Moore and Nick DeFeo.
Butlerbuilt Second Heat: Tim Crawley, Terry Witherspoon, Clint Weiss, Shawn Murray, Bruce Durden, Morgan Turpen and Jeff Willingham.
USCS Presented by Goodyear A-Main 25 Laps Albany Motor Speedway – September 14, 2012:
1 – 88 Tim Crawley, Benton, AR
2 – 80 Morgan Turpen, Oakland, TN
3 – 10 Terry Gray, Bartlett,TN
4 – 5 Jerod Roller, Olive Branch, MS
5 – 16 Anthony Nicholson, Bartlett, TN
6 – 47 Eric Riggins, Jr., Charlotte, NC
7 – 0x Clint Weiss, Seale, AL
8 – 43 Terry Witherspoon, Jacksonville, FL
9 – 96d Nick DeFeo, Marietta, GA
10 – 83 Bob Auld, Largo, FL
11 – 28 Jeff Willingham, Ripley, MS
12 – 22 Shawn Murray, Jacksonville, FL
13 – 38 Ryan Moore, Hurley, MS
14 – 17 Bruce Durden, Jacksonville, FL
15 – 07 Johnny Bridges, Cherryville, NC
16 – m33 Stacy Mashburn, Newnan, GA
17 – 59 Johnny Petrozelle, Denton, NC
GOODYEAR SPEED DASH WINNER: #88 Tim Crawley
K & N FILTERS POLE AWARD: #5 Jerod Roller,
Wilwood Engineering HARDCHARGER AWARD: #80 Morgan Turpen (11th to 2nd place)
GOODYEAR RACING TIRE YOUNG GUN OF THE RACE: Morgan Turpen
ROOKIE OF THE RACE: #28 Jeff Willingham
JE PISTONS TOP GUNS AWARD: #80 Morgan Turpen (2nd place)
K&N FILTERS 3RD AWARD: #10 Terry Gray
BUTLERBUILT 4TH-PLACE AWARD: #5 Jerod Roller
Keizer Aluminum Wheels Top Five Award: #16 Anthony Nicholson
DMI/Diversified Machine Top Ten Award: #83 Bob Auld
ENTRIES: 14
PROVISIONALS: None
LAP LEADERS = Laps 1-3, Jerod Roller, Laps 4-19, Terry Gray and Laps 20-25 Tim Crawley.