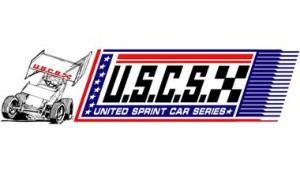 From Pete Walton

April 10, 2013 – After a four week break, the United Sprint Car Series 17th annual Outlaw Thunder Tour racing season fires back into action this coming weekend with a double-header at two speedways approximately two hours apart. On Friday, April 12th, the winged sprint car series visits Carolina Speedway oval in Gastonia, North Carolina. On Saturday, April 13th, the USCS sprint cars headline the 2nd Annual Toccoa Tangle smorgasbord of speed at Toccoa Speedway in Toccoa, Georgia. Both events pay $2000 to the winner.
The two night weekend also kicks off the 2013 USCS Southern Thunder Tour regional series 2013 schedule of events that includes racing on both dirt and paved ovals. Both USCS races will award both National USCS Outlaw Thunder Tour national championship and USCS Southern Thunder Tour regional series championship points.
Expected entries for both nights include multi-time USCS Carolina Speedway sprint car winners including 10-time National USCS National Champion Terry Gray, from Bartlett, Tennessee and former Southern Thunder regional series Champion Johnny Bridges from Cherryville, North Carolina who won the last USCS event at Carolina Speedway on September 28, 2012. Also entered are previous USCS Carolina Speedway sprint car winners, Eric Riggins, Jr. from Charlotte, North Carolina and female sprint car hot-shoe, Morgan Turpen from Oakland, Tennessee who both won events at the speedway in September 2011.
On Saturday, April 13th at Toccoa Speedway, both 2012 USCS National sprint car Champion, Tim Crawley from Benton, Arkansas who won the April 13, 2012 event and 19 year-old female sprint car driver Morgan Turpen who won the Labor Day weekend 2012 contest on September 2nd around 1/3 mile high-banked D-shaped speed plant are entered. Additionally entered for both events is Derek Hagar from Marion, Arkansas who won both USCS Outlaw Thunder 2013 events at Magnolia Motor Speedway in Columbus, Mississippi on March 9th and at Tennessee National Raceway on March 16th.
The www.rockauto.com USCS 600 Sprint Car Series winged mini/micro sprints join action on Friday and Saturday nights for the USCS open wheel double-header. Drivers from at least seven states are expected for the series third and fourth events of the young racing season. The two USCS sprint car series are joined on the busy racing card by a full program of Late Model and stock car racing each night as well to create two action-packed nights of racing.
For updated schedules, rules and more for the United Sprint Car Series (or the www.rockauto.com USCS 600 Sprint Car Series), please visit www.uscsracing.com. For info and directions to and more information about Carolina Speedway please visit www.carolinaspeedway.net For additional information about Toccoa Speedway please checkout their Facebook page.