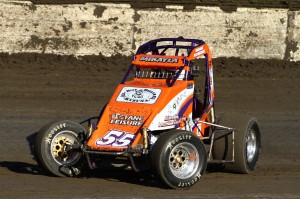 By Daniel Powell
It might not have been the ideal way to achieve her third–place finish in the recent New Zealand Six Shooters Title at Ashburton Speedway, but Mikayla Hein was still pleased with her achievement.
The 18–year–old South Australian guest drove in the Aus # 55 Edge Parts & Performance supported XXX car for the 2013 running of the NZ Title, which was cut short due to wet weather and it consequently cancelled the running of the NZ Title deciding feature race.
After a consistent run over the two days of competition, where she finished with a win, a pair of second and third place finishes over the five heat races, Hein qualified third highest on points heading into the feature race.
Despite the disappointment of not being able to contest the NZ Title feature race, Hein was rapt with her performance throughout the weekend and was thankful for the opportunity provided to her by car owner Daryl Wright.
"It was a fantastic experience to go over and race in another country," she expressed. "It would've been great to get the feature race in, but you can't help the weather some times, and to be ranked third in New Zealand is a big honour. I can't thank Daryl and his team enough for all of their support, and I'm pleased to be able to reward them for the faith they put in me with a good result."
In terms of the upcoming 2013–14 season in Australia, Hein remains unsure about her Wingless Sprint racing plans.