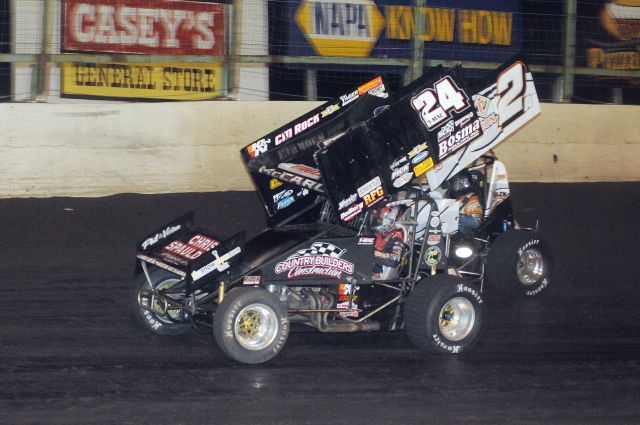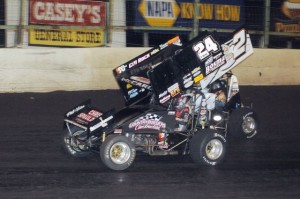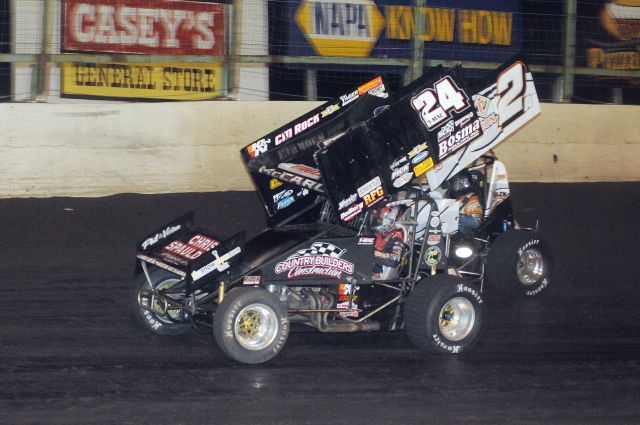 From Bill W
June 4, 2013 – It definitely wasn't a weekend to remember for Terry McCarl, but he plans on coming back strong in a pair of World of Outlaws events this weekend, sandwiching his normal Saturday stop at Knoxville Raceway.  Disaster was avoided when he lost a right front stop on his sprinter at Knoxville last Saturday, and a second place finish at Huset's Speedway near Brandon, South Dakota capped off the weekend Sunday.
On a lightning fast track at Knoxville, TMAC timed in fifth quick in the 35-car field.  "We were right there in qualifying," he says.  "I don't know how many cars were in the 14.7's.  Qualifyiing fifth made it difficult in the heat race, because Saturday, it was tough to start on the bottom."
TMAC's time put him inside row three for a heat that took five to the feature.  "I had Brian Brown beside me, who I'd say is one of the top five teams in the country right now," he says.  "I felt he had the advantage on the outside.  I had my son Austin in front of me, and my best friend, Lynton Jeffrey next to him…but I've got to make a move.  You have to get a good start with something like that."
He was able to advance to fourth.  "With a fast track like that, it's going to be tough to pass," saysTMAC.  "We got a good jump to get by Brian.  Then Austin kind of crossed up in front of me.  We were fortunate to get by him.  At that point, it's just about a transfer spot.  It was a little nerve-wracking."
With the format calling for a feature redraw for the first four rows, TMAC's volunteer came up with an eight.  "Unfortunately for me, the redraw put us behind the 8-ball…no pun intended!" he says.  "That was o.k.  If you have a good car and strong engine, it really doesn't matter where you start, you should get to the front…at least to a podium finish.  I think we had that.  We were up to fifth.  We had a good run on Dusty (Zomer) there.  I was coming off of two and the red came out."
Things went awry when the green fell again.  "We really didn't make any changes," says TMAC.  "I kind of screwed up on the restart.  Dusty got by (Dustin Selvage) and I tried to do the same too soon.  (Mark) Dobmeier got around me and a few guys got me out of the groove.  I don't know if it came from hitting the cushion hard or what, but I lost the right front stop in turn two.  It was tightened; it just got knocked off somehow."
Fortunately, disaster was avoided.  "That's really bad," says TMAC.  "The best way I can describe it is, going into turn three, it felt like the right front wheel came off.  You're going to crash.  I think Lucas Wolfe got into the back of me and saved me.  I think he got into my bumper and straightened me out.  It obviously ended our night, but I felt really good that we didn't destroy the car."
Things went well on Sunday leading up to the main event at Huset's.  "I really like the new tire they are running up there, the Hard Hoosier," says TMAC.  "It's doing a good job.  I was able to run the tire two weeks, and won on it the second week.  We were second quick Sunday and ran fourth in the heat race.  Again, Austin started right in front of me.  That's getting old!"
Starting inside row two, TMAC began his quest for a second win in a row at Huset's.  "I was able to get by Mark (Dobmeier) on the start," he says.  "Then, Scott (Winters) had a tough time down in one and two, and Mark got by us both.  We were able to run him down again and get by him.  Robby Wolfgang showed the bottom of one and two was good, and I was able to use it."
He found his way to the lead.  "The top of three and four was the place to be, but I was able to stick the bottom pretty well too," says TMAC.  "The A.R.T. chassis is working so well.  At that point, we were behind Lynton in second, and we were able to get by him on a restart."
The Altoona, Iowa driver had his run up front interrupted several times.  "We weren't really able to set sail," he says.  "We had three or four yellows and a couple of reds.  We had a fuel stop and the race kind of drug on.  At that point, it's tough to know what to do when you're leading.  I don't really have a crew chief at that point for advice.  The car felt good everywhere, so I started ringing it around the top."
Dobmeier was back in the picture in the late going and got by for the win on the last lap.  "With about a lap to go, Mark had it going around the bottom," says TMAC.  "You'd rather lead all the time, but sometimes it sucks, because the guy behind you has nothing to lose and can find something on the track.  Mark did a great job and found some moisture on the bottom.  I was good down there too, but at that point, I felt the top was the place to be.  They did a great job with the track."
The race had an eventful end.  "Coming out of four, the yellow came out," says TMAC.  "Someone had hit the fence in turn four.  I was disappointed in the fact we didn't get a green, white, checker finish.  It was running late, and they checkered the race.  I don't think I could have turned back under him though.  Though we hate to lose one like that, it was a great race for the fans.  That's what makes Huset's exciting."
The WoO will be in the area Friday at the 34 Raceway in West Burlington, Iowa and Sunday at the I-80 Speedway in Greenwood, Nebraska.  Knoxville on Saturday will make it a three-race weekend.  "We've been looking forward to these shows at Burlington and I-80 for awhile now," says TMAC.  "Of course, we'll be back at Knoxville on Saturday too."
To check out opportunities to partner with TMAC Motorsports on a nightly basis, visit www.TerryMcCarl.com or call 515 957-0020!


TMAC Appearing at Heartland Harley Davidson Thursday Night!
Heartland Harley Davidson will be hosting a "Meet and Greet" with drivers competing on Friday night at 34 Raceway.  TMAC will be in attendance between 5-7 p.m.  "We're really looking forward to meeting up with our fans in the Burlington area again," he says.  "We've got some new shirts, we've got some barbeque sauce in too."
Heartland Harley Davidson is located at 155 S. Roosevelt Avenue in Burlington, Iowa.


Websites for the McCarl Gang!
Driverwebsites.com develops the websites for the McCarl boys. Check out www.TerryMcCarl.com, as well as www.AustinMcCarl.com and www.CarsonMcCarl.com!
This Month in TMAC History!
TMAC has two victories at Knoxville on June 3.  In 1995, he piloted the family #24 to a win over Skip Jackson, Johnny Herrera in the Forbrook #5, Craig Dollansky and Steve Beitler.  In 2000, he drove the Serace #55 to victory under the NCRA sanction ahead of Travis Cram, Dennis Moore Jr., Steve Gennetten and Travis Rilat.  TMAC has four career NCRA wins.  In addition to his Knoxville triumph, he also has wins at River Cities Speedway (ND), Park Jefferson Speedway (SD) and Salina Highbanks Speedway (KS).