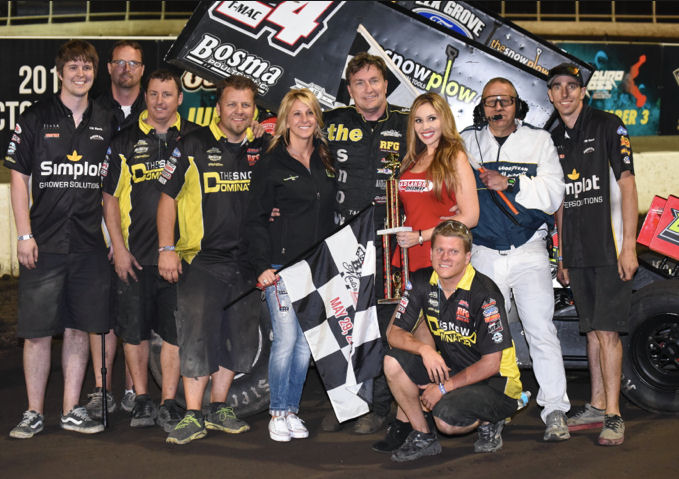 By Bill W
May 31, 2016 – Terry McCarl's first win at Badlands Motor Speedway last Sunday night was both his first and 100th. The Altoona, Iowa driver now has 98 410 wins and two 360 victories at the former Huset's Speedway, and Sunday's tilt was worth a cool $10,000 aboard the TMAC Motorsports #24. This weekend, he will tackle the NSL at Jackson Motorplex in Minnesota Friday before returning for more action at Badlands Saturday.
TMAC had motor issues in hot laps on Saturday with the NSL at Knoxville Raceway. A quick motor change saw him time in 17th quick. "We hurt a motor in hot laps and that put us behind the 8-ball," he says. "We were hurried to get that changed for qualifying and that didn't help us. I think we hurt that motor in Tucson. That was the last time we had run it. We had checked it out and thought that it was o.k. We had gotten it too hot. That was our fault."
He squeaked in the heat invert and won a very stout heat from the pole. "We ended up winning a $100 gift certificate from Kaeding Performance, so starting on the pole wasn't bad," says TMAC. "Those contingencies mean a lot to us. That was like a Nationals heat lineup, Justin Henderson, Sammy Swindell, Dusty Zomer, Brian Brown and Bronson Maeschen were all in there. That was crazy tough."
TMAC would start outside row seven for the main event. "We had a really good car for the feature," he says. "We had a new Maxim, and that could have been why we were a little off in time trialing. I was kind of off on my setup, but we got better and better throughout the night."
He began moving forward in the feature. "I had a heck of a race going with Ian (Madsen) back there," says TMAC. "I was having trouble steering though. I knew I had to get to the top, but I couldn't turn it up there. I think when we changed the engine, we got a kink in our power steering line. The fluid was coming out and frothing all over me. It was again, our fault. The line had a kink in it. Of all the nights to have a 25-lapper, it had to be Saturday. We were able to get up to eighth there. I think we did the best we could."
Saturday, Badlands Motor Speedway announced that their rained out 410 program Saturday night would pay $10,000 to win Sunday. "Chuck Brennan's doing some great things," says TMAC. "When Lori and I drive down the road, we're always talking about how great things are right now. The things Tod Quiring is doing with Jackson and the NSL, what Knoxville has done stepping up with their purses and what Badlands has done. It's a great time to be racing a 410 here in the Midwest. I think it's all great for the sport and for the fans."
Things went well from the outset. "We worked and got the new Maxim running well," says TMAC. "We qualified fifth, and we got to second in the heat. The car felt balanced. It was fun. A nice little girl drew me the pole. That was the second week in a row. As I said last week, I don't love the pole. I haven't won very often from there at Badlands. Really, if you have a good racecar, it doesn't matter. Last week, in the feature, I knew I was in trouble. This week, Doug (Rankin) and I nailed it. There was a rut in turn three that you had to go below or above. We navigated that, and it was a lot of fun."
As usual at Badlands, there was plenty of traffic. "We may have started 26 cars," says TMAC. "That many cars make it exciting. Even if a guy is out front, the traffic makes it really exciting. Sunday night, it was really exciting. Austin (McCarl) was second for quite a while there. It was a little treacherous on the cushion, but you could go low or high on Sunday."
TMAC savored his win. "It was an extra special night because it was our hundredth win there," he says. "The $10,000 made it all the more exciting. The flagman handed me a checkered flag with the date on it. Williams Grove has that tradition with your first feature win. I've got one of those and it's really cool. This one was nice, and it had the date on it. As a promoter, I really like that and appreciate it."
McCarl Family Websites!
Driverwebsites.com develops the websites for the McCarl boys. Check out www.TerryMcCarl.com, as well as www.AustinMcCarl.com and www.CarsonMcCarl.com!
This Month in TMAC History!
On May 26, 2002, TMAC was victorious with the Interstate Racing Association (IRA) at the Cresco Speedway in Cresco, Iowa. With 39 cars on hand at the banked 3/8 mile oval, TMAC topped Travis Cram, Joe Roe, Colin Northway and John Haeni.
"Tuesdays with TMAC" is an up close and personal look at colorful sprint car veteran Terry McCarl. To receive "Tuesdays with TMAC", send an e-mail to sprntcar@hotmail.com with "TMAC" in the subject line.
TMAC Motorsports would like to thank sponsors SnowPlow Snow Pushers – www.TheSnowPlow.com, Country Builders Construction, Rossie Feed and Grain, Bosma Poultry, Destiny Motorsports, Searsboro Telephone Company, Elk Grove Ford, A.R.T. Speed Equipment, Berryhill Racing, Phil and Vivian, Justice Brothers/Gillund Enterprises, Vortex Racing, Hoosier Tire, Chris Spaulding – Attorney at Law, SuperFlow, Schoenfeld Headers, Rens Trucking, NutriShop – Maple Grove, MN, HRP, All Pro Cylinder Heads, Maxim Chassis, Bob and Beulah Elder, Engler Injection, Snap On Tools, Sposato Paint, Winters, Kilani Fender, Inc., DriverWebsites.com, CM Rock, Brown and Miller, Pro Shocks, Ben Cook, Bell Helmets, Burnett's Rock and Landscaping, Octane Ink, Morgan Strawberry Farms, Dynasty Stucco, Aurora Rod Ends, Crow Safety, KSE Steering, Snyder Lawn & Landscaping, Strange Performance, Saldana Racing Products, Scribner Plastics, Waterman Fuel Pumps, Butlerbuilt and Mote Fasteners.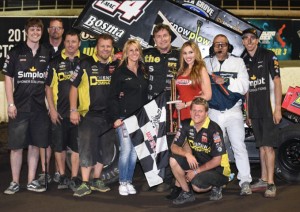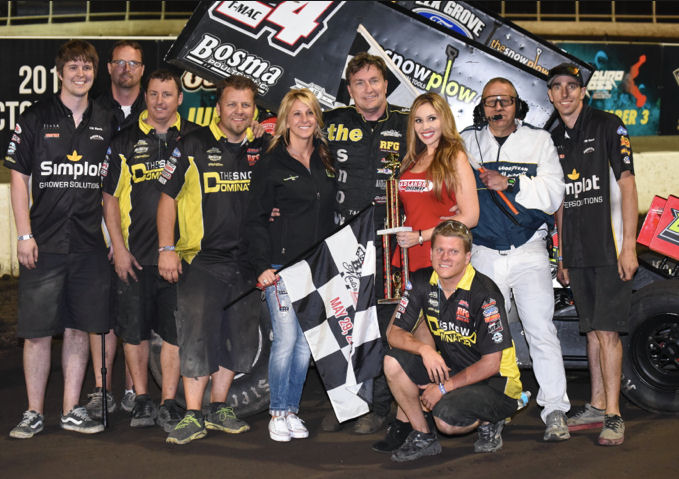 Photo: The TMAC Motorsports #24 team celebrates their $10,000 win at Badlands Motor Speedway (BMS Photo)