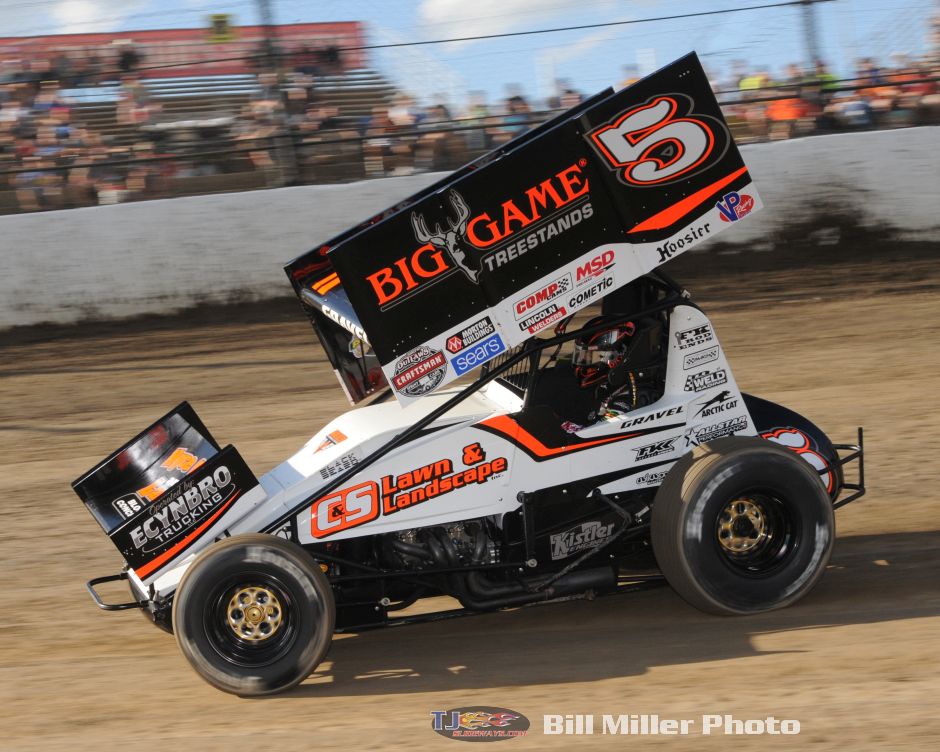 From CBJ Motorsports
August 3rd, 2016 – Scorching temperatures continue blanket most of the country. It's getting a lot of attention from the media. Something else that also gets a lot of attention is
the continued success of the CJB Motorsports team and drivers David Gravel & Sammy Swindell.
Following a 9th place finish north of the border in Ohsweken, Ontario, Canada, David Gravel and the #5 team struck a course west. Hartford (Mich.) Speedway was first on the weekend swing. Despite having portions of the evenings program completed, mother nature arrived and dumped enough rain to force series and track officials to postpone the event until Wednesday, September 21st.
A quick jaunt to Wilmot (Wis.) Raceway was in store the following night, Saturday, July 30th. With pristine temperatures and little cloud cover, the 'Greatest Show on Dirt' thrilled the crowd gathered like no other. The track, a spot where Gravel had won his previous start, allowed the #5 team to showcase their speed. A good foundation was laid as the CJB team timed in 6th, ran well and his heat and ran from 4th to 1st in the dash.
"We timed in well and made it through our heat race," said Gravel, pilot of the Big Game Treestands, J.R.C. Transportation Inc., C&S Lawn & Landscape #5. "In the dash, I just went where everyone else wouldn't and we picked up a lot of ground. Usually in the dash, you are just happy to gain a row but we got all the way to the pole. It was great and it was possibly the best driving car I've ever had. I've got to really hand it to this crew. In traffic, it got a little dicey but in open air, no one could touch us."
Check out some highlights from Wilmot.
Just one state away, Sammy Swindell was working on his own strong weekend. With $20,000 to the winner on Friday, July 29th at the Jackson (Minn.) Motorplex, Swindell and the #1 crew arrived with both barrels loaded.
"We had a great car overall," said Swindell, driver of the Big Game Treestands, GoMuddy.com #1. "About five laps into the feature, something knocked off the brake line on the front left caliper so we had no brakes up there. During a red, we made some changes but couldn't get the brake line fixed. We ended up going alright."
A podium finish in his pocket already, Swindell moved south for the following night to the Knoxville (Iowa) Raceway to race in the final tune up before the 5 Hour Energy Knoxville Nationals.
"We tried out a new wing," explained Swindell. "It didn't end up helping us much so we changed it back after time trials to our normal setup. We mixed it up in our heat race We got by R.J. (Johnson) and then he got back by us. We settled for second and barely missed the invert. The top was wide open so it was a little tough. I think we had the quickest car by the end of the night."
(Click here to purchase new Swindell merchandise.)
Swindell was also in action the following night at Hancock County Speedway near Britt, Iowa.
"We had the fastest car in practice," commented Swindell. "Had a great run in our heat race and started 3rd in the feature. We got onto a harder tire because the track went away. We got locked down and settled for fourth."
The month of August opens up with a true test for the World of Outlaws Craftsman Sprint Car Series. The tour visits Federated Auto Parts Raceway at I-55 for the annual Ironman 55 weekend. Friday nights show pays $8,000 to the winner while Saturdays finale will see the victor capture a unique, 55 lb. dumb bell trophy and a check for $20,000. Gravel will get one final tune up at Knoxville (Iowa) Raceway in the Capitani Classic.
"Pevely is always one fun track," said Gravel. "55 laps around there will be really tough but we want to get that big check. When we get to Knoxville, we just want to shake down our Nationals car and Cappy is a great race to do that in."
For Swindell and the #1 team, a well deserved weekend off will allow the team to make final tweaks for the 5 Hour Energy Knoxville Nationals, which begins on Wednesday, August 10th.