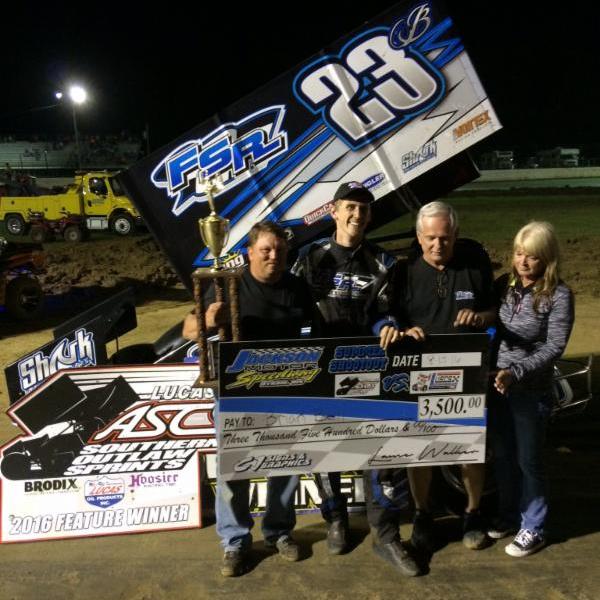 By Bryan Hulbert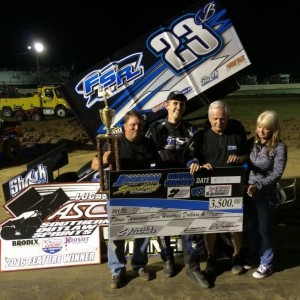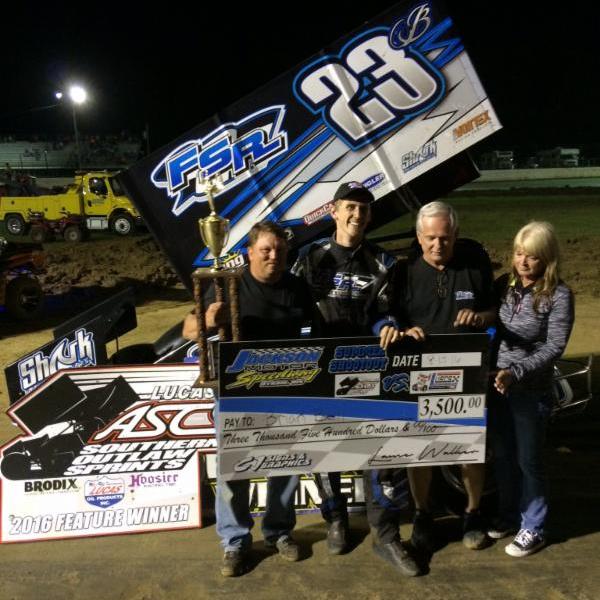 BYRAM, Miss. (August 13, 2016) For the third time in 2016, Tennessee's Brian Bell parked the FSR Radiator No. 23b in Victory Lane with the Lucas Oil ASCS Southern Outlaw Sprints, earning the top spot on the podium at the Jackson Motor Speedway in Byram, Miss. to give the nod to the American Sprint Car Series in the showdown with the USCS.
Bell's fourth career win with the Lucas Oil ASCS Southern Outlaw Sprints, Bell bested 25 other drivers at the slick three-eighths mile oval to earn the night's $3,500 top prize.
Taking off from the outside of the front row, Bell was eventually followed to the checkered flag by fellow ASCS competitor, Marshall Skinner, with I-30 Speedway regular, Anthony Nicholson, advancing from seventh to take the final podium step in the No. 16 machine.
From 10th, current USCS point's leader, Morgan Turpen, crossed fourth with Washington's Seth Bergman rounding out the top-five. Terry Gray followed with Koty Adams from 14th to seventh. Shane Morgan was eighth from 13th with Kyle Amerson ninth. Derek Hagar completed the top-ten in the No. 9jr.
Down to the nitty-gritty, only four nights of racing remain on the 2016 Lucas Oil ASCS Southern Outlaw Sprints lineup with the series returning to competition on September 3 at the Southern Raceway in Milton, Fla.

Race Results:
ASCS Southern Outlaw Sprints
Jackson Motor Speedway – Byram, Miss.
Saturday, August 13, 2016
Car Count: 26
Heat 1 (8 Laps): 1. 10-Terry Gray; 2. 1S-Joey Schmidt; 3. 28-Jeff Willingham; 4. 25-Ray Bugg; 5. 88-Brandon Blenden; 6. 2-James Knight; 7. 44-Ronnie Howard
Heat 2 (8 Laps): 1. 9JR-Derek Hagar; 2. 26-Marshall Skinner; 3. 41-Koty Adams; 4. 4M-Michael Miller; 5. 29S-Rusty Stanford; 6. 52M-Bill Mason
Heat 3 (8 Laps): 1. 23-Seth Bergman; 2. 14M-Jordon Mallett; 3. 10M-Morgan Turpen; 4. 01-Shane Morgan; 5. 09-Timmy Thrash; 6. 42-Andy McElhannon
Heat 4 (8 Laps): 1. 23B-Brian Bell; 2. 16-Anthony Nicholson; 3. 66-J.J. Simmons; 4. 29A-Kyle Amerson; 5. 38-Ryan Moore; 6. 00-Tristan Lee
B Feature (12 Laps): 1. 4M-Michael Miller[2]; 2. 25-Ray Bugg[3]; 3. 09-Timmy Thrash[5]; 4. 29S-Rusty Stanford[4]; 5. 88-Brandon Blenden[1]; 6. 38-Ryan Moore[6]; 7. 44-Ronnie Howard[10]; 8. 00-Tristan Lee[9]; 9. 2-James Knight[7]; 10. 52M-Bill Mason[8]; (DNS) 42-Andy McElhannon; (DNS) 52-Cody Karl
A Feature (25 Laps): 1. 23B-Brian Bell[2]; 2. 26-Marshall Skinner[5]; 3. 16-Anthony Nicholson[7]; 4. 10M-Morgan Turpen[10]; 5. 23-Seth Bergman[3]; 6. 10-Terry Gray[4]; 7. 41-Koty Adams[14]; 8. 01-Shane Morgan[13]; 9. 29A-Kyle Amerson[11]; 10. 9JR-Derek Hagar[6]; 11. 28-Jeff Willingham[8]; 12. 66-J.J. Simmons[12]; 13. 44-Ronnie Howard[21]; 14. 09-Timmy Thrash[17]; 15. 38-Ryan Moore[20]; 16. 1S-Joey Schmidt[1]; 17. 29S-Rusty Stanford[18]; 18. 4M-Michael Miller[15]; 19. 88-Brandon Blenden[19]; 20. 14M-Jordon Mallett[9]; 21. 00-Tristan Lee[22]; 22. 25-Ray Bugg[16]