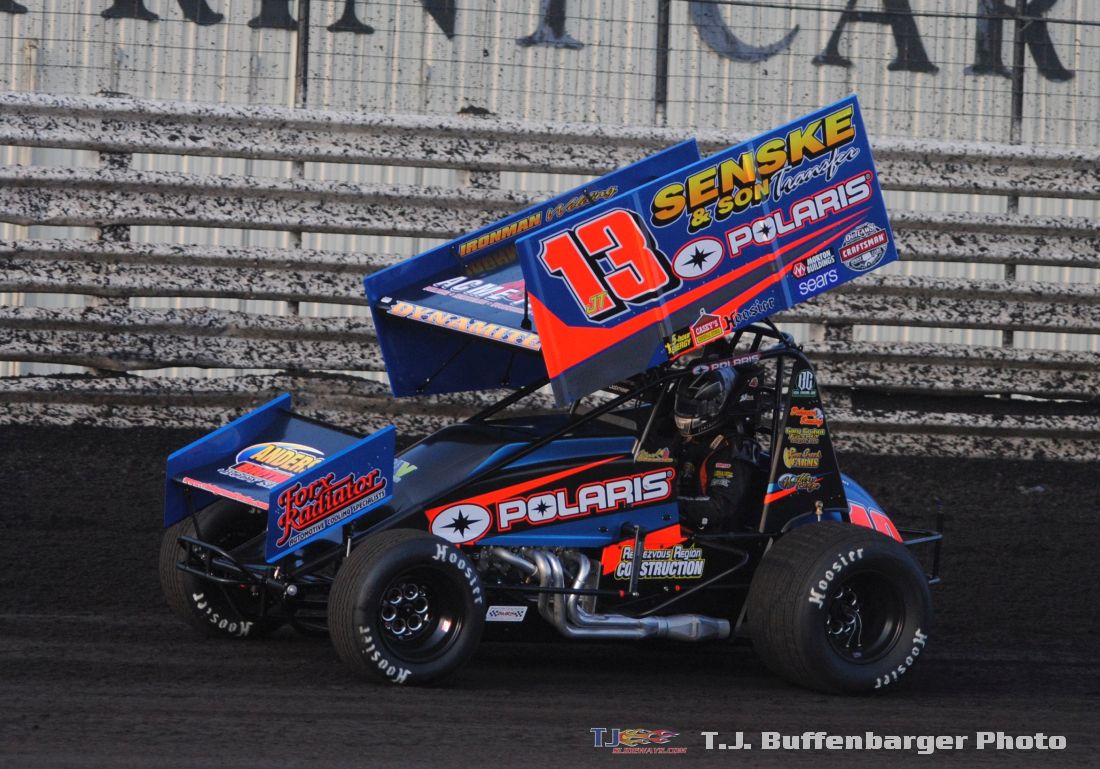 By Bill W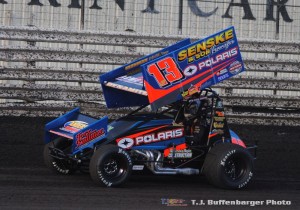 September 13, 2016 – Mark Dobmeier and the Jimco Racing/Polaris #13 clinched a pair of championships at Badlands Motor Speedway. Both the regular season championship and the "Second Chance" championship total a large chunk of change. Paired with a perfect attendance award and pawn shop gift cards, it could end up nearing the $80,000 mark. The team plans on wrapping up their season this Friday night at River Cities Speedway in Grand Forks, North Dakota.
Mark started his weekend at River Cities last Thursday. "It was the big John Seitz Memorial," he says. "They packed a lot of action into it, so it got a little late. We had some rain delays, and they worked the track in. We won the heat. In the feature, I'm pretty sure we won the wheelie award. Every corner we'd go down the straightaway with a wheelie. On top of that, we didn't know it, but we blew out a right rear shock. We had no compression, and that magnified everything. We had fun with it anyway and ended up third."
Friday, the track would be much different at River Cities. "We had one of the heaviest tracks I've seen in recent memory at Grand Forks, but Friday, it was one of the driest tracks I've seen in a long time," says Mark. "It was dry with a small cushion around the top. About halfway through the feature, it laid rubber. Everyone rode around single-file at that point and we were second."
Mark was complimentary to Friday's winner. "My hat's off to Nick Omdahl. He started racing a few years ago, and he's definitely improved. He won at Devil's Lake earlier this year, and he won Friday night. I think it's his big Forx Radiator sponsorship that propelled him to the lead. He's been running good, and it's good to see younger guys put some work into this and get the best out of what they have."
The championships at Badlands would be sealed on Saturday with a good run. "We had enough points where we just had to run a solid night and we'd be alright," says Mark. "When there is that kind of money on the line, your anxiety gets up a little bit. You know what's on the line. If something goes wrong, you're in trouble. We just worked hard all week getting that car ready to go."
Despite pulling a late pill, Mark did what he had to do in the preliminaries. "We went out dead last (to qualify)," he says. "The track, for the first time really this year, slowed down as qualifying went on. We were still able to pull out sixth quick. That put us starting third in the heat race, and we went on to win that."
He started eighth in the feature. "We slowly worked our way up to fourth and maintained there," says Mark. "I thought we had a better car than that, but there was a red. After that, we just didn't have the drive that we had before. We had to settle in a take a fourth place."
It was enough for Mark to garner the track titles. He's not sure what they paid, however. "I've heard $50,000 and $60,000, so I'm not sure," he says. "Either way, with perfect attendance, Chuck Brennan adds 25% to whatever you make on top of it. Plus, another $2,500 gift card for his pawn shop, and another one of those for the owner. I don't know what it's going to end up being, but it's a lot and we're thankful."
The team is wrapping up their season this weekend, and getting ready for 2017. "We're planning on running Grand Forks this Friday, and that will be it for us," says Mark. "We're already working on things for next year. We have cars ordered and parts lined up. We're also working on a float for this Saturday. It's the annual Potato Bowl parade in Grand Forks for UND football. We've entered a float, and we'll get a Senske & Son truck and trailer full of race car stuff and have some fun with it."
About Polaris…
Polaris Industries Inc. (NYSE: PII) is a global powersports leader with annual 2015 sales of $4.7 billion. Polaris fuels the passion of riders, workers, and outdoor enthusiasts with our RANGER®, RZR® and POLARIS GENERAL™ side-by-side off-road vehicles; our SPORTSMAN® and POLARIS ACE® all-terrain off-road vehicles; VICTORY® and INDIAN MOTORCYCLE® midsize and heavyweight motorcycles; SLINGSHOT® moto-roadsters; and Polaris RMK®, INDY®, SWITCHBACK®, and RUSH® snowmobiles. Polaris enhances the riding experience with parts, garments, and accessories sold under multiple recognizable brands, and has a growing presence in adjacent markets globally with products including military and commercial off-road vehicles, quadricycles, and electric vehicles. www.polaris.com
Follow Jimco Motorsports and Mark Dobmeier Racing on Facebook…
https://www.facebook.com/Mark-Dobmeier-Racing-329718337235441/?fref=ts
Jimco Motorsports would like to thank Polaris, Senske & Son Transfer, Big Trucks by Jimco, Right Choice Electric, Acme Tools, Interstate Towing & Recovery, Kyllo Trucking, B/L Strong Box, Steffes, Dahlstrom Motors, GLB Transport, Tireboss, Forx Radiator, Anderson Auto Body, Gary Gruhot Farms, Willow Ridge, Rose Creek, Herberg Custom Harvesting, Great Plains Plumbing & Heating, Ironman Welding, DAV, Rendezvous Region Construction, High Mark Snowmobile Rentals, Boss Signs & Graphics and Dobmeier Bonding for all their help!