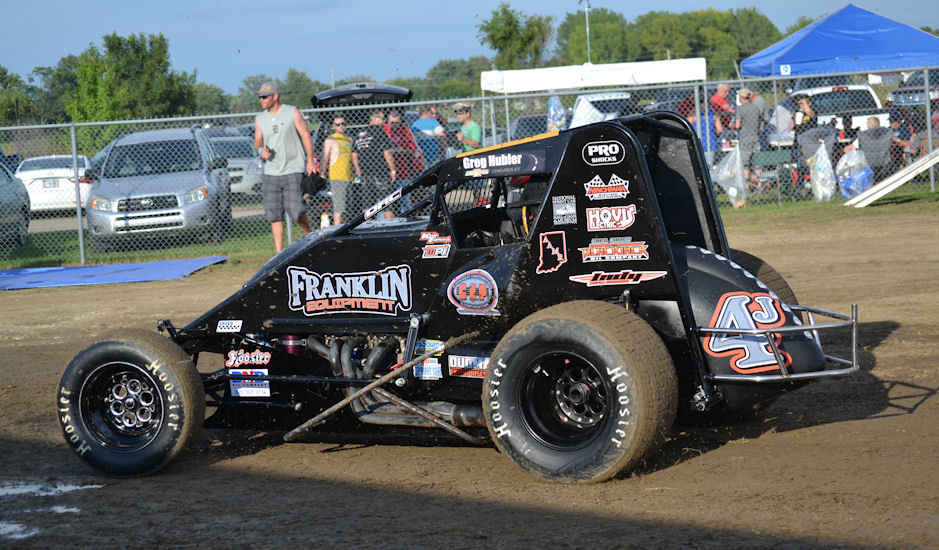 From Eldon Butcher
HAUBSTADT, Ind. (October 8, 2016) — The "Harvest Cup" for the Hoosier Tire Midwest Sprint Car Series at Tri-State Speedway provided an exciting climax to the 2016 racing season. The 30 lap feature event for the sprint cars stayed green from beginning to end. Those drivers dropping out eased their cars into the infield. The drivers continuing performed exceptionally and there were not any incidents. No yellows! No reds! Just continuous racing action!
Kevin Thomas Jr. had the fastest car and proved it in leading all qualifiers with a 13.255 second lap to begin the evening. The Alabama driver also won the third heat and wrapped up the evening in winning the $3,000 Harvest Cup first place money. Thomas was piloting the Jeremy Ottinger owned entry sponsored by Franklin Equipment and CEP Concrete. It was Thomas' first MSCS win this season and fifth MSCS all time victory.
Chase Stockon would start on the pole for the feature alongside 2016 MSCS Rookie of the Year Tyler Hewitt. Thomas started in the second row. Stockon took the early lead but Thomas began diving into the turns and had the lead in a half dozen laps. From that point on he sped away as packs of drivers behind him fought to improve their positions. Thomas flew around any lapped traffic and the race for second was well behind him.
Kyle Cummins was persistent and took second place honors in the feature. Earlier he won a heat race with a fourth turn last lap pass that virtually threaded the needle. Carson Short would finish third in the feature. Jarett Andretti was fourth after being at the center of the battle for second and third. Critter Malone not only finished fifth but took the Keizer aluminum Wheels Hard Charger of the Race Award after gaining 11 positions in the process!
The second five included Chase Stockon, Brady Short, Aaron Farney, second heat winner Brian Karraker, and Tyler Hewitt. J.T. Stapp took the Wilwood Tuff Brakes Award with an eleventh place finish.
Critter Malone won the MSCS B Main. He also came from the back in this one after experiencing some misfortune in a heat race that he had been leading. Veteran Ted Hines was second. Brandon Morin was third. Twenty six sprint cars were on hand to compete. The field included three drivers who were competing for the first time with the series.
Brady Short protected his points lead with steady finishes during the night's events and received the MSCS Championship Trophy at a brief awards ceremony after the feature was completed. It was the Bedford Blaster's third MSCS Championship and second series title in a row. The Championship car owner this season was Cam Pottorff of Martinsville, IN. Tyler Hewitt of Marion, IN, was awarded the Rookie of the Year Award prior to heat racing action.
RACE SUMMARY
HARVEST CUP at Tri-State Speedway
Haubstadt, IN
October 8, 2016
HOOSIER TIRE MIDWEST SPRINT CAR SERIES:
(26 Entries)
OVERALL FASTEST QUALIFIER – Kevin Thomas Jr, 13.255 seconds
FIRST HEAT – 3R Kyle Cummins, 18 Jarett Andretti, 17gp Aaron Farney, 11N Collin Ambrose, 5K Kent Schmidt, 12 Ted Hines, 17 Kendall Ruble, 27 Brian Wallace, 7 Critter Malone
SECOND HEAT – 23 Brian Karraker, 97x Tyler Hewitt, 74 J.T. Stapp, 45K Ben Knight, 87 Kyle Stearns, 45 Tony Lawrence, 2J Jeff Pritchett, 41 Jim Shelton, 4B Donny Brackett
THIRD HEAT – 1 Kevin Thomas Jr., 32 Chase Stockon, 21 Carson Short, 11P Brady Short, 66 Jadon Rogers, 98 Brandon Morin, 52C Jared Chastain, 38 Chet Williams
B MAIN – 7 Critter Malone, 12 Ted Hines, 98 Brandon Morin, 17 Kendall Ruble, 38w Chet Williams, 27 Brian Wallace, 52C Jared Chastain, 2J Jeff Pritchett, 45 Tony Lawrence, 41 Jim Shelton, 4B Donny Brackett
FEATURE (30 Laps) – 1 Kevin Thomas Jr.,3R Kyle Cummins, 21 Carson Short, 18 Jarett Andretti, 7 Critter Malone, 32 Chase Stockon, 11P Brady Short, 17GP Aaron Farney, 23 Brian Karraker, 97x Tyler Hewitt, 74 J.T. Stapp, 66 Jadon Rogers, 45K Ben Knight, 17 Kendall Ruble, 11N Collin Ambrose, 38 Chet Williams, 12 Ted Hines, 87 Kyle Stearns, 5K Kent Schmidt, 98 Brandon Morin