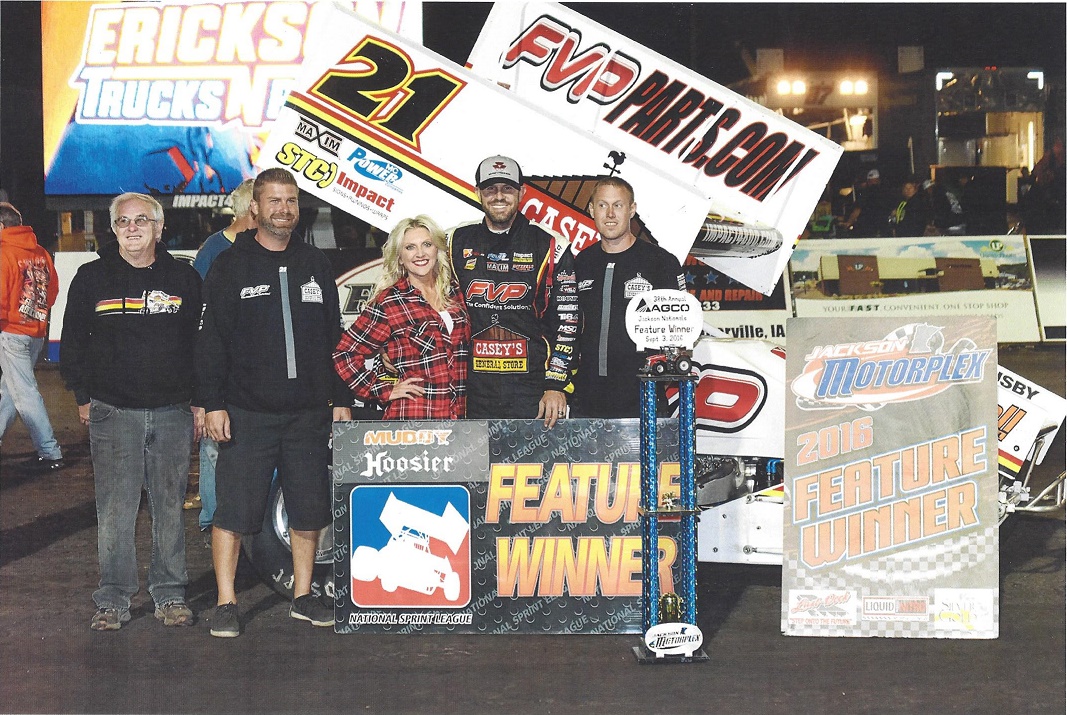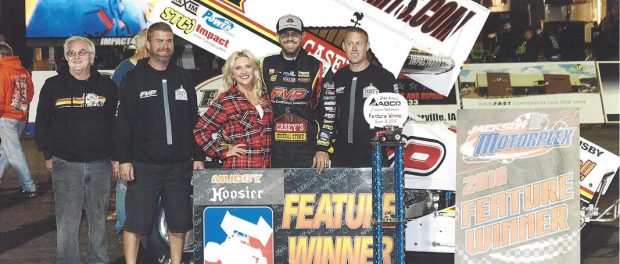 From Bill Wright
November 14, 2016 – Brian Brown and the Casey's General Stores/FVP #21 team didn't let a disappointing Knoxville Nationals finish on the track deter them from finishing the 2016 season strong. The Grain Valley, Missouri driver feels the team learned more in the last couple of months than they had in the past two seasons combined. A pair of wins and some strong finished with the World of Outlaws capped the 2016 campaign.
To say you had a tough Nationals this year is probably an understatement.
The Knoxville Nationals obviously didn't pan out the way we wanted it to. To look back and try to dissect it now, it just wasn't meant to be. We drew a bad number, but qualified well. We drew the toughest heat and didn't make it through, and the B was tough on us too. We drew 89 out of 89 on the "knockout night", and we were lucky enough to time in third quick. We won the heat from fourth, but got crashed out by a lapped car in the feature. It was kind of par for the course.
What are some things that you could build on from that week?
I think the thing that came out of it was it made us look in the mirror as a team and realize we have some holes in our program that need to be addressed. We realized when we have track conditions that are hard to pass, we need to get better. We decided from that point on, we needed to work on that, and the last two or three months of the season, I feel we learned more than we had the previous two and a half years. Having a bad Knoxville Nationals definitely made us stronger. Even though we didn't have the best week on the track, off the track it was great with all of our fans and partners. FVP had four to five hundred customers and employees there on Saturday. We had a nice hospitality event with a Q&A for them.
You bounced back the next week and won the Hi-Roller Classic in Sedalia.
We were lucky enough that Matt Wood loaned us an engine after we lost ours at the 360 Nationals. I have him to thank for that win. To go into Sedalia and win a $15,000 race after the biggest disappointment of our year definitely helped everyone's confidence in getting back on track. It gave us the motivation to keep working hard.
You went on to win the prelim at the Jackson Nationals in September.
To win the prelim at the Jackson Nationals was great. We probably didn't have the fastest car that night, but we were able to outsmart them a little bit and we found the rubber before they did. We ran third in the finale, which was good too. We also ran fourth at the Queen's Royale in Farmington (Missouri). That's a track that I've never been good at, and we came from back in the pack. So we were happy with that.
The last couple of weekends you spent competing with the World of Outlaws at some big shows.
We had an unscheduled trip to Pennsylvania and finished eleventh at the Williams Grove National Open. We turned around and went to Port Royal and went from tenth to sixth. We were in the top five most of the night on a track we hadn't seen. At Lakeside (Kansas City), we were inside the top five when we got together with another car. At the World Finals (Charlotte), we finished the year running sixth amongst one of the toughest fields you'll see.
How do you feel looking towards 2017?
Maybe overall, we didn't get that win late in the year, but with our finishes, I feel we're better as a team than we've ever been. Chad (Morgan) has been my crew chief for eight years, and Michael (Williams) will be coming back with us next year. Our engine program is second to none. All our manufacturers, from Maxim Chassis to FK Shocks, Vortex Wings, Weld Wheels, Champion Oil, and the list goes on…I feel we have the best in the business. All of our partners believe in us and are working towards the same goal. If we could race tomorrow, we would. We can't wait to get 2017 started with our U.S. campaign.
Follow Brian on the Web, Twitter and Facebook!
Follow Brian at his website located at www.BrianBrownRacing.com