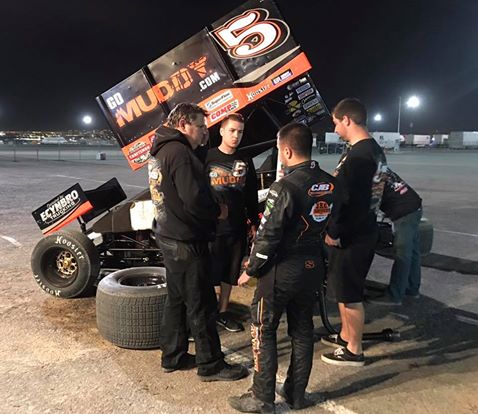 From CJB Motorsports
CARLISLE, Penn. (March 14, 2017) – To win in Vegas takes a little skill and a lot of luck, depending on how you look at it or whom you talk to. After finishing a rain shortened Texas weekend with a top-5, David Gravel and the CJB Motorsports trekked across the heartland to the desert. Las Vegas Motorspeedway was the destination as the half mile track hosted a two-night show on Thursday, March 9th and Friday, March 10th in the Nevada city.
"We missed it by a few hundredths our first night out in time trials," said Gravel, driver of the GoMUDDY.com, J.R.C. Transportation Inc., C&S Lawn & Landscape #5. "That put is back in the field and it's important to make the dash because you get more opportunities to get your car right. We started 16th and finished there. It's hard to get going in dirty air on the starts and restarts and that's just really where we were that night. We were looking for some speed when we unloaded."
Resilient as ever, the CJB team returned the following night and started off much better by laying down a good time in their time trial group, winning the heat race and making the Craftsman Club dash.
"We slid back in the dash but that's fine," said Gravel. "We had a good car in the feature and I thought I was going to get up to third in lap traffic but we faded a bit and finished sixth. We're capable of doing much better and I know we are ahead of where we were last year."
The California swing now begins in earnest as the tour heads to one of the most exciting venues on the schedule; Thunderbowl Raceway in Tulare, Calif. The bullring is known for it's side-by-side action and close calls. Gravel nor CJB have captured a checkered flag at the track.
"Tulare has treated me pretty good over the years," said Gravel. "I think we'll be stout there. It's a place where so much can happen so fast because of its size. You certainly have to be on your toes and ready for anything. We'll get there and continue to get better. We know we'll get to where we need to be and be back in victory lane here soon."