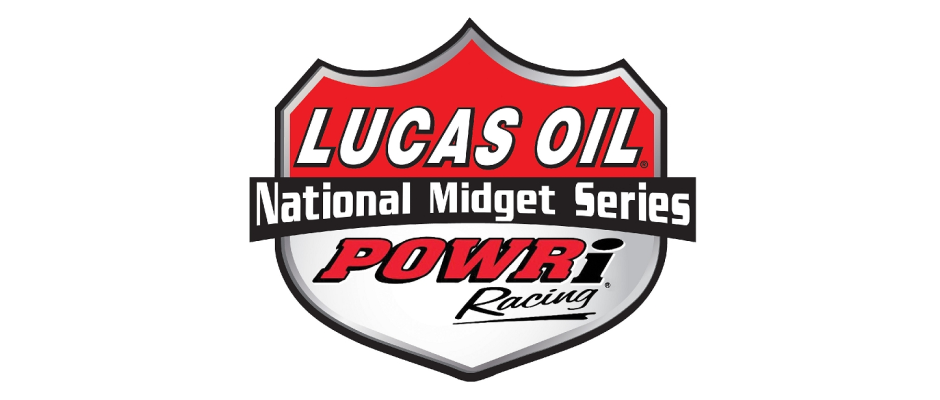 From POWRi
OKLAHOMA CITY, OK. (March 25, 2017) — After a postponement of the remaining portion of Friday's show due to rain, it was hometown hero and NASCAR star Christopher Bell charging to the front from the ninth starting position to dominate night one's POWRi Lucas Oil National Midget and West Midget League feature event for the Fourth Annual Turnpike Challenge. Bell's opening night win places him tied for third with Brad Kuhn on the all-time win list with 22 victories. Cutting his racing teeth at I-44 Riverside Speedway, Bell's return marks his first appearance since 2012. After cleaning house in the Inaugural Turnpike Challenge and winning night one, Bell looks poised for another clean sweep this weekend.
With three eventful starts to the feature, the field started single file for the 30 lap main event. Led by Andrew Felker in the AJ Felker Esslinger-powered FSC and Tucker Klaasmeyer's Toyota-powered BOSS, the field took to life on the high-banked, red clay-racing surface. At the start of the race, Klaasmeyer worked to maneuver past Felker, as Bell navigated his way to the front. With the track widening out, Felker moved to the top of the track as Klaasmeyer meticulously worked the bottom.
As Bell moved past Keith Kunz Motorsports teammate Ryan Robinson for third, he quickly squeaked past Klaasmeyer and set his sights on Felker. Taking the lead off four, Bell moved into his own time zone approaching lap traffic. Enduring two yellows in the remaining laps, Bell went unchallenged on his way to the checkers. Ryan Robinson took home second, while Tucker Klaasmeyer finished third.
"This place is a lot of fun," stated Christopher Bell. "Obviously, I got my start here racing. It's always fun to be able to come back to where you start. They had the racetrack really good there for the day show. Hopefully they'll be able to get it back and have another good track to put on a show for the fans. I've been off to a pretty good year so far, hopefully we can add one more here tonight."
"This place is pretty fun to run," Ryan Robinson commented. "I want to thank all the fans for coming out and all those that stuck around yesterday. Keith prepared a great car for me that handled awesome, so we'll go get them here tonight."
"The car was awesome," said Tucker Klaasmeyer. "I think we were even better at the end. Single file restart at the start kind of hurt us, but hats off to Chris; he did a really good job. Austin put together some awesome cars this year. We'll see if we can't put together another good night and run up front. My buddy Chris' mom passed away, so I'd like to get a win here tonight for her."
POWRi – National / West Midget Car Series
Turnpike Challenge
I-44 Riverside Speedway
Oklahoma City, OK
Feature: 1. 21 – Christopher Bell, 2. 71 – Ryan Robinson, 3. 27 – Tucker Klaasmeyer, 4. 37 – Andrew Felker, 5. 67K – Holly Shelton, 6. 4A – Logan Seavey, 7. 5D – Zach Daum, 8. 42 – Chris Andrews, 9. 97 – Spencer Bayston, 10. 8K – Jonathan Beason, 11. 3N – Jake Neuman, 12. 7 – Austin Brown, 13. 71K – Tanner Carrick, 14. 1K – Brayton Lynch, 15. 8M – Kade Morton, 16. 72M – Steven Shebester, 17. 14R – Jody Rosenboom, 18. 77S – Danny Straton, 19. 00 – Grady Chadler, 20. 32 – Trey Marcham, 21. 2S – Travis Scott, 22. 8 – Alex Sewell, 23. 17W – Tyler Courtney.