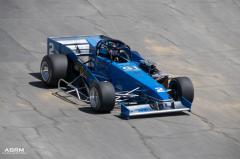 By Dan Kapuscinski
OSWEGO, NY (June 7, 2017) – The third round of the Shea Concrete Triple Crown Championship Series of Supermodified racing presented by ASI Racewear will be held at Oswego Speedway this Saturday with Twin 35 features on the line for the non-wing Novelis Supermodifieds.
TCCS points will be awarded on Saturday based on the best overall finish for registered drivers in action, with 100 points going to the cumulative winner.

Finishing positions for drivers in each feature will be added together, with the lowest number declared the winner.  First place finishes in each race would result in a 2, first and second a 3, second and second a 4, and so on.
Saturday's event will mark the second non-wing race of the TCCS schedule, following last Saturday's first wing event at Lancaster Speedway.
Currently Dave Shullick Jr. leads the Bentley Warren Driver of the Year standings by 18-markers over teammate Otto Sitterly with Dave McKnight, Tim Snyder, and Dave Danzer filling the top five positions in the race for the $6,000 top prize.
With a solid run at Lancaster last weekend, Canadians Dave McKnight and Gary Morton flew to the top of the Jim Shampine Supermodified of the Year standings by 8-points over Snyder Racing with Danzer Racing, Gruel Racing, and Muldoon Racing holding the top five positions.
Standings at this point are a snapshot however, as only a driver and team's best three point finishes, wing and non-wing, will count toward the championship with all four double point races still remaining on the schedule.
This Saturday's TCCS/Oswego Speedway event will see pit gates open at 2:30 p.m., grandstand gates open at 4 p.m., hot laps at 4 p.m., a driver autograph session at 5:15 p.m., group time trials at 6:30 p.m., and racing at 7 p.m.

For more information on the event visit Oswego Speedway online at www.oswegospeedway.com.
Bentley Warren Driver of the Year Standings: (as of June 3)
1. Dave Shullick Jr. – 178*
2. Otto Sitterly – 160
3. Dave McKnight – 154
4. Tim Snyder – 146
5. Dave Danzer – 144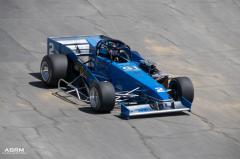 6. Dave Gruel – 127
7. Michael Muldoon – 126
8. Joe Gosek – 121
9. Tim Jedrzejek – 81
10. Jeff Abold – 78
11. Chris Perley – 74
12. Joey Payne – 62
13. Keith Shampine – 61
14. Howard Page – 59
Jim Shampine Supermodified of the Year Standings: (as of June 3)
1. 70 Morton Racing – 154
2. 0 Snyder Racing – 146
3. 52 Danzer Racing – 144
4. 50 Gruel Racing – 127
5. 15 Muldoon Racing – 126
6. 00 Gosek Racing – 121
7. 05 Team Abold Racing – 78
8. 11 Miller Racing – 74
9. 14 Penix Racing – 62
10. 55 Osetek Racing – 61
11. 18 – Page Racing – 59
Bentley Warren Driver of the Year Roster: (As of June 3)
Otto Sitterly (Nicotra No. 7, Bodnar No. 96)
Dave Shullick Jr. (Nicotra No. 2, Bodnar No. 95)
Jeff Abold (Abold No. 05)
Dave McKnight (Morton No. 70)
Dave Danzer (Danzer No. 72, Danzer No. 52)
Tim Jedrzejek (Danzer No. 52, Lane No. 97)
Joe Gosek (Gosek Racing No. 00)
Dave Gruel (Gruel Racing No. 50)
Howard Page (Page Racing No. 18)
Keith Shampine (Osetek Racing Technologies No. 55)
Tim Snyder (Snyder Racing No. 0)
Mike Muldoon (Muldoon Racing No. 15)
Joey Payne (Penix Racing No. 14)
Chris Perley (Miller Racing No. 11)
Jim Shampine Supermodified of the Year Roster: (As of June 3)
Team Abold Racing No. 05 (Driver- Jeff Abold)
Gary Morton Racing No. 70 (Driver- Dave McKnight)
Danzer Racing No. 52 (Drivers- Dave Danzer, Tim Jedrzejek)
Gosek Racing No. 00 (Driver- Joe Gosek)
Gruel Racing No. 50 (Driver- Dave Gruel)
Page Racing No. 18 (Driver- Howard Page)
Osetek Racing Technologies No. 55 (Driver- Keith Shampine)
Snyder Racing No. 0 (Driver- Tim Snyder)
Muldoon Racing No. 15 (Driver- Mike Muldoon)
Penix Racing No. 14 (Driver- Joey Payne)
Miller Racing No. 11 (Driver – Chris Perley)
Shea Concrete Triple Crown Championship Series presented by ASI Racewear
Schedule:
May 13 – Oswego Speedway 67th Season Opener (Non-Wing) – Dave Shullick Jr.
June 3 – ISMA Lancaster Speedway (Wing) – Trent Stephens
June 10 – Oswego Speedway Twin 35's (Non-Wing)
June 23 – ISMA Stafford Speedway (Wing)
July 1- Oswego Speedway Independence Grand Prix (Non-Wing)
July 22 – Oswego Speedway Mr. Suprermodified (Non-Wing)**
July 28 – ISMA Sandusky Speedway Hy-Miler Fast 40 (Wing)
July 29 – ISMA Sandusky Speedway Hy-Miler Nationals (Wing)**
September 3 – Oswego Speedway International Classic (Non-Wing)**
September 9 – ISMA Star Speedway Classic (Wing)**
** – Indicates Double Point Shows
Feature Points Only, Oswego 100-point format
Best (3) Non-Wing finishes, combined with best (3) wing finishes count toward (6) race point total