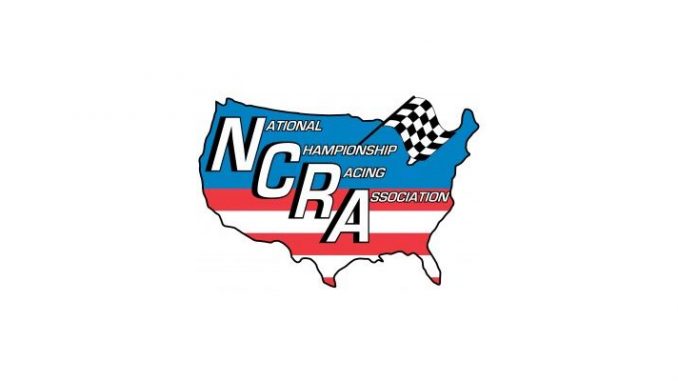 From David Smith Jr.
Jason Martin took the lead with five laps remaining to claim the National Championship Racing Association of Park City, Kansas presented by Precise Racing Products/Carpetland Nebraska 360 presented by Malvern Bank sprint car feature Saturday night at Junction Motor Speedway in McCool Junction, Nebraska.
Forrest Southerland and Jeff Stasa were scheduled to start on the front row for the twenty-five-lap feature yet Stasa elected to start at the rear of the field with mechanical gremlins. This would move Ryan Roberts to start on the outside front row and after a skirmish on the start involving Southerland, Dover and Ledger, Roberts would take the lead on the complete restart.
Sixth starting Danny Jennings quickly moved into the runner-up position while Don Droud, Jr., Martin and Jon Freeman were your top five after the first lap was complete.
Roberts quickly opened a half-stretch lead on Jennings atop the newly configured three-eighths mile oval while Martin would get past Droud for third on lap three.
The leader entered lapped traffic on lap five while, behind him, Campbell (started ninth) moved into the fourth position.
With Roberts dealing with slower cars, Jennings capitalized to close his deficit to three car lengths by lap ten. That's when the caution would fall for the final time when Boston Jordan came to a stop at the top of turn two.
Roberts would get a good jump on the final restart with Jennings having his hands full with pressure from Martin for the runner-up position. Jennings would relinquish that position just past the half-way point to Martin as Roberts once again started to deal with slower cars.
With five laps to go, Roberts struggled to get past one of the slower cars allowing Martin to get a good run down low entering turns three and four and his Briley powered Schnee chassis would drive underneath to take the lead on lap twenty-one.
During this same lap Jennings, whose power steering broke eight laps earlier, would retire to the pits while running third putting defending NCRA champion third and Campbell fourth with four laps to go.
A late-race attempt in lapped traffic to retake the lead was all for naught by Roberts as Martin would go on to claim the victory.
Roberts settled for second while Droud, Campbell and Ledger rounded out the top five.
The three, eight lap heat races for the twenty-car field were won by Martin, Jennings and Stasa.
Next even for the NCRA 360-ci sprint car division will be next Father's Day Sunday night, June 18, for the "Bill Hall Memorial" at 81 Speedway in Park City.
Both NCRA and the Nebraska 360 Sprint Series will once again join forces in two weeks, June 24, at Salina Speedway in Salina, Kansas.
NCRA/Nebraska 360 Sprint Series
Junction Motor Speedway/McCool Junction, Nebraska
June 10, 2017
20 Cars
1st Heat: 1) Jason Martin, 2) Ryan Roberts, 3) Don Droud, Jr., 4) Jon Freeman, 5) Jordan Boston, 6) John Klabunde, 7) Mike Key
2nd Heat: 1) Danny Jennings, 2) T.J. Artz, 3) Stuart Snyder, 4) Jeremy Campbell, 5) Cody Ledger, 6) Seth Brahmer, DNS) Bobby Becker
3rd Heat: 1) Jeff Stasa, 2) Jack Dover, 3) Forrest Southerland, 4) Blain Peterson, 5) Jason Becker, DNS) Todd Holliman
A Feature (25 Laps): 1) Jason Martin, 2) Ryan Roberts, 3) Don Droud, Jr., 4) Jeremy Campbell, 5) Cody Ledger, 6) Stuart Snyder, 7) Jon Freeman, 8) Seth Brahmer, 9) T.J. Artz, 10) John Klabunde, 11) Michael Kay, 12) James Becker, 13) Danny Jennings, 14) Forrest Southerland, 15) Jordan Boston, 16) Jack Dover, 17) Jeff Stasa, 18) Blain Peterson, 19) Tadd Holliman, 20) Robert Becker, Jr.