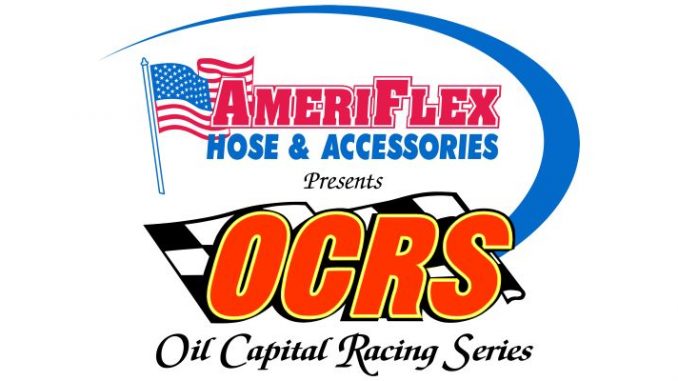 From John Rittenoure
ADA, Ok. (July 22, 2017) – The 2017 racing season has been anything but routine for Robert Sellers. Health and mechanical issues have sidelined the two-time defending AmeriFlex / OCRS champion for the past three shows.
But Saturday Sellers looked like his old self as he easily won his first $1,500-to-win AmeriFlex / OCRS feature of the season at Oklahoma Sports Park.
Sellers made it look easy winning handily over Whit Gastineau. But inside the cockpit it was a battle of stamina and the will to win.
"I did not know if I could make it. My stamina has been down," said Sellers who is not at full strength due to recent medical treatments. "I am doing chemo shots and it has zapped my energy. I did not know if I could do it, but with the Lord's help anything is possible."
It is that strong will to win and his faith that has allowed Sellers to fight his way back to doing what he does best. Winning races.
"I got to thank the good Lord for giving me a chance to get back out here," explained a tired but happy Sellers in victory lane. "I have had some medical situations that kind of sidelined me. I think the Lord has been watching over me. We have my medical conditions going in the right direction now. I owe a lot of credit the Lord."
Sellers won his 10th OCRS career victory driving his Checkered Flag, Cothran Construction sponsored sprinter. It was the first real test for the rebuilt engine.
"We lost a motor and it was pretty bad," recalled Sellers of the June 17 race in Lawton. "It is running good now."
During the time off Sellers has been helping son Shane (Sellers) who is leading the AmeriFlex points race. Besides hoping to keep the series title in the family both want to make the AmeriFlex Challenge II race slated for September 26 at Salina Highbanks Speedway.
"We want to help Shane and we want to qualify for this big race," Sellers said.
Sellers started inside second row when the green flag dropped on the 25-lap main event and chased early leader Whit Gastineau for the first six laps until the yellow flag waved. Gastineau was penalized two spots for an on track infraction and Sellers inherited the lead. Sellers led the next 19 laps unchallenged despite dealing with lapped traffic. Gastineau drove into second on lap 10 but was not able to reel in Sellers. Sheldon Barksdale, Zach Chappell and Gary Owens rounded out the top five.
"Sometimes you have to have a little bit of luck and sometimes it is better to be lucky then good," smiled Sellers of inheriting the lead.
In the points race, Chappell closed within 12 points of Shane Sellers with his third place finish. Shane Sellers finished in sixth.
Ameriflex Oil Capital Racing Series
Oklahoma Sports Park
Ada, OK
Saturday July 22, 2017
Feature: 1. 4X – Robert Sellers, 2. 2W – Whit Gastineau, 3. 20S – Sheldon Barksdale, 4. 50Z – Zach Chappell, 5. 33 – Gary Ownes, 6. 4 – Shane Sellers, 7. 2K – Kenneth Walker, 8. 55 – Johnny Kent, 9. 79 – Tim Kent, 10. 2 – Mikcey Walker, 11. 76S – Shayla Waddell, 12. 5L – Joe Bob Lee, 13. 5 – Cameron Hagin, 14. 25 – Noah Gass, 15. 007 – Michael Bookout, 16. 22T – Grank Taft, 17. 8J – James Fabian, 18. P78 – Perry Pickard, 19. 30 – Joeseph Miller.