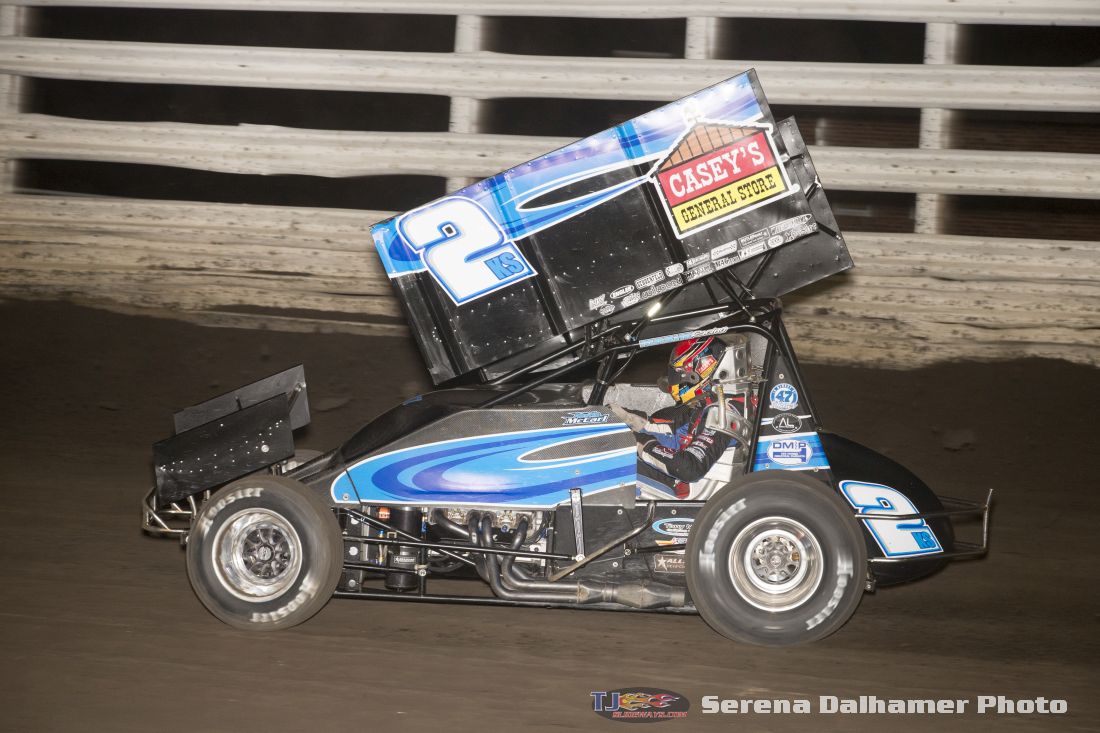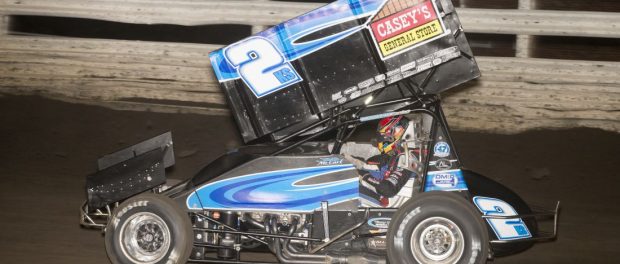 By T.J. Buffenbarger
One of the happiest people in the pit area on Wednesday at Knoxville Raceway was Austin McCarl. McCarl carried momentum of a 5th place run at the Capitani Classic on Sunday to another fifth place finish Wednesday during BRANDT Professional Agriculture Qualifying Night at the 57th Annual 5 Hour ENERGY Knoxville Nationals. That finish put McCarl seventh in Nationals points and likely locked into Saturday's A-Main.
For McCarl who's family has raced at Knoxville for three generations locking into the Nationals feature for the second time was a happy moment.
"It means everything, said McCarl. "I'm used to driving for myself, so the only pressure comes from you. Now I've got sponsors and a car owner. There's definitely pressure and you have to get the job done."
McCarl started the night off properly with a solid qualifying effort and second place finish in his heat race.
"Tonight, has been a great night for this Casey's General Stores team, we were fast all night. I feel like we could have qualified a little better if we could go back, but you always live and learn from that perspective. In the heat race we were fortunate enough to get a great start and get to second right away. Kerry (Madsen) was just good enough to beat us. He's got really good engines, a great team, and he's a really good driver."
McCarl was running a solid second place early in the event and was starting to close on Larson for the lead when a spark plug issue dropped him back to fifth. Even though it was a good performance McCarl was left wondering what might have been with his TKS Motorsports team.
"Starting on the front row with Kyle (Larson) I knew we would have a chance to win, we just had to do our best," said McCarl. "Those first five laps I kind of committed myself to the top because I didn't really want to follow (Larson). I was starting to catch him a little bit and right as I told myself 'Alright, one more corner and I think we've got him' we knocked the plug wire off, broke the spark plug, and we were on seven cylinders for the last 19 or 20 laps. That was pretty scary mentally just trying to hang on. I couldn't really lift. I felt it going into three, but to me I felt like it should have happened in one and two and maybe it wiggled itself off or something going into three. "
McCarl had jumped the cushion right before the miss started.
"One and two was kind of rough on the entry and I was bottoming the car out pretty good a couple of times. Who knows when it happened, but those 20 laps we're pretty hang on for me just hoping nobody would pass me. We were fortunate to run fifth and we had a strong run at the Capitani Classic which was a great confidence booster for everyone coming into this event. Hopefully we're locked into the show, I think we should be, and hopefully we can put on a great show for 50 laps. It's a long race and anything can happen."
Likely being locked into Saturday's feature accomplished a goal of being able to prepare and enjoy the Nationals for a couple of days before Saturday's finale.
" I have such mixed emotions because I feel I could have had a chance to win or at least be on the podium if I had been on eight cylinders. You can't complain, I feel like we're going to be locked in. That's an amazing feeling. That's always the goal. If someone had told me I would be seventh in points after tonight I would have been ecstatic. I'm going to try and have fun with my friends tonight and enjoy the next couple of days. The last couple of years my goal has been to race on Wednesday and not race again until Saturday. I think we're going to be to do that today, enjoy the week, and be a driver for a couple of days and do some things with the fans. I'm really looking forward to the rest of the week. I've had a great car. Troy and the Casey's guys have done an amazing job, now it's just onto Saturday."