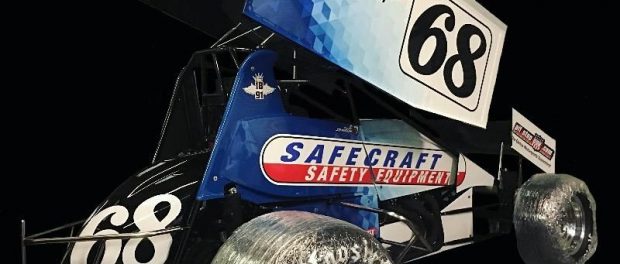 From Inside Line Promotions
PENNGROVE, Calif. (Dec. 4, 2017) – Chase Johnson is excited to announce that he is aiming for the King of the West-NARC Series championship in 2018 thanks to the support from Safecraft Safety Equipment.
Johnson, who drives for Shawn and Cyndi Thomas, was the 2015 King of the West Rookie of the Year and he earned his first career win with the series this season.
"I am extremely excited to welcome Safecraft to our team," he said. "A company like Safecraft is the perfect addition to the No. 68 team. With their expansion of Fire Suppression Systems into the market of sprint car racing we plan to help expand their current marketing program. The progress of what Thomas Family Racing has turned into over the years is truly remarkable. Moving into 2018, our biggest goal is the KWS-NARC championship. Becoming a stronger threat in the non-wing car is also another goal of mine moving into next season."
Johnson and the No. 68 team produced many strong performances this season and have continually grown their program into a contender the last few seasons.
"Safecraft is extremely excited to be sponsoring Chase Johnson in his 410 winged sprint car this year," Safecraft Safety Equipment Vice President Pat O'Keefe said. "Chase is the ideal person to help educate the sprint car world on how they can be safer by using an on-board fire suppression system."
Thomas said the team will run a similar schedule in 2018 as it did this year with the exception being a commitment to the King of the West-NARC Series schedule.
"My expectations are to continue to find pace with our proprietary parts, build our inventory of our 410 program and develop on our race notes to bring our consistency to a higher level," he said. "With our added partnership with Safecraft we will help with product development and bring the best fire suppression system on the market to our sport. Lastly, we will continue to have fun. This team is a result of two families coming together with the help of all of our sponsors to promote Chase in the 410 ranks of sprint cars so thank you to Safecraft, Newman Freeman Racing, Johnny Franklin's Mufflers, PitStopUSA.com, Flowmaster, Woodland Napa Auto Parts, VanLare Steering Repair, Wesmar Racing Engines, Wings Unlimited, Schoenfeld Headers, Bell Helmets, LRB Race Products, Champion Machine, Swift Metal Finishing, Shifty Illusions and Chevron Pro-Gas for their belief in our program."